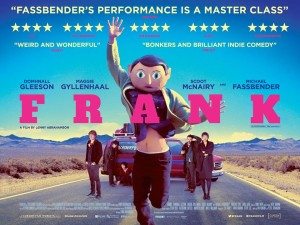 The main thing Frank has going for it is that Frank is a guy who wears a giant fake head and never takes it off. Which is good for quite a bit of entertainment before the movie falls apart. It's not even revealing Frank's real head that's the problem. The movie goes off the rails well before that unfortunate decision plays out. Why does the fake head come off? So a lesson may be learned, and personal growth attained, heart-warming indie-movie style.
Frank, a new movie directed by Lenny Abrahamson (and yet to open widely; this report from the S.F. Int'l Film Festival), suffers from an interesting problem. It's played as a heart-warming indie, where a schlub of a guy steps over the line into egotism, sees his mistake, and makes everything right. Only the actual fact of what we see on-screen is not that at all. We see a talentless schlub turn into a talentless, self-interested jerk who ruins a great thing, only to feebly restore a semblance of what once was and walk away so smug you want to throttle him.
There is a serious clash, in other words, with how the movie presents itself and what the movie is.
It begins with talentless, wanna-be musician, Jon (Domhnall Gleeson), wandering aimlessly around town, singing goofy songs to himself quite amusingly. We don't know he's talentless yet. He seems like any musician in search of inspiration. He comes across a howling madman trying to drown himself in the ocean. The man is the now-ex-keyboard player for the band Soronprfbs. Like the string of dying drummers plaguing Spinal Tap, Soronprfbs suffers from keyboardists going mad (not to mention certain spelling issues). The rest of the band, there on the beach watching the action, invites Jon to join up.
Soon he finds himself invited to Ireland to a house in the woods where the new album is to be recorded. Frank, meanwhile, hasn't said much. He's just there, wearing his big fake head. Nobody else in the band becomes much of a character, aside from this one guy, but he kills himself, so don't worry about him. Why does he kill himself? Aside from once having played keyboards for the band? No idea. In fact it's pretty much at that moment that the movie sputters out.
But we're not there yet. Presently, Frank is still very entertaining. The band spends their time making strange noises and wandering about the woods and not recording a note. Frank seems to have a relationship with the theremin player, Clara (Maggie Gyllenhaal), or maybe not. She's angry. All the time. That's her one emotion for the movie. She doesn't do anything else. The drummer and guitar player are French and have like three lines total, in French. If a plausible band didn't require them, they wouldn't be in the movie.
Which leaves Frank, played by an invisible Michael Fassbender, to provide the entertainment. Which he does, to a point. When a German family shows up, having themselves rented the house for a vacation only to find the band still there, we watch from a distance as Frank walks and talks with the mother. Soon they're dancing. The family drives away, their lives profoundly changed for the better. Frank and his fake head have a magical effect on everyone they come into contact with.
Turns out Jon has a ton of money from his grandfather. He supports the band at the house for the next year or so. He also tweets about his daily experiences. Which tweets are "typed" on-screen. Obnoxious? You bet. But we're living in the future. Soon all movies will consist of nothing but tweets—and we'll love them. Sigh.
(Hey you damn kids! Get off my lawn!)
A following grows for the band. They record their album. Jon gets them a spot at Austin's South By Southwest festival. No one in the band wants this aside from Jon. But he's such a pushy jerk about it that everyone goes along with him. It's by this point that the directionless and lack of compelling characters has killed the momentum. The addition of South By Southwest feels somehow crass.
They go and it's a disaster. Jon and Frank end up on stage alone. Jon plays one of his own awful songs and Frank collapses. Some running and chasing later, Frank's head comes off and he escapes back home to Kansas or someplace.
Thank heavens, all of this teaches Jon an Important Lesson™ about life. He returns Frank, sans fake head, to his band members, and they sing a song, by the end of which Jon has vanished from the scene.
Which I guess is great for Jon. What a grand experience life has thrown his way. What a tremendous opportunity for personal growth. Too bad he's permanently scarred the already messed up Frank. Or is the fact that Frank sings with the band without his head a sign of improvement? I've no doubt that's supposed to be the take-away, but the movie doesn't support its own conclusion. Frank was awesome with the head. Without it he's not.
The movie relies on an assumption: we all of us wear "fake heads," and losing them is the only way to move forward. As a metaphor this may well be true. As a literal fact, i.e. as presented in this movie, Frank is able to transcend his problems and become something above and beyond himself when wearing the head. When free of it? I don't know. I'm asked to assume everything will be better, despite everything the movie has shown me suggesting otherwise.
And what of Jon? That jerk? Has he learned anything? I don't know that either. The movie is cut together to say, "Here has been the learning moment, here is the hero walking away a better man," but has the movie actually said that? Does Jon ever really acknowledge his musical inability? His selfishness? Does he understand what misery he's brought to these people? Not that I can see.
Frank is a big fake head of a movie. It's fun to be around for awhile, but once you get a look inside, its lack of brains is all too evident.