The rock drummer. Crazed, loud, out of his head on liquor and drugs, fond of twenty minute drum solos based on speed and volume, dead from overdose or spontaneous combustion. It feels applicable to anyone behind a drum set from the '60s through at least the '80s. And it began with Ginger Baker.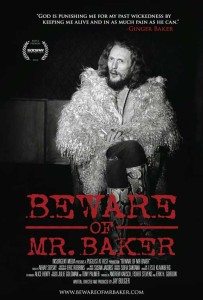 In Beware of Mr. Baker, a newish documentary, we meet Ginger Baker as an insane, surly old man living in a compound in South Africa. When he was younger, he was even more insane, and probably just as surly. He is of course best known for forming and playing in Cream with Eric Clapton and Jack Bruce, a short-lived but highly influential band that lasted from '66 to '68, and for teaming up afterwards with Clapton and Steve Winwood in Blind Faith, and putting out a single record, a great one.
After that, I didn't know what the hell became of Baker.
His life makes for an interesting story, and this doc, directed by Jay Bulger, who'd earlier written an article on Baker for Rolling Stone, does a decent job of relating it, though Bulger has a tendency to insert himself into the proceedings more than seems seemly. It's not a doc about Jay Bulger, after all, and I can't say I care what he has to say about much of anything. But there he is, making sure we know how well Baker likes him, if Baker can be said to like anyone, which is actually a bit of a stretch. It's more that Baker, throughout his life, has been willing to put up with certain people more than others. Whether or not they choose to put up with him is another story. Most don't for very long.
After Blind Faith and a couple of other short-lived bands, Baker took off to Africa, to Nigeria, where he met up with Fela Kuti, who was then becoming the biggest thing Nigeria had ever seen, and jammed with his band enough to appear on one of Fela's albums. Baker also built a recording studio, a nice one, where he planned to allow Nigerian musicians to record for free. What he failed to appreciate was that the Nigerians making a living off of their recording studios might not be so keen on such a venture. They might send armed men to destroy Baker's studio and, say, shoot him dead.
Baker took off out his back door, hopped in a jeep, and wasn't seen in Nigeria again.
But not before getting deeply into polo. Baker's next obsession was polo and horses, of which he acquired many. Seems Baker was never especially wise in the expenditure of money. He moved from Nigeria to New York and to LA and to Colorado, but seemed to have a knack for pissing everyone off and effectively being run out of town. Or run out of the country. Also, wives. He had many.
The doc features interview snippets with many of the great drummers in rock history, along with various wives, estranged children, and Clapton, Bruce, and Winwood. It's safe to say most people's relationship with Baker was complicated. Drummers, however, have only wonderful things to say about him. He was nothing if not influential. Cream was a huge force on the music scene when they began. Nothing quite so heavy had turned up yet. They set the stage for the heaviness immediately following.
Personally, I've always found Baker's drumming to be heavily focused on the heaviness. He is loud, he loves playing loooooong solos that bore me to tears, and I guess I just never found the nuance others do in his playing. When Bulger mentions Keith Moon and John Bonham to Clapton, Clapton is immediately dismissive, explaining that Baker was a player, songwriter, arranger, and therefore a far greater talent, I suppose.
In my world, I find Bonham to be a far more expressive drummer, one who, despite what Baker says, swings hard when he needs to amidst his thundering.
Baker, and indeed every single person who talks about him, says he doesn't consider himself a rock drummer. He considers himself a jazz drummer. To prove his greatness in this regard, during the '70s he challenged various top jazz drummers, including Coltrane's bandmate Elvin Jones, to drum battles, some footage of which is in the doc. For my part, I find it a stretch to put Jones and Baker in the same sentence, but whatever, they all seem to be having fun.
The one time Baker shows real emotion in these interviews is when he talks about having played with the people he idolized as a kid, and to consider himself their friend. It's a nice moment.
Beware of Mr. Baker isn't a great movie by any stretch, but Ginger Baker is surely a great character, a man driven by mad passion to bang the drums as hard as he can, to the detriment of everything else in his life.