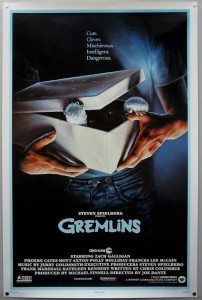 Joe Dante's 1984 Christmas movie, Gremlins, is the funniest, bleakest, most horrific kids' movie ever made. In fact it may be the only horror movie for kids I can think of. Few would dare to make such a thing. Joe Dante is one of the few. He'd previously made Piranha ('78), The Howling ('81), and one of the two good segments of Twilight Zone: The Movie ('83), so he knew his way around horror/comedy. Steven Speilberg, who produced, came upon the script, by new-comer Chris Columbus, and loved it, even though Columbus had written it more as a writing sample, something to prove he had chops, than as a movie he expected anyone to make.
No surprise, then, that it's mighty thin on plot and character. It gets by on anarchic monster mayhem played against a movie-perfect small town Christmas Eve. It's like if someone released monsters somewhere in the middle of It's A Wonderful Life. Which movie is shown playing on a TV in Gremlins. Also shown, clips from Invasion of The Body Snatchers.
Gremlins is another '80s movie I loved as a kid but haven't seen in 20-odd years, like Back To The Future. Funny to see that both movies use the versatile town square set on the Universal lot.
Gremlins is an odd movie. I can see why I loved it in the '80s: it's a horror movie masquerading as another ET. And I loved horror movies. I forgot how very twisted a movie it is. No wonder it was Gremlins, along with Indiana Jones And The Temple of Doom, that angered parents enough for the MPAA to create the PG-13 rating.
Joe Dante must have been laughing with maniacal glee filming some of these scenes. Like one where two cops in their car (one played by Breaking Bad's Jonathan Banks) watch a man dressed as Santa Claus stumble through the snow with four monstrous gremlins clawing him.
Probably the most insanely violent scene is when Billy's mom, after finding the ominously empty gremlin cocoons, stalks and kills them. She creeps through the house first, a classic, tense horror movie sequence, then discovers the beasts in the kitchen. One's playing in the blender. She turns it on and splatters the gremlin all over the kitchen. The next one she attacks with a carving knife, stabbing it repeatedly. The next she blows up in a microwave.
She stalks into the living room. The xmas tree seems to leap on top of her, a gremlin hiding within it. Billy enters to see her on the floor, wrestling the spangly tree like it's raping her. He plucks a decorative sword from the wall and lops the gremlin's head off. It flies into the fire. He and his mom watch it burn.
Merry Christmas, everyone! In the original script, mom loses the fight, and Billy sees her decapitated head bounce down the stairs. Probably best they cut that bit.
Even if it's been ages since you've seen Gremlins, you probably remember more of the story than you think you do, because there's hardly any story to remember. Billy's inventor dad, Randall (Hoyt Axton), buys a cute little fluffy thing called a mogwai from an old Chinese man in Chinatown, and is told it comes with three rules: keep it away from bright lights, especially the sun, which will kill it; don't get it wet; and don't feed it after midnight. Randall gives it to his teenage son, Billy (Zack Galligan), who's not at all startled at this magical, impossible beast, one that sort of talks and understands everything said to it. He names it Gizmo.
First up, he blinds Gizmo, repeatedly. Then he accidentally spills water on him, causing the cute little guy to squirm and scream and bubble and finally spit out five little hairballs from its back that instantly grow into five new, exceptionally feisty mogwais. Billy appears callously unconcerned about any discomfort this may have caused Gizmo. Then he feeds the new ones after midnight. Next morning he finds five goopy black cocoons. A day later, out come the mean green lizardy gremlins.
The one not killed by Billy's mom, the mohawked Stripe, jumps into a YMCA swimming pool, creating a gremlin army. They wreak havoc all over town, but primarily in the local bar.
The bar scene is beyond weird. It goes on essentially forever. Phoebe Cates plays Kate, who we find trapped serving drinks to the little monsters. The rest of the bar scene is an endless succession of bad jokes. The gremlins playing cards, shooting each other, throwing darts at Gizmo, drinking, smoking, breakdancing.
The gremlins wind up at a the local movie theater, where they eat all the candy and watch Snow White And The Seven Dwarfs. A comment on Disney fans? Could be. The gremlins seem to represent whichever group of humans you find most depraved and destructive. They're the worst part of everyone, all at once.
How will Billy and Kate get rid of them? Why, they blow up the movie theater, of course. As kids do.
But Stripe escapes. He's eventually killed by Gizmo, who exposes him to sunlight. Which does what? It turns Stripe into a bubbling, pussing, goopy mess of brightly colored filth. He plunges into a birdfeeder. And then bursts out in a last act of defiance a skeletal freak, his melting eyes bulging, falls to the floor, and bubbles and boils away into a smoking green smear.
I forgot about the death scene. It's amazing. No CGI here. Like the melting heads in Raiders of The Lost Ark, but weirder, or a puppet pre-curser to the zombie deaths in Peter Jackson's Dead Alive.
The studio demanded a certain scene be cut. Not the above. Not the kitchen murder spree. No, they wanted cut Kate's anti-Christmas speech. You see, Kate hates Christmas. Why? When she was a girl of nine, her daddy vanished one Christmas Eve. The police were called. But no sign of him. Not until five days later did little Kate notice the smell coming from the chimney. Her dad was found, dressed as Santa, clutching presents, stuck inside of it. He'd fallen in and broken his neck. It's family movie gold, I tell ya!
Spielberg hated the scene too, but it was Dante's movie, and Dante insisted it was the speech that held everything together. He kept it in. A good thing, too. Kate's story is a microcosm of the movie: horrible and funny.
Gremlins came out in the midst of a the comedy/horror wave of movies beginning in the early '80s, with An American Werewolf In London being the first and most high profile, with its pair of goofy college kid protagonists. Dante's The Howling was funny too, but in a more satirical sense, poking fun at hippy-dippy Californian health resorts. By 1984, it was the rare horror movie that didn't strive for at least a few jokes. A Nightmare On Elm Street came out that year, and so too the fourth installment of the Friday The 13th series, with the hilarious name, The Final Chapter. Gremlins wasn't even the only Christmas themed horror movie of '84. Silent Night, Deadly Night opened too.
But every one of those movies is rated R. They're all horror movies with humor. Gremlins is something unique. A horror movie in the guise of a family holiday comedy. Or going back to what I said earlier, as though a family comedy had been invaded by monsters. I imagine this is how Dante thought of it.
Dante is a lover of movies, after all. I think the notion of polluting a holiday classic with cackling, beer-swilling demons must have tickled him. Gremlins is packed with references to other movies, seemingly at random. There are posters for Twilight Zone and The Road Warrior glimpsed. The movie theater is showing a movie called Watch The Skies, a line from The Thing From Another World. Animation master Chuck Jones plays Billy's art teacher. Spielberg rides by on a bicycle. The time machine from The Time Machine appears in the background at an inventor's convention (and when we cut back, it's gone!), as does Robby The Robot from Forbidden Planet, quoting his lines about making whiskey. And so on.
Dante went famously bonkers with Gremlins 2, a sequel that would take another essay to do any justice to.
Gremlins is still fun. I'd imagine kids today eating it up as much as kids of the '80s did. The weird kids, anyway, the ones who grudingly watch It's A Wonderful Life wishing Bedford Falls would fall to alien invasion or giant killer lizards.