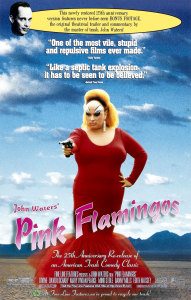 What's most mind-flogging about John Waters' early film, Pink Flamingos, is a) anyone made it; b) that person became a beloved pop culture figure; and c) I watched all of it.
If you've heard anything about this cult movie, you've heard it's filthy.
This is painfully true.
Pink Flamingos, in which the drag queen Divine finds himself in competition for the title of 'Filthiest Person in the World,' involves people performing acts for which decorous Latin and Greek words exist. But I won't make you look those rarely used words up. In Pink Flamingos people have sex with chickens. They forcibly impregnate hitchhikers and harvest their babies. They demonstrate command of their flexible sphincters. They drool copiously over living room furniture. Then, as a capper, Divine eats shit.
Not figuratively. Literally. He waits for a small dog to crap on the street and then shoves lumps of the fresh feces into his mouth. To be fair, it does not appear that he swallows his meal. Just, you know, chews it awhile, this mouthful of dog shit.
So if you want to watch people smile with dog shit in their teeth, Pink Flamingos is the film for you. And that's what makes it interesting: that people made this film, that people watched this film, and that it remains part of our cultural landscape.
It is infamous in much the same way that Faces of Death is infamous. Do you dare to watch something so obscene? And if so, what do you enjoy about it?
Oddly, I'd suggest that what viewers gain from watching Pink Flamingos — and there is something to be gained — is tolerance. No matter how gross your friends think they are, they don't hold a candle to Divine. And there is room in this world for all of us whether we like it or not. Like with Todd Browning's Freaks, it is our ability to recognize humanity, regardless of its disguise, that elevates us.
Even if in this case it is simultaneously debasing us.
Pencil-moustached John Waters today gets respect as the wry, devious director behind cheerfully subversive film like Hairspray and Serial Mom. Do not be deceived, though. Ricki Lake will not perform any dance numbers in Pink Flamingos. Instead, David Lochary — as Raymond Marble — will tie an ox-tail to his penis and reveal his meaty junk to passersby.
He does so because doing so is filthy.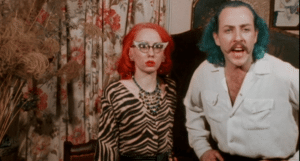 It is filthy in its conception and it is filthy in its actualization. It is the largest freak flag you can find flying (the film, not Lochary's junk).
And hats (and pants) off to John Waters for daring to fly such a soiled flag, on his own dime, with little chance of reward looming.
Alas, Pink Flamingos looks as if it was written, acted, and shot by six-year olds in mid tantrum. The script is atrocious. The sets are abysmal. The camerawork and sound recording make events only foggily discernible. I would expect that, in terms of casting, they got the top talent available who would be willing to fuck livestock.
There is not a huge crossover between acting talent and willingness to publicly ejaculate.
Divine is Divine. If there is or was another person on the planet who would do as he does while attired as such, I would be nervous to hear of it.
As to the film's point, that's less easy to dismiss as disgusting. John Waters is on to something, albeit something revolting. He's proudly showing us his junk. You may find it filthy, and you may be safely in the majority in that appraisal, but you're unlikely to find a more comprehensive display of obscenity's range.
In Pink Flamingos, you're sure to want to turn away from time to time. John Waters wants to know when, and why. He dares you to look. He dares you to stomach it and smile. He's a man. He made this movie. And you're watching it.
Or at least I did.