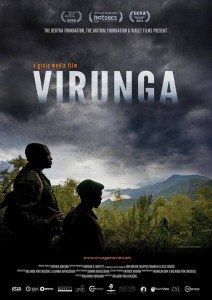 What a depressing story. Humans are terrible, terrible people. Yes, there are good ones. But the good ones are nice. Nice people don't stand a chance in the face of tanks and machine guns and the endless supply of bastards wielding them. Virunga ('14) aims to provide a measure of hope in the face of hopelessness, but it's mighty thin gruel.
Good movie, though.
Virunga National Park is a large nature preserve in Congo that includes Lake Edward and abuts both Rwanda and Uganda. It also includes a population of mountain gorillas, almost the last on Earth. Others live nearby in Uganda and Rwanda, for a grand total of about 700. That's it for mountain gorillas. They've got close relatives in the eastern lowland gorillas, of which maybe 5,000 remain.
Directed by Orlando von Einsiedel, Virunga mainly follows rangers in the Virunga National Park in their efforts to save both the park and the wildlife within from poachers, rebel armies, and foreign oil corporations, the three of which are effectively a single nightmarish entity, each feeding off the other to survive. As usual, the victims are gorillas and other wildlife, the national park, and, ultimately, the people of Congo and by extension the world.
Poachers don't kill the gorillas for money, at least not often. There aren't enough gorillas to make good money killing them. The poachers kill the gorillas because once they're wiped out, nobody will care about the nature preserve. If no one cares about the nature preserve, it'll be opened up to oil drilling and mineral excavation. And if it's thus opened up, money will come rolling in. Or so their theory goes.
Meanwhile, rebel armies, notably the powerful group called M23, is happy to help—that is, to help in the destruction of the nature preserve—because the oil company, the British behemoth, Soco, pays them handsomely to do so (on the sly, naturally). The Congolese government has laws on the books disallowing any oil drilling in Virunga, yet they sold a concession to Soco that includes a huge chunk of the preserve, including the entirety of Lake Edward.
The director of Virunga National Park is a Belgian, technically a prince, Emmanuel de Merode, who's spent his life working to protect African wildlife (perhaps as an attempt at karmic balance for the horrors Belgium's King Leopold inflicted on Africa?), and, shortly following the completion of this film, survived an assassination attempt in which he was shot by unknown gunmen. It's telling that among the suspects are employees of Soco. Along with Rwandan rebels and various other interested parties.
De Merode seems like a decent chap. So too the rangers working for him in the park. We get to spend quite a bit of time at their gorilla orphanage, where gorillas whose parents were murdered by poachers/rebels are raised by the loving rangers. The rangers tell of the time in '07 when all nine of the gorillas they were then protecting were slaughtered. Because who wouldn't want to kill these amazing, beautiful animals? Who fucking cares about apes, am I right?
More people than we'd like to think. The movie also follows a young Parisian journalist, Mélanie Gouby, covering the political unrest in Congo and Rwanda. She manages to spend time with a pair of Soco employees whom she secretly films. They are despicable. The banality of evil writ large. And bland. Two self-important Brits with moral compasses long ago shattered. One says all the peoples of Africa are children in need of new colonial masters. Like him.
The other talks about the absurdity of protecting gorillas. He wonders what de Merode's real agenda is. Presumably de Merode is out to make himself rich just like everyone else. It's telling the way these fiends project their moral vacuity onto others. What sensible person would want to protect trees and animals when turning the place into one vast strip-mined crater could make billionaires out of everyone?
Soon the rebel army M23 invades the area around the park. The Congolese army retreats fast. Everyone else is evacuated. De Merode and his rangers stay to protect the park, come what may. They seem to be the only people who know doing so matters.
Virunga is a very compelling albeit very depressing movie. And very well made. It achieved enough accolades last year to force Soco into making changes. Like firing the two jackasses above. At the end of the film, titles relate Soco's statements as to their goodness and the wrongness of how they were portrayed. Meanwhile, the Congolese government has seemingly stopped them from drilling in the park. And yet…Soco has not fully pulled out. They are rather obviously biding their time, waiting for people to forget this movie. So too the Congolese government, who want the money oil and minerals would bring in as much as Soco.
It would seem that hundreds of years of colonial masters have taught the Africans well—money is everything. Those who have it wield power in the world, those who don't, don't. What are a bunch of trees and hippos and elephants and gorillas in the face of power?