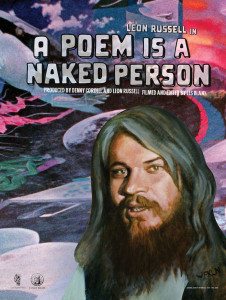 In '72, documentary filmmaker Les Blank was hired by blues/country/gospel singer/pianist Leon Russell to follow him on tour and make a movie about him. Blank followed him and filmed him, but the resulting movie, A Poem Is A Naked Person, finished in '74, didn't please Russell, and was never released (also a problem was getting clearances for the many, many songs in the movie). Blank showed it over the years, but only when he was himself present, somewhat like Robert Frank's wild, never released Rolling Stones documentary (also shot in '72), Cocksucker Blues.
But unlike Cocksucker Blues, there's nothing potentially offensive or shocking about A Poem Is A Naked Person. Russell didn't like it for reasons known only to Russell. Might be because it's a Les Blank movie, which is to say it's an odd bird.
There is no story being told in A Poem Is A Naked Person. Calling it a poem isn't a bad description, though watching it I was put more in mind of a painting. It felt like watching a series of brush strokes, each laid down seperately, it was up to me to visualize as a single painting.
I've only ever seen one other Les Blank movie, Burden of Dreams, his documentary on the making of Werner Herzog's Fitzcarraldo, and A Poem has a very similar, low-key vibe. The difference is that in Burden, Herzog is ever on hand to expound in the way Herzog expounds, giving the film a kind of backbone. A Poem doesn't feature much in the way of talking, and no one expounds on anything, least of all Russell.
Blank seems as interested in the places Russell's tour travels through as he is in Russell himself. Footage of random people in Oklahoma and other spots is interwoven with Russell performing onstage, recording in a studio, and otherwise hanging out. Very few people in the movie are identified by name, and those who are I've never heard of. Well, not everyone. I know who Willie Nelson and George Jones are, but as to Russell's band members and various others in his entourage, including a philosophical painter, their names meant nothing.
Unlike standard and even non-standard docs made nowadays, A Poem offers no information, per se. No narration, no interviews, no explanations, no narrative. It is instead a collection of related images orbiting around one man, but often swirling far out and away from him.
Leon Russell was at the height of his fame during this tour. In the '60s he'd been a member of The Wrecking Crew, the group of studio musicians who played on almost every hit song from that decade (about which a recent doc was made, in which Russell is interviewed), and he'd go on to play with Bob Dylan, The Rolling Stones, and damn near everyone else throughout the '70s. Also beginning in the '70s, he embarked on a solo career. It never reached the highest of heights. He had a loyal audience, but never quite broke through to mainstream success.
None of this info, by the way, is in the movie. I just read up a bit on Russell to recall the details. The Russell in the movie is long-haired, bearded, ever-sweaty, not especially chatty, and as a performer incredibly powerful. His voice is a bluesy/gospel growl. The scenes of him on stage and in the studio are predictably the best parts of the movie. As for the rest of the movie, those parts are interesting too, but I don't know if I can tell you why. They add up to something, anyway. I suppose it's every viewer's job to decide what that something is.
The picture Blank paints feels like a moment in time. He creates a sense of place, even if the movie covers a fair amount of ground, a sense of people, a sense of experience, a sense of music, but I don't know that he creates the sense of a touring rock and roll band. The movie doesn't feel like a journey. It's a single, expanded moment. It pulls you in, but once there, you're free to wander around as you please.
A Poem Is A Naked Person opens Friday, July 10 in the S.F. Bay Area, and other places too, on, before and after that date. Keep an eye out.