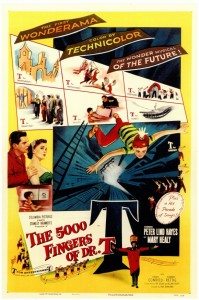 The only movie Dr. Seuss ever wrote, The 5,000 Fingers of Dr. T. is exactly as surreal as you'd expect, too surreal, as it turned out, for audiences in '53, not at all prepared for what we might call a whimsical, avant garde take on the horrors of fascism. Famously, people walked out of its premiere. It did not fare well at the box office. Dr. Seuss himself disowned it, called it a "debaculous fiasco," and didn't even mention it in his memoir.
Too bad for Seuss. The 5,000 Fingers of Dr. T. is all kinds of wonderful, a movie ahead of its time, a movie time has yet to catch up with. Its weirdness cannot be overstated. Nowadays it's got a cult following, as well it should. Would that every kids' movie could be this loony.
It began, the story goes, as a 1200 page screenplay, which is too long by a factor of ten. One must suppose Seuss was made ever unhappier as his work was shortened and shortened. Yet he stuck with it throughout, writing not only the script but the song lyrics, too. Because of course it's a musical, with music by Frederick Hollander. Though by the time of release, half of the songs were cut. Another shame, that, because the music is great, and the movie could have used a few more songs to balance it out.
The production design, by Rudolth Sternad, is all Seuss-based, with exteriors alternately daffy and imposing, and musical sets, as Joe Dante once put it, "…that looked like Salvador Dalí had been commissioned to make a children's film in the style of The Cabinet of Dr. Caligari." Whereas Seuss's jaunty drawings are nothing but fun on the page, realized in three dimensions they're imposing and unnerving, especially when representing the castle of the evil, piano-mad fascist, Dr. T, and shot to mimic nothing less than Triumph of The Will.
Seuss's original story was a much more detailed and pointed attack on fascism as it played out in WWII, but what remains isn't subtle. It's just, perhaps, a little more kid friendly. It's not the obvious slams at Hitler that turned off audiences (although then again, maybe, in '53, it was still a bit soon to be reminded of the war in a kid's musical), it's the outright strangeness that did it.
Most of The 5,000 Fingers of Dr. T. is the tortured dream of young Batholomew Collins (Tommy Rettig, who literally looks like Dr. Seuss drew him), forced to practice piano by his evil instructor, Dr. Terwilliker (Hans Conried), who pre-dream comes off not as a Hitlerish dictator but as a mean, pretentious, effete, piano-obsessed snob, with eyes for Bart's mom, Heloise (Mary Healy). Bart's dad is dead, but we're never told how. The other man in Bart's life is local plumber August Zabladowski (Peter Lind Hayes), a nice guy, but one frustratingly uninterested in Bart's lovely mom. Heloise, unfortunately, seems to like Terwilliker, and is all for Bart practicing the piano until he's fit for the concert hall or loses his mind. Practicing, while at the same time breaking the 4th wall to chat with we viewers, Bart dozes off.
What plays out in Bart's dream is, psychologically speaking, a battle between two men vying to be his father. Politically, it's all about fascism. In the dream, Terwilliker is fancy-dressing madman with floppy hair and wild eyes. He's shrill and wild-eyed and insanely dressed and obsessed with his one dream: To enslave 500 young boys and force them to play his enormous, winding piano. Five thousand little happy fingers playing at once!
The Happy Finger Institute is not a happy place. Bart and the other boys wear little blue beanies with yellow Seuss hands wriggling atop them, i.e. a kid-friendly fascist emblem. Terwilliker's henchmen all dress in blue/yellow uniforms and carry giant hands when marching in formation. Also in the employ of Terwilliker: twin brothers on rollerskates conjoined by their long beard.
In his dreamworld, Bart's mom is Terwilliker's number two evil-doer, but only because she's been hypnotized. Zabladowski is still the plumber. His job? To install enough sinks before opening night of the 5,000 fingers piano performance. Can't very well have a functioning Institute without enough working sinks, now can you? Bart escapes the clutches of the henchman and implores Zab to free his mother from her hypnotic spell, but Zab doesn't care about any of that business. He just wants to do his work and get paid and ignore whatever else might be going on. Sinks, that's his business, nothing more.
But Bart convinces him, leading to an early showdown between Zab and Terwilliker in which they leap and dance around each other, wiggling their fingers and bulging their eyes, trying to put whammies on each other ("Where'd you study?" asks Terwilliker afterwards. "Oh, I just picked it up."). One can't help but wonder at the state of one's sanity watching this mysterious battle. It's not quite like anything I've ever seen anyone ever do in a movie, or anywhere else, for that matter. It's not outrageously weird, no, it's just very particularly and uniquely odd. In context it makes perfect sense. Which actually adds to the oddness.
What is outrageously odd is the musical number set in the dungeon, where Terwilliker keeps musicians who play, as he puts it, "scratchy violins, screechy piccolos, neauseating trumpets," and anything else that isn't a piano. Musicians and dancers, dressed up in sickly green leotards, proceed to play bizarre Seussian instruments to a score that bounces around stylistically like a rubber ball for what seems like a very, very long time. I was reminded of the music and visual style of Oingo Boingo watching this scene. It is completely bonkers, everything about it, visually and musically and dramatically. It's hard to believe this was made in '53, and increasingly easy to believe why no one at the time knew what in the hell they were watching.
Zabladowski is at first taken in by Terwilliker, who plies him with smooth talk, endless cigars, delicious pastries, and a shot of pure pickle juice. Serious stuff. Bart has to beg him to change his mind and help. Slowly but surely, Zab comes around. He's an everyman, a man of the people, you might say. He knows about fishing and sinks and baseball, and eventually he even notices what a beauty Heloise is.
With Zab's help, Bart is able to build a sound-sucking device (the "sound-fix") from the variety of objects in his pockets he and Zab grind into a pasty liquid with a dinosaur bone. How does it work, Bart wonders? "It's atomic." Ah. Yes. Naturally it's atomic.
Meanwhile, Terwilliker prepares for he grand concert by getting dressed, which scene, a musical number, is glorious in its lunacy. What, exactly, Terwilliker is supposed to be wearing is beyond my powers to describe, but lucky for us he explains it all in song, with verses such as:
I want my undulating undies with the maribou frills!
I want my beautiful bolero with the porcupine quills!
I want my purple nylon girdle with the orange blossom buds
Cause I'm going doe-me-doe-ing in my doe-me-doe duds!

I want my lavender spats and in addition to them
I want my honey-colored gosset with the herring bone hem
I want my softest little jacket made of watermelon suede
And my long persimmon placket with the platinum braid
I want my leg of mutton sleeves and in addition to those
I want my cutie chamois booties with the leopard skin bows
I want my pink brocaded bodice with the floofy fuzzy ruffs
And my gorgeous bright blue bloomers with the monkey feather cuffs
I want my organdy snood and in addition to that
I want my chiffon Mother Hubbard lined with Hudson Bay rat!

So come and dress me in the blossoms of a million pink trees!
Come on and dress me up in liverwurst and camembert cheese!
Come on and dress me up in pretzels, dress me up in bock beer suds!
Cause I'm going doe-me-doe-ing in my doe-me-doe duds!
No doubt you're now able to imagine what he looks like.
Five hundred boys are bussed into the Institute, their suitcases opened and rummaged through by Terwilliker's henchman in a scene not at all accidentally meant to remind one of concentration camp victims being divested of their belongings.
With all 5,000 fingers in place, Terwilliker begins his concert. But what's this? Where's the sound?! The sound-fix is eating it up! "Is it…atomic?" asks Dr. T, terrified. "Yes, sir!" says Bart. "Very atomic!"
And then it blows up.
I mean everyone escapes first! Jeez, this is a kid's movie.
A kid's movie for the demented kid in, well, not in all of us, I'm afraid, but some of us. The 5,000 Fingers of Dr. T. is the bizarre kids' movie I've been dreaming of. It's beautiful, imaginative, original, and there's even some theremin on the soundtrack. Mind you, it's not perfect. You can tell it's been meddled with, you can tell the studio did all they could to cram Seuss's freakshow into a form-fitting box. But, thanks to the movie consisting of nothing but Seussian crazy-time wacko-bananas, they failed. They may have shaved off its edges, but what remains is a classic of weird.