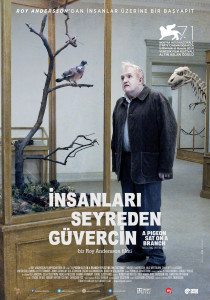 If you've seen the previous two movies in Swedish director Roy Andersson's very strange trilogy on "being a human being," you know what to expect from A Pigeon Sat on A Branch Reflecting on Existence. You will expect a series of brief scenes depicting strangely inert humans doing whatever it is that humans do, framed by a motionless camera, in simple rooms painted in drab monochromes, and though the vibe will be bleak and odd, you will laugh, because humans, you know? They're hilarious. It's neither better nor worse than the previous entries, Songs From The Second Floor and You, The Living, though if you've seen them all (liar!), you'll probably have a favorite.
My favorite is You, The Living. Why? I couldn't possibly explain. Maybe because the final shot feels as though it ties the whole movie together. No final shot ties together A Pigeon, though unlike its predecessors it features two recurring characters who show up in about a third of the vignettes.
These two grim fellows are bringing entertainment to the world by selling novelties. Three novelties, to be exact: vampire teeth, extra long; a bag of laughs; and their newest product, a rubber mask known as Uncle One Tooth. They make no sales during the movie, I'm sorry to say. One of the pair becomes so angry he quits. The other has a dream, a nightmare, by far the bleakest and most imaginatively bizarre vignette in the movie, one not at all funny. I won't describe it lest I spoil the surprise. It is, in a word, horrible. Upon awaking, the dreamer asks his partner if, as literalized in his dream, it's okay to use the suffering of another for one's own pleasure.
A good question. Presumably one Andersson wishes to ask of we viewers. Nothing much good happens in A Pigeon, but it's (amost) all funny. Is it okay to laugh? I'd say Andersson thinks it is. What else are we to do while sitting on our branch, reflecting on existence, wishing we had more money?
Another recurring element is a phrase spoken by multiple characters to people over the phone. "I'm happy to hear you're doing fine," they all say in monotone. Which is I suppose genuine sentiment, given the state of being human. If we're doing fine despite it all, well okay then. Good for us.
The movie opens with "3 Meetings With Death," three vignettes wherein people die. So maybe A Pigeon is more directly concerned than its predecessors with what we do until we keel over. Or then again, maybe everyone in the movie is already halfway dead. Most of the characters wear white face make-up, giving them an embalmed appearance.
Two trips to the past are taken, one to 1943, in which a woman tending bar sings a song about the cost of shots, and a group of soldiers sing back that they have no money, but sure would like a drink. She says a kiss will buy them a shot. So they line up and one by one kiss her. As a character in the present earlier puts it, what would life be without shots?
The other trip is only half in the past, featuring a 19th century (?) Swedish army stopping in to a tavern and commanding soda water for the King. Later on they pass back the other way, limping and defeated. The King wishes to use the restroom. Alas, it is occupied.
Andersson's style is so his own there's nothing at all to compare it to. Every shot is framed and designed like a painting. You could take each of them home with you and hang it on a wall. There are a few exteriors, but mostly everything is shot in simple rooms or sets, in drab colors with few objects. Just people, moving little, saying less, existing, nothing but existing, yet doing so with masterful comic timing.
A Pigeon Sat on A Branch Reflecting on Existence opens with a scene in a museum where a stuffed pigeon sits on a branch. A man stares at it briefly. I'm not sure which of them is the more reflective.