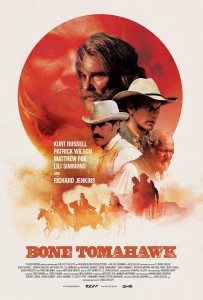 The best thing about the new western/horror flick Bone Tomahawk is without a doubt Kurt Russell's magnificent facial hair, his moustache in particular. I'd love to see the moustache getting some work on its own, so powerful is its performance. But given the timidity of movie execs, I expect at best it'll have to be satisfied playing Russell's sidekick. They're up next in Tarantino's The Hateful Eight. Will the moustache once again prove the star? We shall see.
As for Bone Tomahawk, Russell himself does good work as Sheriff Hunt, given the dialogue and story he's stuck with, and Richard Jenkins, as his deputy, Chicory, is, as ever, endlessly watchable. As for the rest of the cast, including Patrick Wilson as Arthur, Matthew Fox as Brooder, and Lili Simmons as Samantha, they're easily out-acted by the moustache. None of them seem to realize they're in a period piece.
Then again, most of the blame for this very confused, slow, pointless movie must rest with its writer/first-time director, S. Craig Zahler. Bone Tomahawk doesn't know how to be what it is, so winds up not being anything.
Is it a character piece? For close to 90 minutes the four fellas ride and walk through the desert and the scrub, talking. I guess Zahler is trying to pull a Tarantino here, but absurdly long talky scenes are Tarantino's raison d'être. They are not Zahler's. He clearly likes the idea of having most of his movie be his four western clichés amiably chatting, but he never has them talk in such a way as to, 1) create drama, or 2) build character. Leg chewing boredom is the result.
They're on a trek because the troglodytes kidnapped Arthur's wife and Hunt's other deputy, and the good guys aim to fetch 'em back. Troglodytes, you ask? They're like Indians—but wait! Not like the good Indians. Surely somewhere in the back of Zahler's brain was the realization that his movie could be very easily read as saying Indians are monstrous cannibals, so he throws in a good Indian (Zahn McClarnon), dressed in a nice suit, who explains, in his one scene, that the troglodytes are Indians who went their own way long ago. They are no longer men, you see, and even Indians fear to go anywhere near them.
So, wait. Good Indians are scaredy-cat sissy boys? Guess so. Hunt and Arthur and Brooder and even old man deputy Chicory don't think twice about heading out to face their certain deaths. To further guard against accusations of racial insensitivity, Zahler has Brooder, a seemingly rich fella dressed in a white suit, readily point out how many Indians he's killed, much to the disgust of his three companians. Yes, even grizzled Sheriff Hunt, who's known for shooting in the leg anyone who so much as looks at him funny, is disgusted, here on the western frontier of the 1890s, that anyone would want to kill an Indian. But troglodytes? Those bastards aren't even human.
Arthur, meanwhile, husband of kidnapped Samantha, is so very bad-ass that he goes off to kill troglodytes with a broken leg. Seems he fell off a roof before the movie started. So in truth, the initial 90 minutes of walking through the desert might better be called, Adventures of A Man With A Broken Leg. It's where all the drama is. Will he keep walking? Will he trip and groan in pain? Will he do so again? AND AGAIN? No, wait, what about now? Will he grimace and shout and insist that HE'S GOING TO KEEP GOING, YOU GUYS, FOR REALS THIS TIME before collapsing and then getting up agan and then collapsing and getting up again? You bet he will.
I'm not entirely sure it's okay to introduce your leading man with a broken leg. If the fact of immobility creates the basis of your story, sure. But in Bone Tomahawk, the broken leg doesn't stop Arthur from doing anything. He reaches the troglodytes like everyone else, and winds up shooting quite a few more of them. He just moans and cries a lot before getting there. Feels like artifical drama for a movie lacking actual drama.
From the very first scene of the movie, something's off, and continues to be off throughout. The dialogue strives to contain old-timey words and phrasings, but they drift in and out so often it feels like everyone's acting in a different movie. Scenes contain attempts at dramatization, yet none quite work. Visually, the movie is hampered by its pristine, bright, digital cinematography. It reminds one of television more than the old west.
The troglodytes are as thinly imagined as the rest of the movie. They're covered in mud and have weird bone whistles embedded in their throats and they attack by running at you and hitting you with stuff unless you shoot them first. Which is to say they're not especially threatening. As long as you see one coming, bang, they're dead. Also, they are clearly, in fact, men, contrary to the good Indian's opinion. They're not monsters in a monster movie. Unless you think especially mean Indians are monsters. Which actually many people did think in them days. But not the people in this movie.
I mean it leads one to wonder what a writer with something to say would do with this story. The troglodytes literally embody Indians as imagined by people of the era: bone-wearing, mud-covered, inhuman monsters who kidnap women and eat them. Zahler has taken the stereotypical image of the "other" and literalized it, but without any comment or context, aside from some feeble ass-covering should anyone point out what he's done. The more I think about it, the more appalling it's becoming.
Well. Back to the dull story. Once our heroes are captured and caged, the troglodytes tear apart this one fella in a very nasty way before cooking and eating him. But we never see how the troglodytes live. All we get is one cave where no more than three ever turn up at once. We're told there's twelve in total, and what with their being so readily shot, you have to wonder how they've lasted so long. A glimpse of a pair of brutalized pregnant female troglodytes suggests troglodyte reproduction isn't handled nearly as effectively as a tribe hoping to endure might handle it.
Speaking of which, in what barely counts as a spoiler, Samantha is found alive and well. Considering what the troglodytes do to their own women, why have they left her untouched, sitting in a cage? It feels as if no thought was given to these evil Indians, I'm sorry, troglodytes, outside of their look and their cannibalistic nature.
Bone Tomahawk might have been a palatable (albeit carelessly racist) horror flick if 45 minutes had been cut from its 130 minute runtime. Ripe dialogue and unchanging characters are fine in a bloody genre exercise. But if your movie is almost all talk, it requires characters who deepen over time, who if they don't evolve at least reveal themselves to be more complex than what you initially imagined. When what they say isn't funny, clever, or directed towards theme, plot, or character, it's a waste of time.