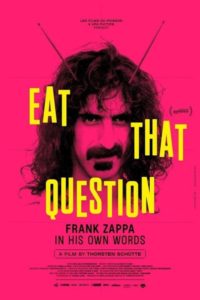 It's a fine time to be a Frank Zappa fan. Not that it wasn't before, but movies about him are piling up these days. The end of 2015 finally saw the long-awaited release of Zappa's performances (or part of them, anyway) from the Roxy Theatre in Hollywood in Dec. '73, there's a new documentary by director Thorsten Shütte opening this week, and actor/director Alex Winter's proposed doc on Zappa, Who The Fuck Is Frank Zappa?, was funded to the tune of a million bucks on Kickstarter earlier this year. If you know nothing about the man or his music, you're running out of excuses to remain ignorant.
Shütte's new doc, Eat That Question, rolling out over the next couple of weeks, premiered a few months ago at Sundance, and was written up here by our own fearless correspondent, Og. In short, he liked it. So did I. Eschewing a series of talking heads expounding on his subject, Shütte lets Zappa do the talking, through a compilation of interviews and performances from the early days to shortly before Zappa died (of cancer, in '93).
Zappa is a tough nut to crack. He cultivated an image impossible to pigeonhole. He was a freak at the outset of the hippie era, with long hair, a wild band, a debut album in '66, Freak Out!, far, far weirder than anything else going on in rock, yet never did drugs, made merciless mockery of hippies, and considered himself a conservative. He speaks with pride of his boring home life, married with four children in the suburbs, yet was popularly known as a dangerous wild man liable to turn your impressionable children into lascivious beasts.
Musically he is, in a word, bananas. In another word, he's a genius. A great early clip shows him at about age 20 on the Steve Allen show playing a piece composed for two bicycles, electronically-treated soundscapes, and whatever non-musical sounds the orchestra cares to play. It's marvelous. Young Zappa's demeanor is of a man totally in control of his art. It's a demeanor that remained constant till the day he died.
His initial musical inspiration came from 20th century composers like Varèse, Stravinsky, and Webern (hence the bicycle suite), but just as important were jazz, blues, rock, doo-wop, etc. and so on, and on, and on. To call his resulting oeuvre sui generis hardly does its lunacy justice. Nothing and no one sounds like Zappa.
His shows at the Roxy feature one of his best bands, with performances so tight they're loose. If you can imagine such a thing. Zappa is as laid-back and casual as ever while conducting music brain-meltingly complex. For the song "Cheepnis," he has his two drummers and genius-percussionist Ruth Underwood play their parts while the rest of the band watches, before having them all do it over again with the full band. It's the kind of musical performance that, even as you're watching it, you refuse to believe humans are capable of.
Some of the music from the Roxy shows has been previously released (on the '77 Roxy & Elsewhere, and the '14 Roxy By Proxy), but this is the first time we've been able to see the performances. If you've ever wondered why your irritating music nerd friends think Zappa is a genius, watch Roxy: The Movie.
Zappa never referred to himself as anything but a composer and an entertainer. He practiced his bands as hard as he did to ensure a quality show for paying customers (I'm guessing his obsession with perfection had something to do with it too). This, he claims, is why he forbade his band members from doing drugs while on tour with him. What if they were arrested and couldn't play? Zappa wouldn't like that. Discussing his abhorence of drugs in Eat That Question Zappa is smoking a cigarette. Zappa is always smoking a cigarette. Listening to him decry drugs and firmly state that aside from having smoked weed a few times he's never done any while chain-smoking cigarettes might reasonably strike one as ridiculous. This is not the only issue one could have with Zappa.
Though his musical compositions are complex, daring, original, funny, and etc., Zappa's lyrics at times tend toward the obscene, mysogynistic, and/or just generally kind of gross. Hence turning off many who might otherwise like his work. Zappa is entirely unapologetic about his lyrics. He is unapologetic about anything and everything. He fascinates and compels for this very reason. When Zappa speaks, one thing is certain: he is telling you exactly what he thinks. Better still, he's given a lot of thought to what he thinks. The same can not be said for most who dare interview and/or debate him.
Zappa spoke out against censorship, conformity, consumerism, and many other things beginning with many letters other than c. He was an advocate for education in the arts, and often singled out lack of such education as the reason his compositions were considered "difficult" for listeners. Having never been trained to listen to anything but radio garbage, how could they expect to find pleasure in his music?
He's a man who knew exactly what he wanted his music, his life, and the entire world to be. At least with the first two, he might have found satisfaction. People this sure of themselves and their beliefs run the risk of being insufferable, and Zappa, as on the money as he is with most of his societal critiques, was no exception. He was an extreme perfectionist. He'd stop a concert mid-song if someone played a note wrong, and make them play it right before continuing. Toward the end of his life, he acquired a Synclavier, an early digital synthesizer/sampler/workstation, with which he recorded a few albums, free from the pain in the ass of working with musicians. He could make the machine do exactly what he wanted, every time.
Whatever else he was, Zappa was endlessly fascinating, whether giving interviews or shaming congress-critters over record labeling or playing insane, brilliant guitar solos. If you already love him, both Eat That Question and Roxy: The Movie are must-sees. If you don't love him, or his music, or know him not at all, now's your chance to find out. It's worth it.