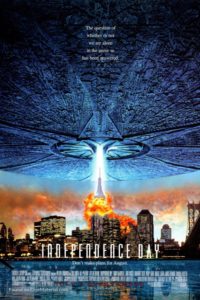 Look people. I understand you grew up loving Independence Day. You got its glyphs tattooed on your arm and became a screenwriter because of it. You bought a couple of Will Smith albums and even listened to them. When you think of Jeff Goldblum you don't think of The Fly or even Jurassic Park, you think of him injecting a computer virus into an alien mothership, as incontrovertibly stupid as that is.
But Independence Day is a terrible terrible film. Terrible. And I know, because I just tried to watch it again. It is like styrofoam, but without the flavor. It is like spray cheese, but without the shelf life. It is basically Top Gun, without Goose or even Kenny Loggins.
I can imagine how one might love it if he or she or they grew up watching it — much like members of my generation love The Goonies — for the same soft-headed illogical reasons, but objectively: it sucks.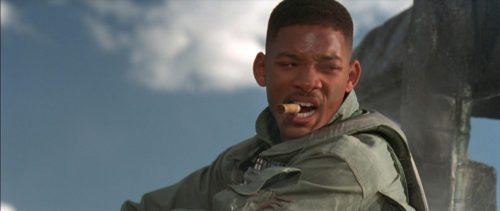 It has exactly one good scene, and that is when Will Smith — playing a fighter pilot with dreams and a stripper not-yet-fianceé (because the film needed some sex and more than one female character who doesn't die) — ejects from his jet and beats the stuffing out of an alien. Everything else is either ridiculous, inane, shoddy, or all three.
Bill Pullman does his best, but c'mon. His St. Crispin's Day knock-off speech is given to a field of extras and Randy Quaid, who plays a drunken alien-abductee crop-dusting martyr with three kids. And that character is far from the least well-considered or most offensive. I gave that award to Harvey Fierestein's gay Jewish momma's boy therapy-dependent schmuck, after he narrowly edged out Brent Spiner's creepy disheveled socially-inept genius scientist.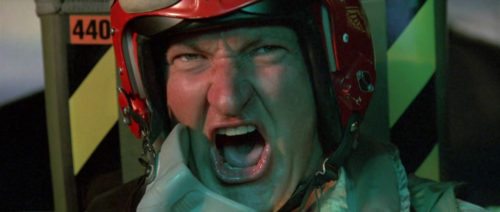 The film isn't even a ton of fun to watch. Or a modicum of fun. Will Smith may have charisma, but he shares many of his scenes with Harry Connick Jr., exchanging unironic dialogue about cigars. Wait. I remembered another scene I liked, and I want to be fair: the scene where Will Smith goes out to get the morning paper and first sees the spaceship is like a paper doll version of reality, but Roland Emmerich lets the humor play and I enjoyed it. Then Vivica Fox strips to her undergarments to shoehorn in some skin and saves the family dog before happening across the First Lady (Mary McDonnell) who survives just long enough to die melodramatically.
I'm still weeping about that one. It's a real heartbreaker when President Bill Pullman tells his daughter that her dead mother is sleeping. Just give me a minute to collect myself.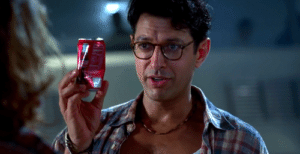 I write all this so we're clear. Independence Day is not, in any way, good. I appreciate all the articles that suggest otherwise, now online to hype the reportedly even-more-dreadful sequel, Independence Day: Resurgence, but those articles are laughing at you, not with you.
They are taking your nostalgia for simpler days, when Britain was part of the EU and Donald Trump wasn't waggling his tiny orange fingers in your face, and they're telling you: believe anything you want, regardless of fact or repercussion. You can be right, even if clearly you're wrong.
And, in this case, the price we pay is only a sequel no one has to see. Next time you opt to believe your irrational urges, and act on them with a deluded sense of entitlement and justice, we might all pay a price we can't afford.
Like those poor fuckers in Britain. They sure showed those politicians! Independence From the EU Day! Hooray!
I can't wait for Brexit: the Movie.
Everyone loves a disaster flick.