Timecop, the Jean-Claude Van Damme time travel movie beloved by, er, no, sorry, forgotten by everyone, contains my favorite worst-ever time-travel-movie-moment ever, where Van Damme is brought to the warehouse where the time travel ship is mounted on some old train tracks or whatever. The creepy guy in charge explains that the craft must reach a certain speed along the tracks to leap into another time. He points to a black speck on the concrete wall at the end of the tracks and says, if the ship fails to reach the required speed, it hits the wall, everyone dies, and that little speck is the result.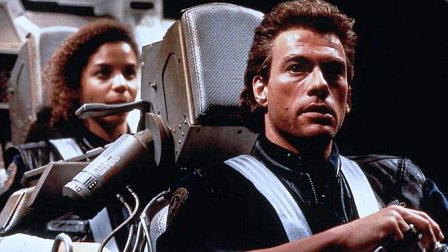 And I'm always thinking at that point, why not some soft cushions? Instead of the concrete wall? Why have a wall at all? Why not longer tracks terminating in a pleasant meadow?
Logic. The bane of time travel movies. One of the major draws of time travel is the notion that one can go to the past and change things for the better. But think on that for a second, and you might be clever enough to notice that the past already happened. You can't not have been in the past in a time machine as of now, but five minutes from now, when you climb in your time machine and go, have been. It already happened. If you were there then, then there you will go now.
What about killing yourself in the past? How's that paradox work out? It's not a paradox at all. It's not a matter of whether or not you can or can't kill yourself. It's that you didn't kill yourself. You're alive now to go back in time, after all.
What I think is most interesting about time travel is the realization that if someone appears from the future, then the future is already there. Or then. It's somewhere. It's somewhen. If someone came from it, then in one very real sense it can't be that it hasn't happened yet.
Time is a dimension, after all. The dimensions of space, the three we're familiar with and the seven other ones those clever physicists say are out there, are everywhere at once. Why shouldn't time be everywhere at once too?
Which brings up the notion of free will. If time travel were to exist, it would be awfully difficult to argue that free will did too. Even without time travel that's a tough argument to make. But let's leave that one aside for this essay.
So the trick with a time travel movie, the same as with any movie featuring an impossible scientific reality, is to explain the logic of of your impossible whatever enough to make it sound plausible, but not so much that it tips back over into bullshit. If there's too much explained, there's too much opportunity to find gaping holes.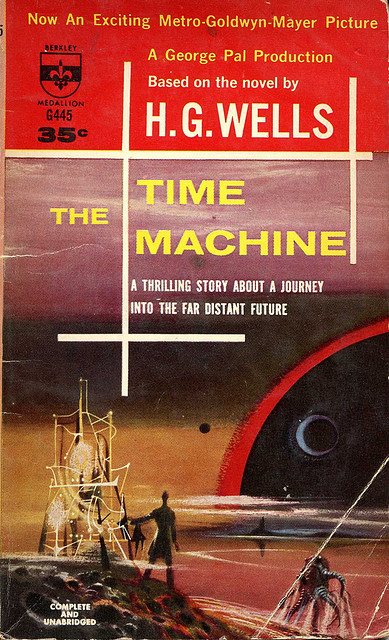 The best way to avoid all the arguments over how and whether one can change the past is to have a story where your time traveler goes only to the future. That's what H.G. Wells did when he wrote his 1895 novel The Time Machine (in which he coined the term and invented the idea of a ship able to travel to a given point in time). His traveler goes 800 thousand years into the future at first, then beyond that by another 30 million years. Wells did not lack for ballsy imagination.
Few movies deal only with travel to the future. Most famous is one I'm not even going to mention, lest I spoil it for some unlikely soul. Let's just say that you really did it, you maniacs! You blew it up! God damn you all to hell!
Then there's Nicholas Meyer's Time After Time, which actually features the character H.G. Wells and his time machine, used by, of all the luck, Jack The Ripper, to escape capture. Wells follows him to '79. Light comedy ensues.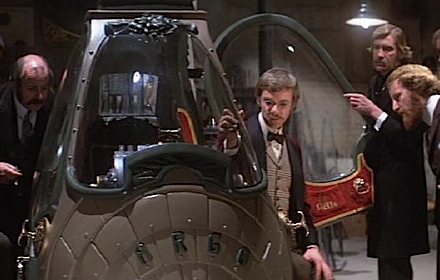 The best time travel movie of all time is a short, Chris Marker's La Jetée ('62), the basis for 12 Monkeys ('95). It makes the smart choice of explaining nothing scientific. There's no faux logic to have a problem with. Time travel exists. The movie is a poem about one man's life, featuring a loop, shall we say, far more simple and profound than anything Looper suggests.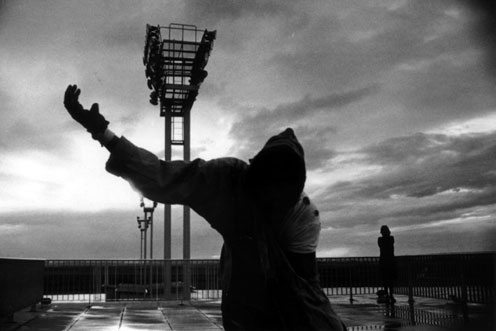 Another great example, of course, is Time Bandits ('83). Again, no real explanation is given for how time travel works. The bandits stole a map from the Supreme Being, which map shows the time holes they leap through. Can't argue with that. There's no alteration of the past, no changing futures in Time Bandits. The movie isn't about that. It's about good and evil and little people hitting each other.

Nicolas Meyer returned to time travel, this time to the past, with Star Trek IV, in which our heroes travel to 1986 to steal a pair of whales. The method used is the old slingshot around the Sun gambit, used on the original Star Trek TV series, so you know it really works. Like Time Bandits, no mention is made of altering the future by mucking around in the past.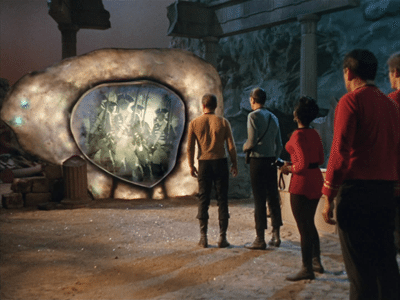 Speaking of Star Trek, perhaps the most famous episode of all is Harlan Ellison's "The City On The Edge of Forever", in which the crew beams down to a desolate planet and encounters a portal. A drug addled McCoy leaps through it and suddenly the Enterprise no longer exists in orbit above them. McCoy altered time. Why didn't the whole crew disappear? Because they're on the planet before the mysterious time portal, "mysterious" being the key word. Nothing is explained, so one allows for this portal to have created a space out of time. Why not? It's alien. Kirk and Spock jump through to the past, and restore the proper order of events.
Yes, that's all well and good, but what about this Looper disaster? We're getting there. Hold on. First we need to talk about The Terminator.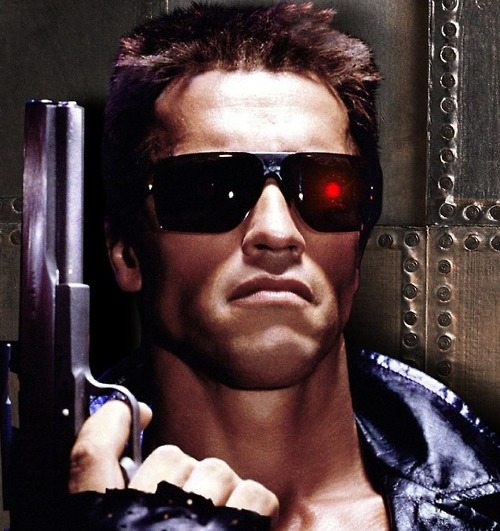 The Terminator ('84), James Cameron's best movie (after all, he "borrowed" the plot from Harlan Ellison), features a situation where characters fully believe they may alter the future, yet find they are unable to. Skynet, the robot overlord of the future, is theatened by a rebel leader, John Connor. It sends a terminator back in time to kill his mother. Connor sends back Kyle Reese to prevent this from happening (he and Skynet know it doesn't work the moment the terminator goes back, of course, but see below on this matter). The terminator is stopped, and it turns out Reese is the man who impregnates Sarah Connor with John. That's good time travel stuff right there.
Skynet, not yet convinced that John's continued existence suggests time's inalterability (they're robots, after all), sends a better teminator back to kill a young John, and we get Terminator 2, in which we learn that the surviving pieces of the original terminator, once reverse engineered, are the very things allowing the creation of Skynet in the first place. The future inspiring the past to create the future. This is a concept of time travel as descibed above, wherein all time is already there, such that notions of causality become difficult to wrap one's head about.
To make sense of this, one needs only to remember that what happened in the past always happened in the past. Just because an element of importance came from the future doesn't mean the future had "to be arrived at" before the past event could "happen." The past already happened, and in a very real way, so did the future.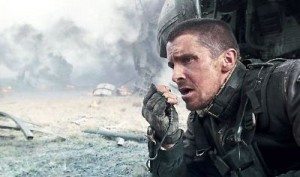 Terminator 3? No one remembers what happened in that movie. Terminator 4 is where things might have become interesting again (alas, abandon all hope ye who enter here). Now we're with the adult John Connor. He meets young Kyle Reese, the guy he'll need to send back in time to have sex with his (John's) mother. Weird. Now what's great about this set-up is that John is alive. He knows all this business of sending back terminators to wipe out his existence fails. He knows that no matter what action he takes, he will live long enough to at least send Reese back in time, and to send the terminator of part 2 back as well.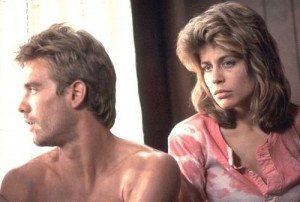 And that's a weird thing to know. That you can't make the wrong decision. We're back at having no free will. Yet the conflict is that no matter the reality, we feel like we have free will. John still has to make decisions. Other lives are at stake. Even if he knows he will necessarily make the decision that keeps him alive, he's still the one who has to decide. Maybe we can forgive Terminator 4 for not plunging into these philosophical waters. But we're not going to forgive it for being so dumb I wanted to beat myself over the head with a live tuna by the end.
The Spanish movie Timecrimes (Los cronocrímenes, '07) is another, albeit much less explodey, movie where what happened in the past already happened, where going back to change things you end up doing nothing but what you already did. The movie lacks a compelling story, unfortunately, but it very clearly shows what I think of as the most simple and logical conception of time travel. It's so simple you only need two x's and a squiggly arrow to figure it out.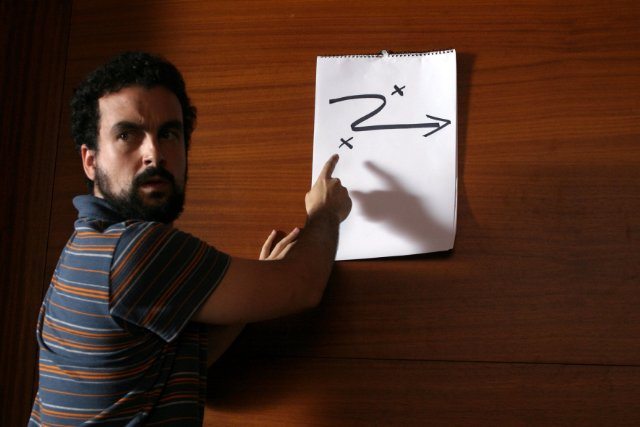 Finally we get to the magical world of magic, i.e. time travel movies where not only is a time machine in the offing, but all kinds of wonderful magical impossibilities turn up too. This is where we have alternate timelines, multiple universes, photos that mysteriously fade away, people who mysteriously fade away, memories instantly altered and erased, etc. and so on. Which look, this is all fine. We're talking movies here. It's just that these elements are often associated with lazy storytelling. They are quick and easy and logically lacking ways to have one's cake and eat it too. They are methods that elide the thorniest issues time travel brings up.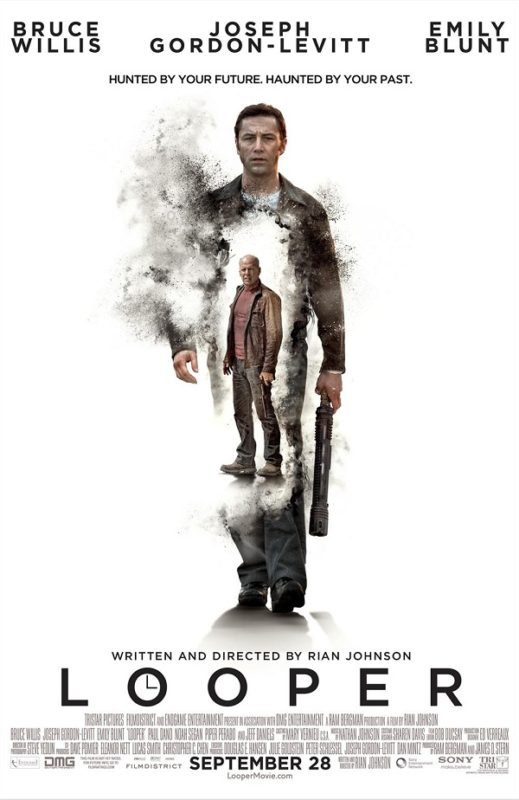 And this is the world inhabited by Looper ('12). No matter what kind of wacky conception of future-altering, alternate universe inabiting, time ripple inducing time travel you put in your movie, you need to be consistent. This is true of any movie. You're free to invent the rules of your world, but if they're not consistent, if they change when it suits the story, you're left with sludge.
Looper's time travel makes not one lick of sense. It actually seems to include every imaginable conception of time travel all in one movie, such that what it's left with is a past that has no bearing on the future.
The trouble starts instantly in Looper. The set-up is this: we're in the future some 30 years. Another 30 years down the road time travel is invented. But it's illegal. Only bad guys use it. Lacking imagination, all they use is it for is to send people they don't like back 30 years to be killed by loopers, because it's tough to dispose of bodies in the future.
I know the set-up isn't the part of the movie I should spend all my time worrying about, but come on. One's brain is one's brain. It likes to think about stuff. Like, why is it hard to dispose of bodies in the future? We see this future. It doesn't look very hard. Why are these folks sent back still alive? Why not shoot them in the future and then send them back dead? Why send them back 30 years? How about, oh, say, a million years? Alive or dead, it wouldn't matter, would it? Even 500 years and you could just wipe your hands of them. Why bother with these loopers at all?
Okay, whatever, we'll let that slide. Next we learn that to "complete the loops", whatever the fuck that means, loopers have to kill their future selves. For every looper a day comes when he shoots a new arrival from the future only to find that it's himself as an older man. Fine, "completing the loop," it has that ring of something that means something, but—wait—what? Why does it matter 30 years down the road if these guys are still alive? What's that got to do with anything at all? I don't know. I don't think writer/director Rian Johnson does either.
Then there's maybe the dumbest thing of all: why are loopers assigned to kill themselves, when that's exactly what causes all the trouble? Quiet, brain! We wouldn't have a movie otherwise, would we?
WE NOW TRAVEL INTO THE LAND OF ENORMOUS SPOILERS
YOU HAVE BEEN WARNED
Looper is a classic case of a reverse-engineered screenplay. Johnson knew how he wanted this movie to end. The notion of  "completing the loop" is a poetic and meaningful one to him, I would assume. So he had to figure out how to make a story that reached that point. Convolutions aplenty are usually the result of such a method.
Our hero is Joe (Joseph Gordon-Levitt). We know from the preview that he's going to let his older self (Bruce Willis) get away instead of shooting him. But in the movie, we first get to see another looper, Seth (Paul Dano), do the same thing. Seth lets his older self run away. The looper organization instantly knows this (how? it is never explained), captures him, and begins slicing off his fingers, his feet, his legs, his nose.
How do we know this? Because the older version of himself, running away, watches his fingers and feet and nose vanish right before his eyes! The scars of words long ago carved into his arm appear magically to tell him where to go. He goes there and is shot dead. Presumably his younger, mutilated self is kept on suicide prevention watch for the next 30 years to make sure this future comes to pass.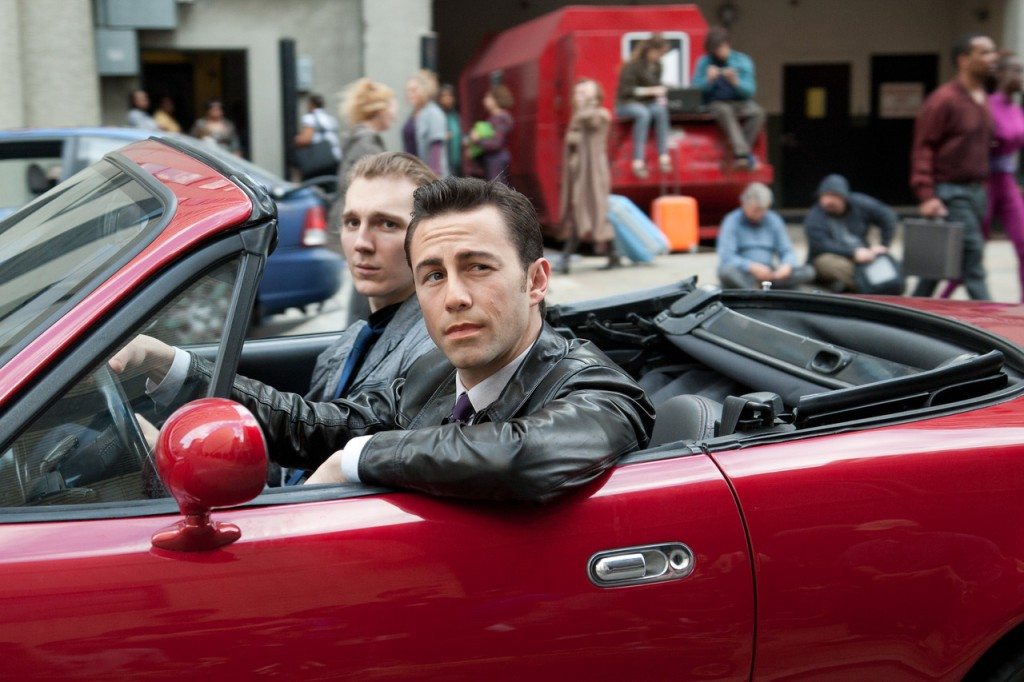 Which future? You know, one where his older, mangled self is sent back to be—wait a second, his older self came back whole. We just saw that. Like, thirty seconds ago. Oh, right, I see. This movie makes no sense at all. The past happens before the future, but not really. Only when it's convenient. Or maybe it's because the future self is now in the same time as this particular past self, so now a new timeline has been created and—or no, that's absurd, it's that it's an alternate universe, one where the moment the past self sees future self, the universe breaks in two—or, wait, okay, it's that by seeing each other, all things change and there are no realities, there are only potentialities, so only some things have happened, and others not, depending on which waitress brings you coffee and, um, or, the, but, argh!
These same nonsensical shenanigans continue as Joe finds himself face to face with himself. Old Joe appears, and gets away! We follow young Joe for awhile as the mob guys hunt him down, then abruptly cut back to the scene of old Joe's arrival. Only this time he's got the standard sack over his head and young Joe shoots him. A montage of Joe's next 30 years plays out, he turns into Bruce Willis, he gets married, he shoots a lot of guys (guess body disposal issues weren't so big a deal after all), and then, as he's taken away to be sent back in time, he kills his captors, and shows up in the past to enact the original version of the scene where young Joe doesn't shoot him. Whew. Got that? In other words, the past that happened didn't happen, because if did, then this movie wouldn't exist.
I would hope that faced with such observations, Mr. Johnson would say that the mechanisms here aren't the important thing, The important thing is the emotional journey of the characters. Which is fine. That should be the important thing in any movie. But if you set up a giant time travel plot and fail to be even a tiny bit consistent or logical, nothing else is going to matter.
And anyway, what is Joe's emotional journey? It's impossible to say until the end, when, through some serious brain squinting, you concede that it has something to do with his learning not to be selfish, played out by having him kill himself to let the magical wonderboy live.
Did I forget to mention the magical wonderboy? See, also in the future some people are telekinetic, because, you know, the future, especially this one kid who's like super-telekinetic, and in the future he turns into the Rainmaker, this guy who kills off all of the loopers and stops the whole time travelling by bad guys business. So this kid must be stopped! Older Joe will kill him at all costs!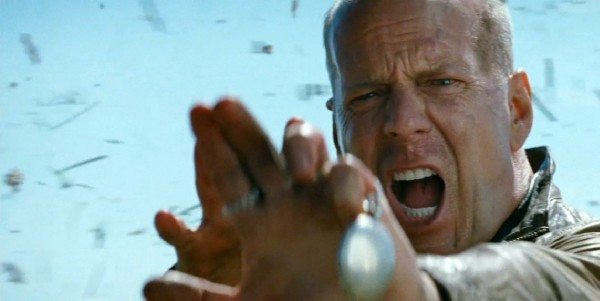 Wait, why again? Isn't it a good thing that someone stopped all of the loopers? Aren't loopers a bunch of murderous, selfish bastards? Doesn't  the ending, where young Joe shoots himself dead, causing old Joe, seconds away from killing the kid's mother (thus sending the kid on his life's journey to become the Rainmaker), to vanish into thin air (magic!), represent not a beautiful, touching act of selflessness, but a much larger, much more selfish act of insuring the existence of this insane looper scheme with no one ever to stop it?
Presumably we must assume that letting wonderboy's mom live turns him into a sweetheart, such that he grows up and not only does away with the loopers, just like he always did, but does it as a much nicer, better behaved person who also does many other nice things with his super-kinetic abilities.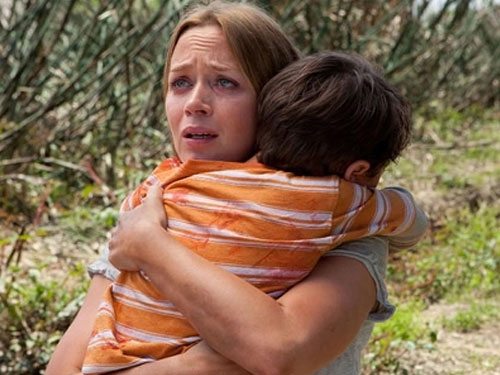 That is, unless his mom, allowed to live, and who is herself powerfully telekinetic, has more children, and they too are super-telekinetic, and so there's this awesome war of the super-telekinetics in the future, and when time travel is invented, they get their hands on it, because hey, they've got superpowers, they control the entire world, and they start sending others like themselves throughout all of Earth's history, thus ruling the world through all time with their iron fists of telekinetic death!
Call me up when you need the script for your sequel written, Mr. Johnson. We've got some great possibilities here.
I saw Looper with the Evil Genius and Mrs. Evil Genius. All this time travel talk aside, the movie simply didn't hold our interest. Despite a lot of running around and explosions and shooting adorable four year olds, it was boring. This was a big disappointment for the Evil Genius, who's been writing all about Rian Johnson this month.
For me, paradoxically, this showed an improvement in Johnson's work. His first movie, Brick, I couldn't even sit through, and his second, The Brothers Bloom, I loathed every frame of with the fire of a thousand suns. Looper I found to be merely a dull, confusing mess.
Thus making Looper, in the final analysis, a movie both fans and detractors of Johnson's work can agree on.
Ha! Bet you didn't think this would end on such a positive note, did you?
Now go rent La Jetée.