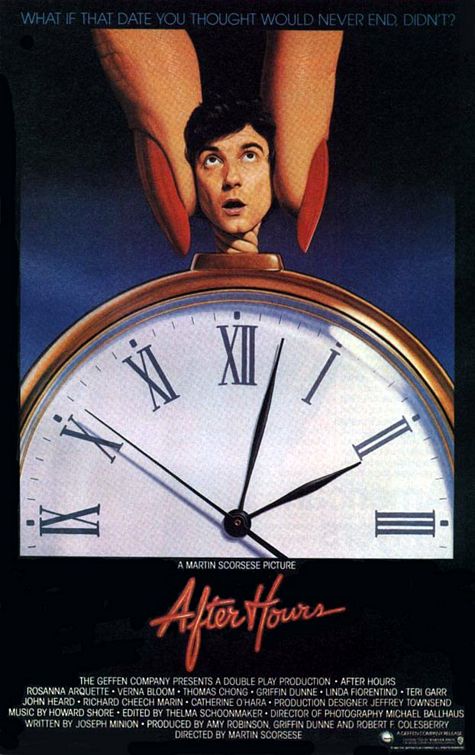 I know what you're thinking, regarding the title of this post, and it is "no." You're thinking maybe I've never heard of Raging Bull or Taxi Driver or Goodfellas. You might even be thinking I missed out on The King of Comedy. (If you're thinking I should see Hugo, you are a troubled soul who should stay away from movie theaters.) In short, you'd like to suggest I go home and get my fuckin' shine box.
But there are times, like now, the morning after having watched After Hours for the 837th time, when After Hours is, at least briefly, the best movie Scorsese ever made. It's the funniest bleak movie of all time. And it's not merely bleak. It's existentially bleak. I want to write how it's some kind of beautiful metaphor for something, but I don't quite know what that something is. The filmmakers didn't either. The ending in Joseph Minion's script has Paul Hackett (Griffin Dunne), plastered up in paper-mâché by lonely, basement living artist June (Verna Bloom), stolen by Neil and Pepe (Cheech and Chong), jammed in the back of their truck with their other stolen goods, driven off into night following Pepe's line, "Art is forever." Fade to black. The end.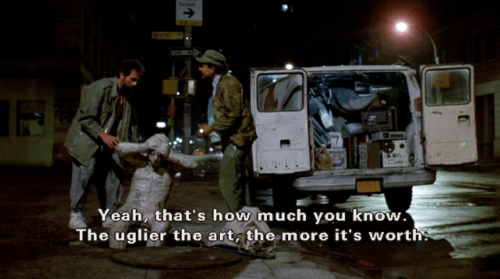 Scorsese knew this couldn't be the ending. He showed a cut of the movie to friends, to other directors, to anyone and everyone, asking what should happen. They came up with all sorts of weird ideas, including one surreal ending where Paul climbs up into June's womb. It was director Michael Powell who did what old, wise people do best: see what's already there, and go with the most obvious solution, in this case, have Paul turn up back at work. Scorsese didn't like this at first and continued trying to come up with something better. Eventually he realized there was only one ending, and it was Powell's.
Which the point is, the ending feels absolutely right, even if one can't put into words what it "means." It's an ending you feel rather than think about and assign meaning to. I'm guessing this is what held up Scorsese from seeing how perfect it is. And it is perfect. The movie could end no other way without it feeling in some way incomplete.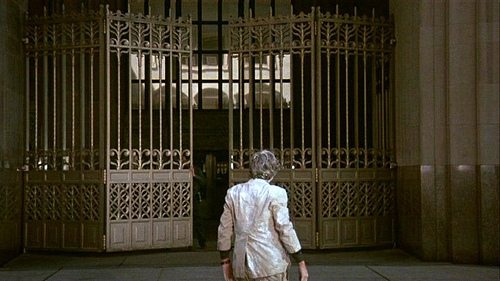 I seem to have begun at the ending. I trust I'm not spoiling anything. You have seen After Hours, haven't you? Not for a long time, perhaps, but that's why I'm here today writing this. It's time to see it again. It gets better every time you watch it.
It's the story of one man's nightmare night, a man who sees the universe conspiring against him and decides to just go home, yet who finds that no matter how hard he tries, that's the one thing he can't do. He does everything right. You never yell at the screen, "You idiot! Why not just do THAT!?" Because he already did whatever that is. It's gloriously frustrating. Like life. Scorsese apparently had trouble filming certain horrible scenes because he was laughing so hard. He could relate.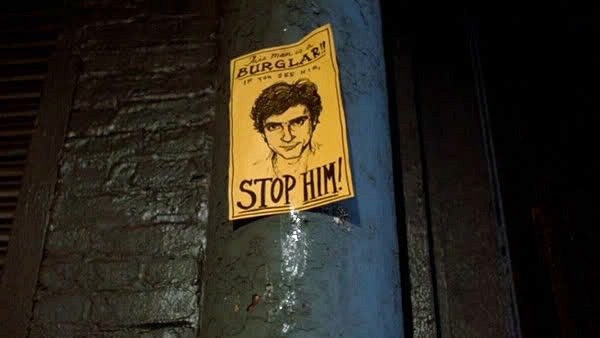 Griffen Dunne is so great as Paul. He's nice, he's a good guy, and when things go wrong he's so genuinely frustrated you can't help but feel for the guy. Even when he blows up at Marcie (Rosanna Arquette, her best role ever?), you're with him, because holy jeebus is Marcie nuts. I love her instaneous mood swings, her strange tales of six hour rape she slept through most of and her husband's penchant for crying out "Surrender Dorothy!" during sex (the movie was originally titled Surrender Dorothy), and her half-whispered, paranoid conversations with her roommate (Linda Fiorentino), she of the fabled bagel and cream cheese, plaster of paris paperweights.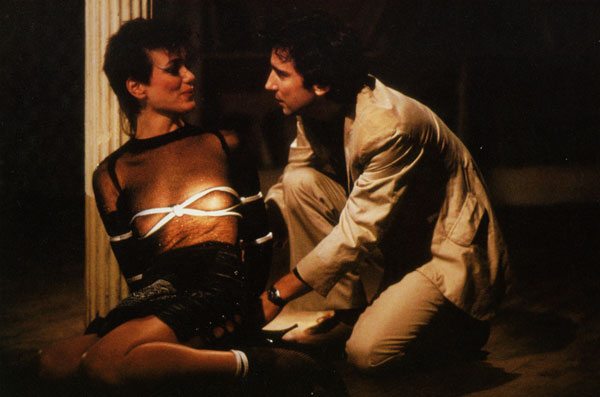 Look at Dunne's expression when he meets Marcie in the diner, she asks him if he'd like to buy one of the paperweights, and he says, "Yes." You can hear in the pause before the "yes" and the way he says it a lengthy thought process: "A paperweight? You must be joking. Only you are cute, and if I say yes, maybe I can get your number. But do I really want to go down this road with you, random girl in a diner? Well, fuck it, why not." And so, "Yes."
Teri Garr and Catherine O'Hara are the other two women Dunne meets, and like Arquette, they dig deep into their small roles to create all too real loons. Admittedly, the movie doesn't have any sane female characters (although then again, Fiorentino's Kiki Bridges is perfectly well-adapted, she just lives a different kind of lifestyle, her and her sensitive, knot-enthusiast boyfriend Horst (Will Patton)), but that's because this is Paul's story, it's his nightmare world, and like many men, he's got some issues with women.
The feel Scorsese imparts through his camera movement and editing is dreamy and haunting and unusually rhythmic. It's almost like the entire movie is cut to the beat of a song, most notably when Paul goes to the apartment of the bartender (John Heard), clicks on the light, turns off the alarm, flushes the toilet. Strange touches abound, as when Paul comes up the stairs to Kiki's apartment, he fades out at the bottom of the stairs and fades in at the top, or when she drops the keys and we race down with them as Paul waches them fall. Often Scorsese has the camera follow people's hands, as they grab matches, hail cabs, turn on lights, or grab a $20 from Kiki's Munch-like sculpture. Scorsese is well known for his moving camera, but in After Hours it feels especially appropriate to the story of this man trying so hard to stay in motion, to just get home.
After Hours wasn't a big commercial success when it opened in '85. Critics liked it. Scorsese showed it at Cannes and won Best Director. Since '85 it's become something of a cult classic, as they say. Which just means it's great and a little bit weird. Wouldn't it be nice if all movies, bad or great, were a little bit weird? Yes, it would be.
One last thing, weird and great radio story-teller Joe Frank sued the producers when the movie came out for stealing one of his early stories. It was settled and he was paid handsomely, it is said. It's an eleven minute piece called Lies. If you're familiar with the movie, give it a listen. Sure enough, screenwriter Minion took this story as his inspiration for the first act of the movie and didn't bother to change it nearly enough.