Donnie Brasco. Something about the mafia? With Al Pacino and Johnny Depp? Often included in lists of great mobster movies? I wondered why I'd never seen it.
Now I know.
It must have had the stink on it when first it opened, and I must have smelled it. I should have trusted my younger nose.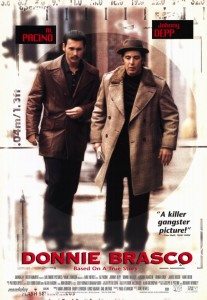 Donnie Brasco ('97) is a movie impossible to take seriously. It took me at least the first half hour to convince myself this wasn't some kind of spoof. It makes Johnny Dangerously look gritty by comparison. It's all bright happy colors in cliché '90s style, yet it's set in the '70s. It looks like MafiaWorld at Disneyland.
The characters are cartoons, played by Michael Madsen and Bruno Kirby, among others. Al Pacino is woefully miscast as a sadsack hitman or something. Pacino has a hard time playing low-status no matter what he's in, but when no one's status in the movie is clarified, it's impossible; Pacino is Pacino, a high-status bad-ass. Only actually he's not? I guess? No one's really playing a character in here. They're only playing types. So no one knows how to behave around anyone else. They're just, generally, "mobsters," doing "mobster stuff."
Lefty (Pacino) decides to talk up some random guy at a bar, Donnie Brasco (Depp). Why? No idea. He needs a new buddy, maybe? Brasco, of course, is an FBI man, a genius, apparently. Just by getting a drink at the right bar, his target falls in love in with him.
Not a single scene has any weight because no meaning is given to anything anyone's up to. So Lefty is called to some kind of sit-down, but hey—maybe it means he's going to be shot. So am I supposed to feel tension? Is Pacino going to be taken out by someone we've yet to meet ten minutes into the movie? Turns out, no. Exciting.
Or later, our hero gang goes to meet the bad guy gang, but the bad guys are going to shoot them, but then the good guys shoot the bad guys. Might have been interesting if we'd known any of this was being planned, or what the stakes were, or why we should care.
The whole movie is just cliché upon cliché. All the scenes you're supposed to have in your FBI-man-undercover-movie are in here, but none have any drama attached to them. It's just a movie going through the motions, as though meant only to remind you of what movies like this look like, without actually being one.
Stranger still, it's based on a real-life FBI agent's memoirs. All of this fake nonsense actually happened. Which goes to show you how meaningless source material is. Movies aren't good or bad, fake or realistic, because of where their stories come from. Their quality is all in the making. Donnie Brasco is written by Paul Attanasio and directed by Mike Newell. An IMDB check reminds me I haven't liked a single movie either has had a hand in.
Donnie Brasco is pointless and boring and, in the end, not half as funny as Johnny Dangerously. If you're yearning for something not to watch, Donnie Brasco is it. Hell, I could not watch Donnie Brasco for a week straight. It's that bad.