The future. We're all going to be living in it any moment now. And we know exactly what to expect of it. No, not hover cars, teleportation, sleek rocketships, Moon bases, Martian colonies, silver jumpsuits, world peace, levitating cities, dogs named Astro, and an everlasting war against the space-monkeys of Venus. That was the future of the '50s and '60s, back when space was the answer to all of our earthly problems and scientists worked for the good of mankind (albeit with occasional slip-ups resulting in giant ants and/or rampaging lizard monsters).
Today's future, as we're all well aware, is a post-apocalyptic nightmare of zombies, cannibals, wild bands of roving bikers, radioactive mutants, robot revolutions, corporate ownership of all remaining humans, and the total collapse of society into a pre-iron-age free-for-all. Curiously, many can't wait for this to occur, presumably imagining themselves destined for survival, and who, based on their loner dispositions, savviness, and wiles and/or gills, will end up delivering the mail and saving the world.
This week's double feature features no saviors. Instead, we will be traveling across the pond to visit a weird European future of cannibals and kings, of biscuits and musical saws, of parties, incest, death, and snails. Also, there will be jokes.
Our first stop: England.
Revengers Tragedy ('02)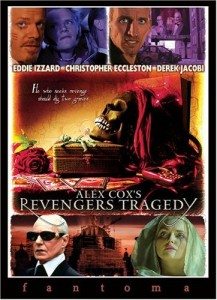 You might not expect a depraved, satiric, Jacobian black comedy written in 1606 to be the basis of a futuristic Alex Cox (Repo Man, Sid & Nancy, Walker) movie. But so it is. Cox and screenwriter Frank Cottrell Boyce messed with Thomas Middleton's notorious play, The Revenger's Tragedy, rearranging and rewriting, and came up with a truly bizarre movie, a mixture of past and future set in a burnt-out, post-apocalyptic Liverpool. Actually it's set in 2011, so it's the future past two times over.
It stars Christopher Eccleston (the 47th (or so) Doctor Who to all you nerds), Derek Jacobi (famed English theatre actor, and veteran of approximately 93,000 film roles), and Eddie Izzard (whose comedy routine Dress To Kill is required viewing for those who like to laugh), plus plenty of other entertaining actors, all of whom have a grand time with their old-time, Shakespearean-era dialogue, and play characters with great names like Supervacuo, Ambitioso, and Sordido. Not being British myself, the mash-up of British-accented old-time verbiage and future slang is at times rather difficult to understand. Yet this feels appropriate. This bizarre version of English adds to the time-displaced feeling the movie conjures up.
The story is typical for the eras (i.e. 1606 and after the apocalypse). It's about moral decay, decadence, adultery, political intrigue, revenge, and murder. There's an evil Duke, his revenging son Vindice, his brother, their sister, the Duchess, her assorted children from a former marriage, and all the other hangers on one expects to find at court. The Revenger plots to thwart the perceived evil of the Duke and Duchess, but there's a saying about revenge, attributed to Confucius (and is it quoted at the start of this movie? Or another movie? Where have I seen it?): "He who seeks revenge should remember to dig two graves." Or in the case of this particular Revenger, quite a few more.
Revengers Tragedy is bloody and weird and retro-futuristic, and while it isn't the best movie of all time, you should watch it anyway. It is, in its own way, delightful.
When you've finished, and you're feeling dirty and depraved, take a break, enjoy a glass of whiskey or, if you'd prefer, a nice cup of tea, and settle in for a continental take on the future:
Delicatessen ('91)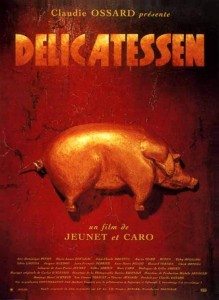 I vividly recall seeing Delicatessen for the first time. I was wandering about Munich, passed by a movie theater, checked the schedule and saw that this odd looking French movie, "presented by Terry Gilliam," as it claimed, was playing with English subtitles. This seemed fortuitous. So I went in and watched it.
Mind. Blown.
I love this movie to tiny little pieces. I love it like the Frog Man loves his frogs. Like Louisson loved his simian partner Livingston, before Livingston was, well, let's not get into that yet.
Delicatessen is set in an undated, post-apocalyptic future France, where food is scarce and the world has fallen apart. A man arrives at an apartment building looking for work as a handyman. This is Louisson, played by Dominique Pinon, who has the most marvelously rubbery face I've ever seen. He used to be a clown, but no more. He's hired by the suspiciously evil butcher, Clapet (Jean-Claude Dreyfus), though it appears the last handyman may have left the job unwillingly, shall we say. In any case, there's a conveniently steady supply of meat for the residents of the building.
Louisson falls for the butcher's daughter Julie (Marie-Laure Dougnac). There's a scene where Louisson goes to her apartment for tea that is a wonder of physical comic acting. To appear prettier, Julie removes her inch-thick glasses. Not being able to see worth a damn leads to what let's call a tea-pouring dance between her and Louisson I don't know how they pulled off.
This being post-apocalyptic, there are also a rumored group of rebels called the Troglodytes, and a very evil mailman who could absolutely kick Costner's ass.
Music plays a big part in Delicatessen. For one thing, Louisson plays the saw and Julie the cello. More generally, the movie is edited like a song, with great attention to changing rhythms. In the signature scene of the movie, the evil butcher has sex with his girlfriend on his squeaky bed. The rhythmic squeaks are heard throughout the building. All of the other characters, busy with their own activities, move to the squeaky beat. The squeaking grows faster and faster, everyone speeds up in unison, until the butcher climaxes, and—well, things don't turn out so good.
Delicatessen is the first movie by Jean-Pierre Jeunet and Marc Caro, and I think their best. They went on to make The City of Lost Children together, after which Jeunet directed, among others, a godawful Alien sequel and the much beloved Amelie.
It's a nice tonic after Revengers Tragedy. Demented and odd as Delicatessen is, it is, after all, a comedy, and when it's over you might not be dreading our post-apocalyptic future as much as before. Unless of course you're one of those folks eager for the coming zombie armageddon. In which case this movie will leave you sobbing on your sofa, crying out, "No zombies?! Noooo! NOOOOO!"