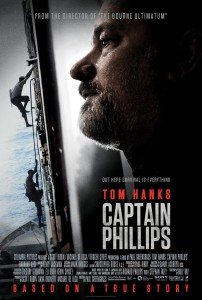 There is a moment, towards the end of Paul Greengrass' true-life actioner Captain Phillips, in which the eponymous sailor played by Tom Hanks is simply overcome. The violence and strain have so rattled his brain that he cannot form words. Asking him if he is okay is a question he cannot answer.
Watching this scene, I notice two things: the first is that Tom Hanks is not cut out for action films but he is cut out for emotion. The second is that Paul Greengrass has made me feel—to a much shallower degree—like Captain Phillips. I sit in my theater seat, holding my free Captain Phillips t-shirt, wondering if I am okay. Is this okay?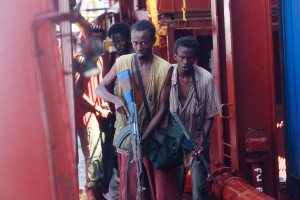 This is the second film about high-seas piracy I've watched this year. The first, the Danish film A Hijacking, did not involve the military (as, I understand, is the case with most modern piracy events). It put a believable crew in the path of believable Somalis and contrasted their experiences with that of the businessmen who negotiated the ransom. It was a film which gave me some awareness of what it must be like to get caught in a situation of that sort.
Captain Phillips is not that sort of film. Unlike A Hijacking, it bases its tale on the true story of Richard Phillips who did indeed survive a similar piracy attempt off the coast of Somalia. Similar, but not that similar to what is portrayed in Greengrass' film, as scripted by Billy Ray in a style somewhere between 3rd grade theater production and US Armed Forces recruiting commercial.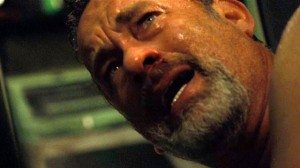 If something can be explained with dialogue, better just say it. If it's important, have the character repeat it.
Phillips captains a giant cargo ship. He and his crew are attacked and boarded by pirates, whom we first meet in their village in Somalia. This scene taught me something new. Shaky cam is much much worse when you're trying to follow subtitles. It's like trying to read the newspaper while vomiting.
In a way only remotely similar to reality, Phillips and his crew square off against the pirates who are all able to speak English but otherwise are as dumb as a pile of rocks who left school at 12. Minnesotan cab driver Barkhad Abdi plays the chief pirate better than any cab driver could hope to, in his first acting role ever. He can make crazy eyes as well as but not as fetchingly as Mary Louise Parker. Also, he can tremble convincingly and shout. More than that was not demanded of him in this picture.*
But if you have nothing nice to say, you can at least be brief, as my mother should have said briefly. The thing about this movie is simply: why?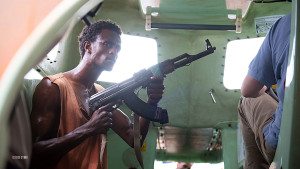 Who are you that you'd want to watch a film about a normal guy who survives a horrible ordeal, partly due to his bravery and calm head, and partly due to the terrible might of the US Navy. Mostly due to Navy SEAL snipers if we're being frank. Watching A Hijacking, I could relate to the pirates. I could relate to the crew. I could even relate somewhat to the company men who handled the purse strings.
Captain Phillips just made me sad. There is no glory in destroying fools, particularly since the pirate chief—in real life—was all of 15 or 16 years old. Yeah. Four Somali ex-fisherman vs. a destroyer and a frigate. I wonder how that story ends?
So: why? Am I supposed to watch Captain Phillips and swell with 'America Fuck Yeah' pride? Is it supposed to trickle its way into the hands of proto-pirates in the Horn of Africa to discourage them from messing with the red, white, and blue? Or am I supposed to take pleasure in seeing men killed and in seeing Tom Hanks survive—as if this were fiction and not some reflection of the world?
I really don't know. I liked Greengrass' kinetic style when he was filming fictional super spies. When he's warping around a real story, I am not enthralled. I am, rather, mortified. I am not thrilled; I am depressed.
Is this movie okay? Am I okay?
I'm not too upset to answer, but why don't you go ahead and guess anyway.
*ADDENDUM
Something has been bothering me since I wrote this last night. It's about Barkhad Abdi and the way in which a face such as his is used as shorthand for 'dangerous.' On the one hand, Abdi is authentically Somali—born there—and so a reasonable casting choice. On the other hand, I wonder if he is used as a caricature; like Micky Rooney as Mr. Yunioshi in Breakfast at Tiffany's.
A lot of this film is written in shorthand. The excellent Catherine Keener gets all of 3 minutes of screen time in which to show off her wedding ring and discuss the Phillips children so we know the Cap'n is married with kids. Is Abdi's beautiful Somali face used in a similar fashion, so that we xenophobic Americans see it and quickly recognize danger? That's not a question I can answer. I just know that in the pit of my stomach the question has been churning since the film ended.
Abdi is excellent for a non-professional actor. Is that why he was chosen as a foil for Tom Hanks? Or was it more for how he looked: foreign and dangerous.
Somalia may be a perilous place. Somalis are no more dangerous than anyone else who had the misfortune to grow up in Somalia.
I hope that Barkhad Abdi gets a chance to act in more films; that his face can be associated with a nice romantic comedy. That he doesn't end up like certain Arabic or Eastern European or African-American actors who find themselves continually playing villains; because that's what we expect those sort of faces to turn out to be. Because we're xenophobic and need the entire United States Navy to protect us from those few dangerous men with guns who don't live right down the street.
You do know that, right? That non-Americans are afraid to travel here because we're a bunch of dangerous gun-crazy nuts. It's true. Both parts of that sentence are true.