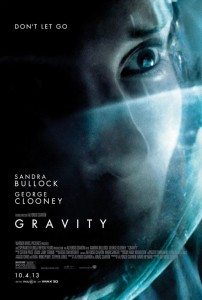 It is inevitable. What goes up must come down. That is the effect of Gravity, the new film from Alfonso Cuarón—director of the stunning Children of Men—starring America's sweethearts Sandra Bullock, George Clooney, and the planet Earth. The movie is an acrobatic tumble through an orbit too low to last. The pull of planetary forces refuse, eventually, to let the picture go—but what a ride!
While it lasts, particularly in IMAX 3D, you spin as high as possible. There is none higher. From its opening perspective working on the Hubble space telescope as docked with the space shuttle Explorer, there is virtually no direction to go but down. Veteran astronaut Matt Kowalski (Clooney) zips around with his jetpack and talks of west or north but those terms are preposterous in space. Filling half the sky that is no sky, we are confronted with the magnitude of our planet. Virgin astronaut and some sort of technical bio-med whizz, Dr. Ryan Stone (Bullock), feels ill as she tries to make her special whatsit work on the Hubble. We feel ill, too; disoriented and spun as Cuarón shows off his mad skills constructing space.
The first shot does not end. It twirls and dives and grasps in a way reminiscent of Children of Men's auto ambush. You can watch a good chunk of this beginning online. You can also watch the drama unfold as satellite debris does a drive-by, turning the Explorer and the astronauts into Sonny Corleone. Here is our story: Dr. Stone 'off-structure' and spinning free in space. Lt. Kowalski to the rescue.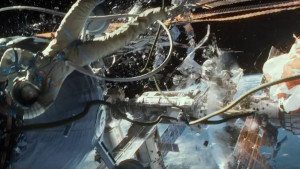 Gravity puts you in space in a way few other films have managed. My experiences as an astronaut are too brief to mention, but everything—at least technically—was wholly believable to my eye. The film starts with an unnecessary bit of title reminding us that space is cold and devoid of oxygen and unfriendly to sound. And then you're in it. You are in space, connected to a bit of metal by a strip of fabric, and floating. Invariably you will think of Kubrick's 2001: A Space Odyssey. 
This is intentional. Cuarón clearly references the end of that film in one shot here, but it is a mistake. While Gravity looks absolutely stunning and feels frequently captivating, its reach into meaning is considerably less poetic than Kubrick's. For a start, the script for Gravity, co-written by Cuarón and his son Jonás, is full of grand first ideas. They are the sort of ideas that a writer comes up with to build what could be an everlasting story, and which he or she then sets aside to touch points less obvious and facile. Lt. Kowalksi, as an example, is the sort of man who always has a rambling story to tell. He is the sort of man who deals with his abandonment in space without emotion. He is the type of guy who looks his dead colleagues in the eye and offers nothing in response. These dead men and women—this life I have—it is nothing to me but a rambling story. That sounds nice conceptually but works poorly in practice.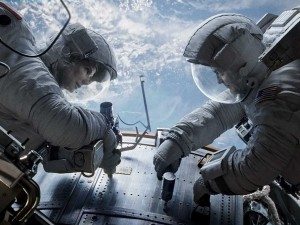 It is not that George Clooney is bad as Kowalski, or that Bullock is particularly bad as Stone; it is that their characters are not grounded by the sort of gravity this films lacks.
I dare you to watch Gravity without feeling yourself immersed in the calamity these characters face. That is the sort of praise the film deserves. I also dare you not to question the honesty of their responses and their dialogue as the disaster unfolds. They are not wrong per se; they are just not right.
While there are few films out now (or ever) that match Gravity's heights, it is easily surpassed in depth. The story is dual. We track Stone's struggle for survival and we track her journey to get her feet beneath her once again, metaphorically. This metaphor is wispy. Its underpinnings are weightless, as if they are also lost in space. So, in Gravity, we get a novel and captivating disaster film, but not much to consider when the day is done. That's gravity but not so much gravitas.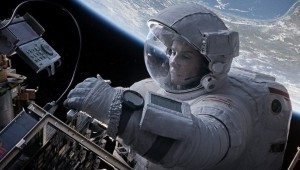 You feel Cuarón reaching for the stars, but they are so far away. It is like throwing a rock at the moon. His arm is exceptionally strong but I have concerns about his aim.
It may be unfair to compare Gravity to Children of Men and 2001: A Space Odyssey. Both of those films will be watched and remembered for as long as we have cinema. Compared to other films—to Argo or Pacific Rim or Elysium—this one is far superior. It is unquestionably breathless and agoraphobic and untethered. It ended and I was glad to have stayed up late for an opening night IMAX screening.
Technically, it is like Avatar except not infuriatingly stupid and banal. Visually, it is as close as you are going to get to hitting the moon with that rock. Its humanity may be overly removed by protective gear, but you've got your own humanity. Go see Gravity and bring it with you.