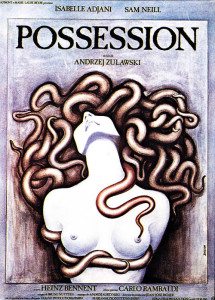 I am now going to attempt the un-possible. I am going to try to say something coherent about Andrzej Żuławski's 1981 horror / freak-out / train-wreck / love story Possession. That will be like trying to fit 17 unshelled peanuts up my nose while gargling butter and being fondled by a large cephalopod with dubious amorous intentions.
Which is about how I felt watching Possession: dirty, violated, and yet fascinated to see how it would all end for the cephalopod
Where to start? Okay. How about this:
Have you ever watched an incredibly beautiful woman slam herself into the walls of a deserted subway passage while hyperventilating, screaming, writhing about energetically, and miscarrying a mutant pudding pile that is the physical embodiment of faith? No? Well then. Maybe you want to watch Possession? Did I mention that this scene goes on for minutes? Not, you know, a couple of quick shots of star Isabelle Adjani making horrific faces and then writhing and then sobbing all cut together with some fake blood to create a powerful effect. It's one LONG Take. Like the start to Gravity, but in a much deeper part of space.
For her sake, let's hope Isabelle got the scene right the first time. I don't think her much-abused dress could have survive two takes, let alone the actress. Perhaps her fully committed but questionably applied vigor in this scene explains her Best Actress Cesár and her win at Cannes? It is certainly the scene (of many) which kept me in my seat at the Castro Theater last night, even though the film was beaten severely with the screwy stick.
It begins with a young, trim Sam Neill (Mark) returning from espionage work to his suddenly distant wife, Anna, played by Adjani. While he was off being a bugger, she stopped loving him. Surprise! Mark takes this hard. He wants to return to his perfect life, his perfect son (Bob: Michael Hobgen), and his impersonally awful apartment alongside the Berlin Wall. He moves out to give Anna time to think and goes serious, grade-A bonkers.
Let me pause here to say a word or two about the level of the performances in Possession. They are extreme. If there is a way for an actor to scream unintelligibly and flail about while defecating in his or her shorts, they will do so with a bloody nose while savaging themselves with an electric meat slicer. You may feel that I am applying hyperbole here, but the only thing exaggerated in the previous sentence is the defecation and most of the time I did not get to see inside the actors' shorts.
For this I am glad.
All the dialogue, all of the characterizations, all of the decisions as to camera movement and editing—these are turned up past eleven. That's how Possession starts and then it gets weirder and nuttier and yes, you just sort of watch it shrugging and chewing on your palm and looking quizzically at whomever is sitting next to you, as if to say, "Did you also just observe that crushed car fall off a passing truck, nearly missing the actors, as a face-bloodied Isabelle Adjani gibbered and looned?"
Yep. That just happened. Żuławski's film is like Davids Lynch and Cronenberg had a torrid affair with Ed Wood and gave birth to that baby from Trainspotting in William S. Burrough's garbage disposal.
The plot progresses as Mark discovers and is humiliated by Anna's long-term lover, Heinrich (Heinz Bennent), who makes the other performers in Possession seem stilted and sane. It is at this point that you become aware that the film may not be intended to be taken literally. Andrzej Żuławski was in the midst of his own messy divorce during the creation of Possession. The level of emotion he felt is plain. The level of emotion is monstrous.
Anna cannot explain why she no longer lovers Mark. She has and hasn't been seeing sexual dynamo Heinrich. Bob's angelic teacher Helen (also played by Adjani, just now wearing white) swings by one night to do the dishes, do the Mark, and comment on Mark's perverse understanding of women. Private detectives are hired. Private detectives are killed.
It is difficult not to say, "and then things get weird," because they started weird and I have only so many superlatives to codify the level of weirdness to which events turn. We get our scene in the subway. We meet the 'baby' that Anna didn't miscarry—the one that is the embodiment of chance—and it looks like someone flayed Beaker from the Muppet Show and spliced him to a cuttlefish. And then made you watch him fucking Isabelle Adjani.
Possession was one of the infamous 'video nasties' that led to censorship laws in Britain. It was heavily cut for release in the United States. One would presume the scenes of domestic violence, murder, supernatural screwing, and extreme overacting are to blame. And yet: the entire thing is worth your time. There is something there about the emotional state of dissolution. There is something there about being possessed both by others and by the instincts lurking within yourself. There is the cloying overabundance of unfettered lunacy.
You can't take your eyes off it. Each escalation of plot madness is the key change that might just rip your psyche clear of terrestrial rule. It is chemotherapy for your sense of propriety.
It is nuts.
Would you like to know what happens next? I'm not sure I can tell you. People die. Things come to life. Everyone goes batshit nutsy cuckoo and does symbolic things with whatever is handy—a pub toilet, a closet organizer, a meat grinder. Mark's shady past comes back around in a way that I didn't really follow or care to. Does he still love Anna? Does Anna still love Mark? Have you seen Heinrich's soul? Won't someone think of the children?
I guess not. The end.
In summary, there were two separate traffic accidents on the Bay Bridge so it took me an hour and a half to get home after the movie, which we watched after Werner Herzog's Nosferatu, and then I promptly got a bloody nose—perhaps in sympathy for Anna and Mark. Also, my wife had turned into a weird tentacle monster and put all my clothes in the freezer but I love her—or whichever doppleganger of her this version happens to be—anyway. If you see my soul, please let me know.
Also I would like some help getting these peanuts out of my nose.