As I write these words, it's raining, thundering, and lightning-ing (enlightening?) above my head here in San Francisco. We don't get thunder and lightning often around here. It scares us and makes us run and hide in dark places. And what better dark place in which to cower than a movie theater? If you're going to be scared in the dark, might as well have Red Vines and hot popcorn on hand.
California is experiencing its worst drought in recorded history, but I am here to predict an April of nothing but rain. It's lucky I live on a hill, because the whole of the low-lying Bay Area is going to be washed away into the Pacific. But that's not till the end of April, or so my psychic weather-predicting monkeys tell me. In the meantime, let's all go to the movies!
Being There
April 3, The Pacific Film Archive, Berkeley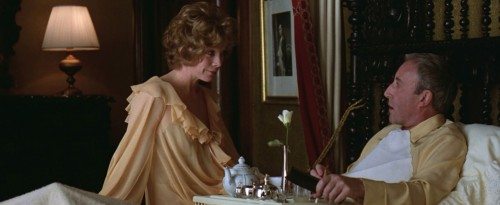 Director Hal Ashby's best film? It is at least so long as you're watching it. Then you watch another of his movies, and that's the best one. Being There stars Peter Sellers as a man who is either functioning at the mental age of a five year old, or the second coming of Jesus. If nothing else, he'd like to talk to you about your garden and watch your television. He is a man who likes to watch. Do you like to watch? Yes? Then you will like watching Being There. And if you really want to do it up right, we've got another movie you should watch first, for a fine double feature.
The Unknown Known
April 4 (on VOD, a week or so later in Bay Area theaters)

Documentarian Errol Morris has been making genius movies since the '80s. Perhaps you took our recent advice and watched The Thin Blue Line? More recently he made the fascinating The Fog of War, a movie-length interview with Robert McNamara, former Secretary of Defense, among other government positions. It's an amazing, revealing portrait of a man instrumental in pushing the Vietnam War coming to terms, in some sense, with his past. The Unknown Known is likewise a movie-length interview, this time with Donald Rumsfeld, architect of the Iraq Clusterfuck–err, War. Rumsfeld is well known as a man who's never apologized for anything, who's never admitted to a single wrong decision. Word is he's no different in Morris's movie. He is a man with not a shred of remorse, regret, or self-doubt. Will that make for a compelling movie? We shall see.
Island of Lemurs: Madagascar in IMAX
somewhen in April on your local IMAX screen

Lemurs? In IMAX? Count me in. Lemurs are awesome. They're indigenous only to Madagascar, where they are totally adorably weird, like monkeycats. It's narrated by Morgan Freeman, so we'll all be sure to feel warm and fuzzy together.
Groundhog Day, Caddyshack, Vacation, Stripes, Animal House
Harold Ramis Tribute at The Castro: April 11 and 12

Harold Ramis died recently, as you may be aware. I wrote a little piece on him here. He was the man behind and beside and inside movies as great as, well, as the five movies the Castro is screening. I guess they left out Ghostbusters for being too obvious? No matter. You'd have to be crazy to miss seeing all of these on the big screen. (Or, like me, out of town that weekend. Curses!)
Sorcerer
April 17, The Castro

If you're like the enormous staff here at Stand By For Mind Control Laboratories, you love Henri-Georges Clouzot's '55 masterpiece, The Wages of Fear, the best French action movie of all time, about men driving trucks full of nitroglycerin over bad, bad roads. In fact you just watched it, didn't you, when we suggested this brilliant double bill? Good. Then you're ready for William Friedkin's notorious '77 remake starring Roy Scheider. "Notorious" because Friedkin at the time believed he was God, having minted money with The Exorcist and The French Connection, and could do no wrong. So, with plentiful buckets of cocaine to aid in his continued support of that belief, he put everything he had, and all the money everyone else had, into Sorcerer. Upon its release, it bombed. Since then, its rep has grown steadily in stature. I've never seen it. Let's see if it's any good together, shall we?
Only Lovers Left Alive
April 18, various Bay Area Theaters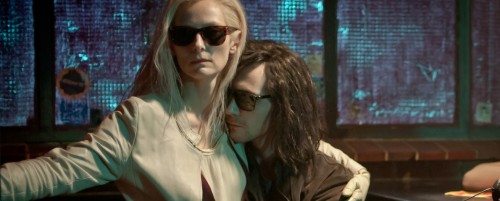 Jim Jarmusch is back with a tale of despondent, romantic, well-dressed in a sort of hipsterish way, exceedingly cool vampires. You (or I, anyway) might ask of Jarmusch: hasn't this been done? And: do we need another vampire movie? I have faith that Jarmusch's anwers are no and yes, and that this movie proves it (also, I'm crossing my fingers). Dead Man is one of the best things ever, and really no Jarmusch movie is without at least something to commend it. So, despite the vampiric subject matter, this one's a must-see.
The Big Lebowski
April 18, 19, 20, Midnight shows at the Clay

You either love this movie or you don't love this movie. If you love this movie, bring your milk, your vodka, and your bowling shoes to the Clay for a midnight screening. This is one Coen brothers movie that's grown on me. In the world of their comedies, I don't love it the way I do Raising Arizona. But it's pretty damn funny. And if the last Coen movie you saw was Inside Llewyn Davis, you're in dire need of a laugh.