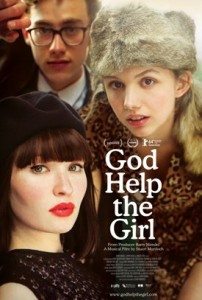 Musicals normally make me break out in fist-sized face hives, but Stuart Murdoch's God Help the Girl had me melting into a puddle of twee satori.
This may be because I'm a big fan of Murdoch's flavor of exuberant, emotional pop as heard in his work with indie Scottish band Belle & Sebastian. Then again, it may be because God Help the Girl is good. It's like what Wes Anderson might have made in place of Bottle Rocket if he knew how to write music and understood romance.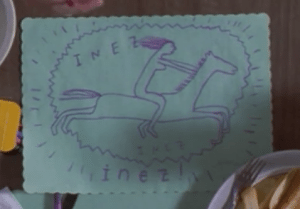 Not a dig against Mr. Anderson, mind, but falling for Inez in a nowhere motel isn't anything like swooning for Emily Browning, who's half asleep in the next room and almost but not quite in need of saving.
In not-quite Glasgow, pixie Eve (Browning) slips from a psychiatric facility to see some music. There, she witnesses the on-stage dissolution of a band fronted by James (Olly Alexander) — lifeguard, aspiring misanthrope, and guitar teacher. Eve crashes at his place and then returns to the hospital, by which time we've run through a handful of lilting, feisty numbers and fallen in love with Eve or James or both. Their youth is intoxicating, as is their existence in a world unconcerned with anything that mightn't make an enticing lyric.
Murdoch shoots his film like an extended, improvised music video that owes more to A Hard Day's Night than glitz and glam. It's not the cinematography, it's the involvement. Smiles feel real, as do any urges to submerge yourself in a brimming bath alongside Eve.
Fleeing her anorexia and nurses, Eve moves in with James and together they fall in with his music student, Cass (Hannah Murray, whom you might peg as Gilly from Game of Thrones). As an instant ensemble, the trio larks, and laughs, and — naturally — forms a pop band. There's also a Lothario named Anton (Pierre Boulanger) but if you're in this one for the plot, I hope you like your lunch light. God Help the Girl is about emotions and music and there's heaping helpings of both. Teenaged appetite sized-servings.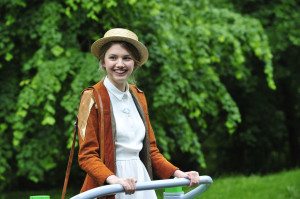 Yes, of course the film is like a wistful fruit, pulverized down to pulp so you can swallow deep and let the juice stain your lips. Maybe that sounds wretched to you; I'm surprised it doesn't sound wretched to me, honestly, but here I am, tempted to watch it again. I've got the soundtrack running now. It makes me feel raw and new and ready to make all sorts of mistakes for the first time.
It also more than makes up for Browning's turn as Baby Doll in Sucker Punch. It is the antithesis of that; a whimsical, sincerely sweet song, often sung live by the talented cast. Who knew Browning had that kind of voice?
Stuart Murdoch, on the other hand, we knew could write pop songs. He's been unspooling them for years. God Help the Girl is his first film. If he makes another, I'll see that too and likely listen to it even longer.