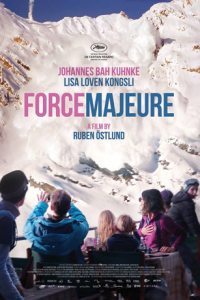 Force Majeure is the film you will most regret not seeing this year.
I say this even though I am about to give it a stellar review and urge you, with all of my power, not to miss it. You will miss it anyway. You will miss it because you will ignore me — not intentionally, but thoroughly — due to circumstances beyond your control. You will blame force majeure for missing Force Majeure.
You can't get a babysitter. The only theater playing it is across town and doesn't sell nachos. It's subtitled and appears to lack talking raccoons. You know it will be excellent, but a Swedish family drama isn't exactly yanking you off the couch. An old friend came in from out of town. Someone stole your car. There was an earthquake! A terrible flood! Locusts! IT WASN'T YOUR FAULT!
It was an act of god, so excuse your failures.
And that is so ironic, because Force Majeure is about things beyond your control — those things being primarily yourself and your delusions about who you are. It is Gone Girl for grownups. It is a happy little spider that will lay squiggly eggs in your ear.
Although you're likely to miss it, you should know that Force Majeure is a demonically funny film that won't make you laugh once. It is a film that will reveal more to you than Edward Snowden ever could. It is the tender, elegant punch to the groin that you have unwittingly and tragically gone without for so long.
Brace yourself. And then prepare to be unprepared. If you can motivate to see it, which you should.
In long, static and sweeping takes that impart inevitability, Ruben Östlund's feature serves up a nice, middle-class Swedish family. Tomas (Johannes Bah Kuhnke) takes time off work to holiday in the French Alps with his neglected family. His wife Ebba (Lisa Loven Kongsli) and young children Vera and Harry (Clara and Vincent Wettergren) weave around him, looking adorable in matching long-johns. Their hotel is calmingly clean and orderly. Their routines run through well-trod troughs of normalized negotiation.
For example: Tomas' phone rings during their family nap but he says he won't answer it. Then when Ebba goes to the toilet, he checks it. She asks if he's checking his phone and he denies it, but she catches him at it and laughs. Modern life; so predictable, so imperfect. Our dear Thomas; so egregiously weaselly.
We watch this easily relatable clan ski and dine and exist, with Fredrik Wenzel's camera focusing not on the lack of dramatic events, but on the outskirts of the story — the moments that make up life and family. It's a soothing serenade. The editing, by Östlund and Jacob Secher Schulsinger, accentuates this. They create a rhythm of still and sweeping, of up and down, and of quiet and clarion. Our Swedes schuss downhill, the avalanche cannons punctuate the hours, teeth are brushed, and the snow keeps falling.
Once you've lulled into this relaxed life, Östlund lifts the veil by first bringing it down hard. During lunch on day two of five, a controlled avalanche trammels down the valley, impressively gaining in speed and size. Like any normal family, our protagonists whip out their phones to film and exclaim. But the avalanche builds into a wall of blinding terror. As it threatens to devour the restaurant, people panic and stumble, they cry out in alarm, they flee through swallowing plumes of snow.
Or Tomas does.
As Ebba clutches the children to her, Tomas turns tail. The world goes white in blindness and roar. Then the snow mist settles, the sun comes out, and life returns to normal. There was no danger — only the appearance of danger. Tomas reappears and lunch is resumed. But nothing can be the same.
And here is where Force Majeure ascends to brilliance. This is not a film about the avalanche; it is about who we are and who we need to believe we are in the face of crisis. As gently as before, the film continues to lilt up and down, through shots still and sweeping but now Ebba and Tomas know something terrible. They must face the lies upon which their lives teeter.
In the face of catastrophe, Tomas grabbed his mittens and his phone, but not his family.
As Ebba struggles to confront this truth and Tomas desperately attempts to deny it, Force Majeure maintains a masterful control over mood. You'd expect the tone to settle into the pit of your stomach and stay there like so much poisoned fruitcake, but no. It's as light — and as potentially dangerous — as falling snow. See it hovering there above you, ready to fall at any moment.
This film — this film that you are a fool to miss seeing — lets small moments reverberate. It is the avalanche itself, comprised of barely tangible crystals that only have force when together in tumult. The movie slips in offshoots around its central story, taking us with Ebba as she confers with a holiday friend, drifting off with Tomas as he reunites with an old mate, Mats (Kristofer Hivju), and his too-young girlfriend Fanni (Fanni Metelius). These tangential scenes are among the film's best, and in a script that rarely missteps, that's high praise.
Now is where I resist describing the scenarios that Force Majeure unfolds like origami animals undergoing dissection. These sequences are hysterically accurate and threaded with diabolical glee. It is the sort of targeted precision you'd expect from Robin Hood on Ritalin. You might glimpse some hints of what's to come in the trailer, but without these pieces' placement in the whole, the moments impart only a paltry fraction of their potential impact. Together, in sequence, they unleash an avalanche of unavoidable dark humor and biting truth.
The cast is fantastic, but none more so than Lisa Loven Kongsli, who does not act so much as inhabit the dissolving and resolving Ebba. Her jaw muscles deserve an Academy Award. I'd give a Golden Globe to her turned back.
There are no talking raccoons in Force Majeure. The sex and violence herein remain as rare as you'd expect from any middle-class family. Mats and Fanni provide delectable counterpoint to this study of manhood and self-awareness, but they do so delicately, surgically, and with uncomfortable honesty. If it's bugging you, you likely recognize Mats —Kristofer Hivju — from Game of Thrones, where he plays Tormund Giantsbane.
I covet his hair.
Then, with all other avenues expended, by the end of Force Majeure everyone will inevitably have begun to face up to their failings. Hopefully that includes you.
There is only so much one can withstand when it comes to acts of god. Under the threat of Force Majeure, we stand or we break, but who we are is who we are. Such is life.
If you neglect to see this film and to consider these facts, you can blame god, but that's only a dodge.
It's your own failing. Better to accept who you are, even when that truth hurts.