Christmas. The most horrifying holiday of them all. When a madman in a red suit punishes naughty children across the globe on one of the longest, darkest nights of the year. In European cultures this gruesome task is left to the Krampus, while cheerful St. Nick blesses the nice children with Nutella and leather pants. But here in the U.S. we've combined the peace-loving St. Nick and the bloodthirsty Krampus into one half man/half beast hybrid straight out of Dr. Moreau's most insane fantasies.
We call this monster Santa Claus, and he must be destroyed.
Few movies, songs, or malls have the common sense to call out Santa for what he is. Praised and adored by parents and children from coast to coast, you'd almost think Santa wasn't a stand-in for Big Brother, watching your every move, punishing you without recourse to trial or even knowing what it is you're being accused of. It's enough that a serial killer and his team of enchanted livestock have deemed you naughty.
In this week's special "Death To Santa" holiday edition double feature, we present two movies not afraid to gun down Santa Claus—figuratively and literally.
Bad Santa ('03)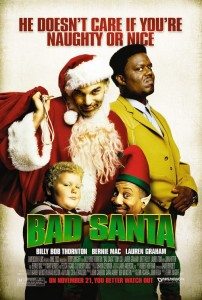 From the minds of the Coen brothers comes a very bad Santa indeed. Sort of. They had an idea for a drunken lout of a Santa Claus and told two writers, Glenn Ficarra and John Requa, to write it. The writers hoped the Coens would direct, but they only wanted to produce. They also went through the script and tweaked a lot of dialogue, giving that rhythmic Coens groove to the excessive profanity. The Coens asked Terry Zwigoff to direct, and he made his own changes. And in the end, the producers, the Weinsteins, filmed a bunch of other scenes in an effort to turn Bad Santa into a standard piece of shit, but most of those scenes were so bad they never used them.
The result of all that madness is one fucking hilarious movie. It is profane in the extreme. Santa, AKA Willie Stokes (Billy Bob Thornton), curses, drinks, screws, steals, pisses himself, and gets himself gunned down by the cops. In front of a kid. That's class, right there.
Willie robs department stores once a year with his little person partner, Marcus (Tony Fox). They play Santa and his elf for the kids for a month, all the time casing the store, and rob it on their last night.
This year's mall is in icy, snow-blanketed Phoenix. Ha ha. One of my favorite shots in the movie is of Santa and his elf walking across a baking hot parking lot under a bright blue sky, warbling in the heat.
Things are looking especially disasterous for our heroes this time out. Willie is as pathetic a drunk as has ever graced the screen. But it's a movie, so you can bet the hot bartender, Sue (Lauren Graham), picks him up and fucks him in his car. Seems she's got a thing for screwing guys in Santa suits. Willie is okay with this.
Then there's this kid. Therman Merman (Brett Kelly). I don't know where this Kelly kid came from or how they found him, but he is beautifully, profoundly weird in all the right ways. He is exquisitely rotund. And he's the perfect innocent. Nothing Willie says phases him. Willie, who plans to rob the kids' grandma (Cloris Leachman), but sticks around to eat sandwiches instead.
John Ritter as the mall manager and Bernie Mac as the "store dick" are both outstanding. It's hard to say which one is creepier.
Bad Santa is not afraid to go for the cheap joke. So unafraid is it, it may be argued that it contains nothing but cheap jokes. And is that so wrong? Once you've got a man in a Santa suit, anything cheap is funny. Just ask Dan Aykroyd the salmon-smuggler in Trading Places.
For all its profanity, for all its purposeful desecration of Christmas and Santa Claus, Bad Santa was a hit. Even critics liked it. It's that rare thing: a smart trashy comedy.
Is our second feature as funny? Almost.
Silent Night, Deadly Night ('84)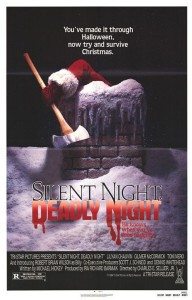 Silent Night, Deadly Night is ostensibly a horror film, another low-rent entry in the then-hot slasher genre (it opened the same day as A Nightmare On Elm Street), one that shamelessly desecrates Christmas iconography by turning Santa Claus into a mad killer.
But truly, it is so much more.
I admit, head hung low, that until this Christmas season, I had never watched Silent Night, Deadly Night. Maybe because it was so loathed upon its release that it only played a couple of weeks before being pulled? I loved horror movies as a kid, but cheapo slasher flicks weren't really my thing, and this one looked even worse than the standard Friday The 13th sequels and Halloween rip-offs. Check out Siskel & Ebert talking about it at the time, calling its profits blood money, and comparing it to I Spit On Your Grave:
Brutal. I'm with Siskel with regards I Spit On Your Grave. I've never seen a more vile piece of exploitation trash. Is Silent Night, Deadly Night in the same league? Are the filmmakers humorless sleaze merchants peddling filth?
I must part ways with the venerable Mr. Siskel on this one. Silent Night, Deadly Night is very much in on the joke. It may be cheap and outrageous, but the filmmakers are having very purposeful fun. This is a movie where Santa is gunned down by a cop in front of a group of children and nuns outside an orphanage not once, but twice.
Why are the cops out gunning for Santas? It's a story as old as time.
One Christmas Eve, little five-year-old Billy goes with his parents to visit his grandfather at the mental institution. Grandpa just sits motionless and silent in his chair, oblivious to all around him. "So why do we have to visit him?" asks Billy with an acute sense of logic. His parents wander off to chat with the doctor, leaving Billy alone with the creepy old man—who suddenly comes alive. He warns Billy that Santa's coming to punish anyone who's been naughty, like Billy.
This may be my favorite scene in the movie. Really sets the stage for what's to follow, vibe-wise.
Next thing you know, a felonious Santa-suited killer executes Billy's parents on the roadside, and Billy's left with a serious case of the Destined-To-Be-A-Future-Killer blues.
He's raised by nuns at an orphanage. One nun is kindly and wants to understand his mysterious terror of Christmas. But the head nun is a mean old lady who forces Billy to sit on Santa's lap.
Once he's grown up into a cheerful, ever-nice teenager, Billy gets a job at a toy store. Things are going great until—who would have guessed?—Christmas comes along and the store is full of Christmas shit! Oh no! Let the killing begin.
While this is certainly not the movie to show your darling six-year-old, Silent Night, Deadly Night is a far cry from exploitation trash. It's ridiculous is what it is, and intentionally so. To their credit, writer Michael Hickey and director Charles Sellier (who would later go on to make a ton of made-for-TV Christain themed movies) play everything serious. No one winks. It's so serious it's funny—on purpose.
In fact the filmmakers actually stop shy of going full-on Santa killer. When Billy finally snaps, he's wearing a Santa suit, but his beard and mustache are pulled down, so his whole face is visible. And that's how he stays throughout his murderous spree. Which means it's always Billy doing the killing, he's just dressed as Santa. Whereas if he'd pulled up the beard over his face, he would have been transformed into a faceless monster called SANTA. A far more terrifying prospect, akin to the masked Michael Myers and Jason Vorhees, who, faceless, become creatures beyond the merely human. They become Death personified.
So take that, you bloody 1984 Puritans! Silent Night, Deadly Night pulls its punches! It could have been far more disturbing. It could have been as profane as Bad Santa.
After this pairing, yes, you may be excused to watch Charlie Brown and stop-motion snow monsters. But never forget: there is no greater evil to fear this Christmas season than the man in red himself.