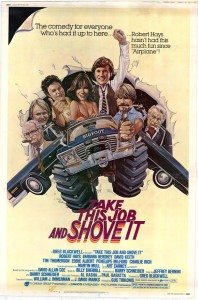 I think it's safe to say I'm the only person on earth to have watched Take This Job And Shove It ('81) in the past 30 years. The things I do for you people! Then again, I found it streaming for free, so maybe there's soon to be a resurgence in beer swillin', monster truck drivin', hard livin' good ol' boys movie appreciation. Stranger still, I saw Take This Job And Shove It when it originally played. Because as a 10 year old, I was deeply troubled by the plight of the blue collar worker in the face of mechanization and corporate takeovers.
Also, it stars Robert Hays, and I'd seen Airplane! about 9,000 times the year before, so of course it was going to be amazing. I had no doubt. I mean it co-stars Martin Mull and Eddie Albert! How could it be bad?
It's not good. I will admit this right up front. It's budget was $3.8 million, but I'm guessing the bulk of it was spent on cocaine for the producers. It is not a movie steeped in the logic of character and emotion. It kind of plays like Meatballs for middle American factory workers. Which maybe explains why it was a sleeper hit back in '81, earning almost $18 million. Of course this also explains why no one remembers it. The audience for it in '81 is not exactly at the forefront of today's film criticism and taste-making. Make your cheap-ass comedy for the youth, and you've got a shot at creating a future classic. Like Meatballs. Make it for the middle aged, and you're doomed to be forgotten.
For a movie centered around a beer brewery, it's no Strange Brew. At least Bob and Doug had the sense to steal their plot from Shakespeare. Robert Hays plays Frank, an up-and-comer at a corporation that's just brought four failing breweries. Frank's sent to modernize one of them—which happens to be in Frank's old home town. Conflict ensues. Will Frank do as his corporate overlord—Eddie Albert, in a performance one might kindly call "shitty"—demands, or will he side with his working class friends?
His friends are played with gusto by David Keith (not to be confused with The Thing and They Live co-star Keith David), b-movie stalwart Tim Thomerson, and Barbara Hershey. They give the movie their all. For that matter, so does Robert Hays. There is, by the end, something surprisingly charming about the whole affair. The kind word for which is "unpretentious." It is a movie meant to be nothing more than what it is: A dopey, inoffensive 90 minute wait for Frank to say to Eddie Albert, "Take this job and shove it!" Which by the way is the name of a hit country song from '77. Indeed, the movie's whole reason for existing is to milk that song's popularity. And you thought basing a movie on a video game or a Disney ride was a bad idea.
Take This Job And Shove It is famed for one other reason: it's the first movie to feature monster trucks. The monster truck craze, which the internet tells me survives to this day, began here. Which I know you find fascinating. Who doesn't love monster trucks? Granted, the trucks in the movie are, compared to today's monsters, babies, whose only real difference from non-monster trucks are the size of their tires. They are very large tires. You will be very impressed.
Basically what this is is a low-rent version of Clint Eastwood's highly unlikely '78 hit, Every Which Way But Loose, another country-musicified, down-homey romp I recommend running from, fast. Weird things happened in the late '70s/early '80s. I lived through it and still I have no explanation.
I see no reason why anyone needs to watch Take This Job And Shove It now that I've watched it for you. Then again, if you're looking for an inspiring Meatballs double feature attraction, I guess you could do worse. I don't know how, but I have faith in you. Happy Labor Day.