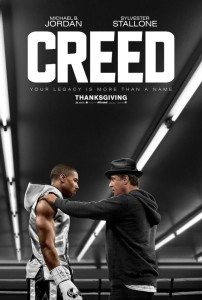 The most surprising thing about Creed, the 7th movie featuring Sylvester Stallone as Rocky Balboa, is that it's the best one since the original Rocky. In many ways it mimics the original, which helps, but it's enough its own thing to be a continuation of the story rather than a dreaded re-boot. For the most part, it's a low-key story of a kid who wants to make it. An over-the-top spectacle like Rocky III and Rocky IV it ain't. Which then again, that's not necessarily a measure of worth. There are few characters as memorable as Ivan Drago, after all.
Speaking of whom, seems he killed Apollo Creed before Apollo's son, Adonis, product of an affair, was born. As Creed begins, we meet young Adonis, AKA Donnie, beating the tar out of some kid at a group home, when who should turn up but Apollo's widow, Mary Anne (Phylicia Rashad), wanting to adopt him.
Cut to the present and Donnie (Michael B. Jordan) is all grown up and itching to box so badly he spends his weekends in Tijuana winning fights. It's not enough. He wants the real thing and hopes to find it in Philadelphia. Will old man Rocky train him? Rocky says no.
But wait! You're not going to believe this—Rocky changes his mind and trains him after all. Stallone is kind of great as a shuffling, mumbling old man. I missed his previous last Rocky movie, Rocky Balboa ('06), which word is isn't bad. I'm not sure I believe the word, but there we are. He was still a boxer in that one. Nine years later he's having trouble walking up stairs. But he still knows how to train an up and comer, and train him he does.
Donnie, meanwhile, is a really great kid. Maybe too great. If the movie's got a flaw, it's that Donnie kind of rolls through this story without a bump. Small bumps, sure, like when he punches out the headlining singer of the show his girlfriend, Bianca (Tessa Thompson), is opening for, or when he finds out Rocky is less healthy than he seems. But for the most part, Donnie's the most committed young boxer ever. All he wants to do is train and fight and prove he's his own man. That he's Apollo's son he tries to keep secret.
Creed is directed by Ryan Coogler from a script he wrote with Aaron Covington (with Sly helping them capture Rocky's voice). Coogler was inspired by his father's love for the Rocky movies and the idea of a hero's deterioration. The positive response to Coogler's debut feature, Fruitvale Station ('13), led Stallone and longtime Rocky franchise producers Robert Chartoff and Irwin Winkler to agree to the project.
So this crowd-pleasing, mainstream movie is, unlike so many of them, a labor of love on the part of Coogler, and it shows. No one demanded this story be told. It's the one he wanted to tell. It's full of no surprises and a lot of standard big emotional moments, but lo and behold, if you write those scenes with care and intelligence, they work. Creed isn't groundbreaking. It's something almost stranger: a well-made mainstream movie.
There are only three boxing matches in the movie, each shot a little differently. The second is the most striking, shot in one take through multiple rounds. The climactic fight is cinematically the least interesting, looking more like ESPN footage, but what the hell, by then you just want Creed to make it to the end without falling over.
Coogler also goes to the trouble of turning what would otherwise be "the girlfriend" into a geniune character. She's got a career as a singer and her own troubles to overcome in that she's slowly losing her hearing. Which is in its small way a bit of a stunt–giving the girl a hearing aid to give her the appearance of character depth. But you know? It kinda works. Movies are funny that way. Granted, her hearing loss and career don't really have anything to do with Donnie's story, but it's better than nothing. After all, this is only Coogler's second movie. As accomplished as it feels overall, you can see he's still figuring some things out. The movie sometimes seems to alternate between being impressively slick and overly polished.
But even if there's a bit of polished blandness to the finished product, it ends up not mattering much. Coogler's made a non-stupid Hollywood boxing flick. You'd hope this sort of thing wasn't so rare, but it sure is. Glad to see someone's on the ball.