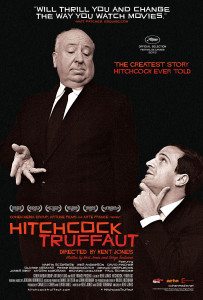 As late as the early '60s, Alfred Hitchcock was viewed by the American public and film critic establishment as "merely" a director of amusing diversions. He was not an "artist," like those fancy foreigners. The French, among others, thought otherwise. Young upstart filmmakers and critics such as François Truffaut, writing for Cahiers du Cinema in the '50s, came up with a theory dubbing certain directors "auteurs," or authors of their films, so distinct a directing style did they possess. In '62, American critic Andrew Sarris brought the notion to the states and coined the term "Auteur Theory." This theory has been alternately praised and beaten over the head ever since.
But we're not here to talk about auteur theory. We're here to talk about Truffaut's love of Hitchcock. Hitchcock was Truffaut's favorite director, and one day in '61 or so he wrote to Hitchcock asking if Truffaut might interview him. Hitchcock agreed, and following a week of interviews, Truffaut fashioned their exchanges into one of the most revered film books ever published, Hitchcock/Truffaut, and brought the beauty and intricacy of Hitchcock's artistry to a wide audience.
The 2015 documentary Hitchcock/Truffaut, directed by Kent Jones and written by Jones and Serge Toubiana, endeavors to bring the famous book to life. This they do with filmmakers such as Martin Scorsese, Wes Anderson, David Fincher, Richard Linklater, and Paul Schrader on hand to wax rhapsodic about Hitchcock's films and technique, and audio recordings of Truffaut and Hitchcock's original interviews playing over scenes from Hitchcock's movies.
It's a film nerd kind of doc. It's worth watching just to hear Scorsese explain everything brilliant about Vertigo, if nothing else. Luckily there's much else. It begins with some history of both Hitchcock and Truffaut's careers before diving into the creation and influence of the resulting book—Wes Anderson describes his copy as being nothing but a pile of loose pages, so often has he read it—and finally settling on in-depth analyses of, primarily, Vertigo and Psycho.
As a movie, Hitchcock/Truffaut is therefore a bit shaky in terms of focus. Is this a movie about Hitchcock or a movie about the creation of a book about Hitchcock? Well, it's sometimes one, sometimes the other, and never completely either. For anyone already fascinated by film, this likely doesn't matter. Nothing in the movie is uninteresting.
Along with Scorsese, Hitchcock himself is the most interesting voice discussing Vertigo, in particular the scene in which Kim Novak, as Judy, puts the final touches on her Madeleine imitation by fixing her hair in the bathroom. Hitchcock explains that this is all metaphor, that her being perfect in every way but for her hairstyle is akin to her having stripped but for her knickers. Scotty is waiting to see her naked. When she comes out of the bathroom, she is. Naked. Metaphorically, that is. Hitchcock then has more to say—but off the record. The recording cuts off. He asks that the recording be shut off a number of times just as he's about to say something obviously salacious. Rats! I bet those were good stories.
Truffaut's enthusiasm for and psychological examination of Hitchcock's work and motivations during their interviews clearly had an effect on the older director. He began to wonder if his adherence to one style had limited him. Should he try a more impressionistic approach in his story-telling? His late in life films are generally regarded as his least compelling. Did it all go downhill the moment he was recognized as an "artist"? Not a question examined in the movie. But it got me to thinking about it, anyhow. My memories of his post-Birds output is hazy at best.
Hitchcock/Truffaut is a fine tribute to Hitchcock and to Truffaut's passion for his work. I only wish it would have contained another couple of hours of Scorsese going into depth on every one of Hitchcock's films. There's a doc that needs making: Scorsese on Hitchcock. Meanwhile, this one's worth checking out.
Hitchcock/Truffaut opens in limited release here and there Dec. 2. For you Bay Area folks, it opens Dec. 11 in San Francisco at the Roxie and the Opera Plaza, and in the east bay at the Shattuck.