This isn't a review of Star Wars: The Force Awakens; it also isn't a review of your childhood.
Based on the world's diagnosably maniacal response to this latest Star Wars film's release and the critical acclaim that's echoed throughout the universe (as if a million voices suddenly cried out) my conclusion that the Force Awakens and your childhood are one and the same is logical. That's what you all are telling me with your Facebook posts and your standing-in-lining and your multiple viewings. That regardless of your age, if you're able to read this sentence, you grew up with Star Wars as part of your youth.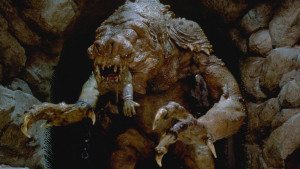 You dreamed of being a Jedi (or a Rancor, who am I to judge?). You ran around the yard, or the alley, or the living room with an empty paper towel tube, imagining it was a light saber. Han Solo, Luke Skywalker, Leia Organa, Yoda Elfenberries, Qui-Gon Jinn, and Kim Il Jung — these are the figures that congealed around the squiggly pathways of your brains and turned you one way or another.
And if anyone tries to tell you that Star Wars: The Force Awakens isn't a perfectly structured TIE fighter ticket to the magical land of childhood idealism, you'll tell 'em, fist a'shakin' where they can stick their hoity-toity critical dark side.
Good for you. Stand up for that which you love.
Just remember that what you love is not you. It isn't you now, and it wasn't you when you were 11, either. It may have affected your life — significantly even, if you're someone like Benson the Dog — and I'm not downplaying that or its importance (even if I did meet Benson when, at 16, I told him the Wrath of Khan sucked and it almost led to fisticuffs.)
I just want people to remain calm, to keep their minds open, and to make their willingness to consider and question and grow a pillar of their personalities. For these traits, they're what makes a Jedi.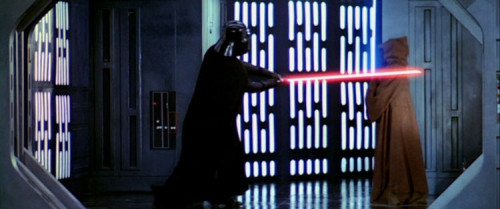 In the comments of Supreme Being's unflattering review of Star Wars: The Force Awakens, one of our regular readers, clearly a smart fellow, got into it about REDACTED's death in this latest film as compared to Obi-Wan Kenobi's death in Star Wars. Reacting to his criticism of our criticism helped me to solidify my own opinions. And it reminded me of something crucial.
Obi-Wan Kenobi's death in Star Wars (i.e. A New Hope) is the thematic core of this series of films. It is the moment when the Force — the battle over which engages the Skywalkers and you — is demonstrated in its full meaning. Not as a tool to lift X-wing fighters from swamps or freeze laser blasts or read minds, but as a guide towards our unison with the universe.
The hocus-pocus tricks that Jedi Knights and the Sith use, these are just the bleed-off of that power; the radiant heat born of the universe's connective core.
Why does Obi-Wan Kenobi let Vader strike him down? Because doing so will be the most potent way to impress upon Vader's son, observing, that the Force is not about living forever as a corporeal being, or about saving your loved ones from death as young Anakin attempted. The Force is about and between all of us together — you, me, the tree, the rock, everywhere, yes. Even between the land and the ship.
This avoidable death is Obi-Wan telling Luke — not in words, but through action — what is important.
What is important is letting go of the self, regardless of how firmly you cling to it now, or to the ideas that enliven it. Kenobi CHOOSES to die and that choice is clear in the direction and scripting of the film. There is no other interpretation. So we are left to wonder why.
Knowing what we do of this character in this place at this time: the why can only be a result of what makes Kenobi Kenobi. The same cannot, in any sense, be said of REDACTED's death. He makes no choice. His motivation is ill-considered and ill-formed and only communicated via exposition. His death pushes another character down a path, but in the most ham-handed, cheesy way. It isn't a call back to earlier films; it's trite.
It teaches us nothing about either man or the world or even this one story.
Kenobi's self-sacrifice is constrastingly a perfect example of how the screenwriting in Star Wars and The Empire Strikes Back took your young mind and changed it, perhaps forever.
It is a brilliant moment. It is brilliant in the way Vader revealing to Luke that he is his presumed-dead father is — that it is Vader who has motivated Luke, unwittingly, through all of his actions to this very moment. It is brilliant in the way that Vader's reaching for his son at that same moment is brilliant, for it is this boy — his family — for whom Vader allowed the evil to overtake him. It is a moment that is shocking because that truth has always been there right in front of us but we never, not for a moment, suspected or saw. And even when it first came clear, we could not comprehend all it meant or would mean, not because we were children, but because it was so true.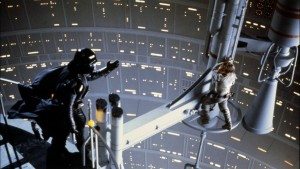 It was truth born of character and story and the world.
These moments are absent from the prequels, and yes, from The Force Awakens, too. That doesn't mean your childhood is a lie, or your commitment to what you learned then is wasted. It just means J.J. Abrams had concerns paramount to the truth of myth and fiction.
REDACTED had to die because the actor didn't want to make any more Star Wars films, not because his character or the story required his death. His death teaches us nothing and means nothing that could not have been communicated in a million other more significant and dramatically potent ways.
I said this wasn't a review of Star Wars: The Force Awakens, and I don't intend it to be. I found the film disappointing, but who cares? Telling most people you didn't like The Force Awakens and why will make as much difference as telling a Donald Trump supporter why the big orange muppet reject is wrong, dangerous, and harmful to our health on a global scale.
People invest in ideas and incorporate them into their beings, rationally or not. They let themselves embody what they think. People who can step outside of their opinions to question them, to test them, and to — when it's called for — reject them? Those people are special and rare.
They are Jedi.
Let Vader strike them down; it matters not. What matters is showing those that watch that they are part of something bigger.
So I didn't like The Force Awakens in the way I like Star Wars or The Empire Strikes Back. It didn't — on its own merits, divorced from its progenitors — move me or make me think or plant the seeds of wonder within me. It was a big budget action film that felt, more than anything else, familiar, like the last beer out of the keg.
If you can change my mind: thanks.
May the Force be with you.