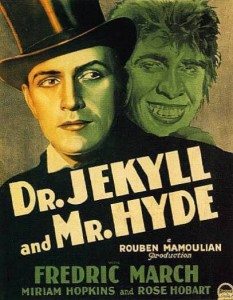 Fredric March's performance as the ape-like, high society Neanderthal, Mr. Hyde, is one for the ages. He gives it his all. Then he gives it everyone else's all. He's a force of nature. A very hairy and toothy force of nature. He's equally compelling, if not as entirely nuts, as Dr. Jekyll, a man convinced he may biochemically separate mankind's good and evil impulses and thus destroy the evil side. Why, exactly, will the evil side wither away once removed from the good? A question Dr. Jekyll may well have pressed himself on before drinking down his magic potion.
The 1931 Dr. Jekyll and Mr. Hyde, directed by Rouben Mamoulian (whose name I recommend saying over and over again as fast as you can), is a fantastic early horror film, often said to be the best version of the Jekyll/Hyde story. I've yet to see many of the other versions, but I'd be surprised if they topped this one. A pre-code film, Mamoulian's version is famously racy, with a striptease scene featuring Miriam Hopkins as Ivy Pearson, a down-on-her-luck prostitute not at all shy about trying to make it with soon-to-be-married Dr. Jekyll. She winds up naked, just barely covered by bedsheets, her bare leg bobbing as she whispers, "Come back to me," her words echoing in the madhouse mind of the good doctor as he flees her embrace.
His friend, finding Jekyll in the arms of Ivy, asks him if he's forgotten his engagement. Says Jekyll, "Can a man dying of thirst forget water? And do you know what would happen to that thirst if it were to be denied water?" We're soon to find out.
Jekyll's problem is his fiancée's father, who's approved the marriage, but only if it takes places eight months down the road. Jekyll wants to be married IMMEDIATELY. It's made more than clear that his desire to be wed stems from his desperate need to get laid. He's a man, after all, and simply can't wait. His beloved, Muriel (Rose Hobart), would happily marry him right away, but there's no convincing her mean old man. What's a mad scientist to do but drink his bubbling concoction in the hope it rids him of his evil desires?
The transformation sequence is a stunner. With no cuts, no fades, no anything, it appears, March's face and hands change color and deform. I had no idea how it was done. Neither did anyone at the time. The trick, unrevealed for many years, was to layer March's face with make-up in different colors, then remove or add matching colored filters on the camera lens to effect a transformation as March writhed and grimaced. Because it's black and white film, the colors are invisible. It's an incredible trick. One the best effects ever put in a movie. Cuts are used in the final stages, until Hyde is fully revealed as a simian/Neanderthal human throwback. It's wild.
Adding to the weirdness is how March plays Hyde. He looks like a proto-human monster, but he dresses as impeccably as Dr. Jekyll, speaks in erudite English, and behaves only somewhat more brutishly than a typical upperclass snob. He is a man with no inhibitions, no restraints, no regrets. Everyone who encounters him is taken aback by his appearance, yet treats him as befits his station.
His first mission as Hyde? Indeed, his only mission? Getting it on with the lovely whore, Ivy. He tracks her down in a music hall, corners her in a booth, and bullies her into taking him home with her. It's a simple sugar-daddy arrangement he's after. What could be more reasonable? And so, quite quickly, he drives Ivy to the edge of suicide. She winds up going to that nice doctor who helped her out, Jekyll, and begs him to keep her safe in his house, lest she go mad and kill herself. Hyde's the devil, she cries. He's not human! One must wonder what horrifying sexual torments he's subjected her to. This may be pre-code, but they can't show us everything. Jekyll assures her she will be bothered by Hyde no more. After all, Muriel's dad has agreed to the early marriage. What need of Jekyll—er, Hyde, that is, for Ivy?
What need indeed. There's no happy ending for anyone in this story. There's no turning back for Jekyll. Once his dark side is released, it may never be stuffed back into the bottle. In fact as the film progresses, Jekyll needn't drink his potion to become the monster. He only has to entertain wicked thoughts. The potion is only required to change back into a civilized man. And for "civilized," read "repressed." What the movie is getting at is clear: to repress and demonize natural impulses is to guarantee they burst out in the most horrific manner possible. Jekyll's notion of banishing the dark side is wholly misguided.
For a movie made in '31, Dr. Jekyll and Mr. Hyde is remarkably well-shot and edited. Mamoulian keeps the camera moving and the pace never flags. It's an intense movie from start to finish. Mamoulian opens the movie in the POV of Jekyll, which at first had me terribly alarmed. Would the whole movie play this way? Thankfully, no. Mamoulian uses the trick at the start so he can use it later, when Jekyll first transforms, a creepy way of putting the audience inside Jekyll's head. He watches himself turn into a monster in a mirror.
The dialogue doesn't disappoint, either. Hyde is full of great lines. When leaving Ivy for a few days: "If you do one thing I don't approve of while I'm gone, the least little thing, mind you, I'll show you what horror means!" Or when he first comes on to her: "Perhaps you prefer a gentleman, one of those fine-mannered and honorable gentlemen, those panting hypocrites who like your legs by talk about garters!"
While the depiction of Hyde is a brilliant performance, the modern viewer is likely going to find themselves thinking, "Is this perhaps all a bit racist?" I don't know. At least by association, yes. Hyde is made to look and act as a Neanderthal-ish simian. Racist depictions of all non-white people have long made them out as less-evolved primitives. So seeing Hyde as Neanderthal, one wonders how aware the filmmakers were of what they might be implying, or if they meant to imply anything. I think they were interested in depicting Hyde as a primitive man, unconstrained by the mores of a repressive society, with race playing no role at all. But in the subconscious? Who knows.
Fredric March won an Oscar for this role. As well he should have. There are a lot of stiffly acted, slow moving horror movies from the '30s. Dr. Jekyll and Mr. Hyde is not one of them. It's a whole lot of crazy.