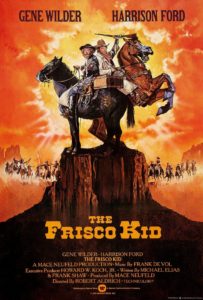 It's not a well-remembered movie, The Frisco Kid ('79). It wasn't much liked when it was released, and nobody's paid much attention to it since. But when it is spoken of, it's spoken of for one reason only: Gene Wilder.
Wilder plays Rabbi Avram Belinski, last in his class of newly minted Rabbis in 1850 Poland (which by the way wasn't a country at the time). He's sent to San Francisco, there to lead a congregation and marry the daughter of an important Polish muckety-muck. Somehow or another he arrives in America in Philadelphia, and must make his way overland to San Francisco. Nutty adventures ensue.
It's an utterly missable movie save for Wilder's performance. He sports a wild beard, speaks in a sort of weirdly Polish/Jewish accent, and opens wide his kind, soulful eyes for us all to fall inside of. He exudes so much heart you want to love this stupid little movie, and maybe you kind of do because of him. As I said to the Mrs. halfway through, "It's a fascinating movie, despite nothing that happens being in any way involving." I'm not sure if she heard me or if she'd already fallen asleep by then.
It's a performance right up there with Dr. Frankenstein. It's that good. It's just in a much, much crappier movie, so nobody bothers to watch it. There aren't a lot of laughs in The Frisco Kid, but at least you can see where the laughs are supposed to go. It's a great lesson in what happens if you have no idea what tone is or how to employ it. Or logic, for that matter. There are at least five different kinds of movies going on in here. They're switched around on a scene by scene basis in a way you could only possibly hope to get away with in a 75 minute movie. The Frisco Kid is two full hours. It feels like three.
Harrison Ford turns up doing a dopey cowboy version of Han Solo. Watching him all I could think was, "In two years, this lucky dope will be starring in Raiders." He's not bad. But what the hell is he supposed to be doing? Winging it, mostly. Crazier still, apparently this script was floating around Hollywood for years with all sorts of people attached to it at one time or another, most notably John Wayne, who was to play the part that went to Ford. Same old story, though; he wanted too much money.
Try to imagine John Wayne playing against Gene Wilder. The mind boggles.
It's the second to last film directed by Robert Aldrich (Kiss Me Deadly, The Dirty Dozen, Emperor of The North, Twilight's Last Gleaming). I can't say he displays much verve, and his sense of comedic timing is, oh, absent, let's say. I don't think I've seen a movie with more inexplicable transitions. You could shuffle around half the scenes and you'd never notice a difference.
But dear, departed Gene Wilder. I don't know who else could have played this role with the heart he does. Even if they could have, they wouldn't have. It's a terrible script. Anyone else would have been desperate to wring some laughs out of it. Wilder treats it with utter seriousness. I mean of course he's funny. He's the only funny character in the movie. But he believes in rabbi Belinski. He turns him into a real person. So you end up believing in him too.