As anyone who knows me or knows this blog knows, I am somewhat at odds with those who like more or less every movie they see. I have had it said to me more than once, "You sure hate movies!", or words to that effect. This is, I find, a rather strange interpretation. My dislike of so many crappy movies is not because I hate movies. It's because I love them.
So there.
I love them so much I tend to watch rather a lot of them. In 2015 I noted every one I watched, resulting in this post, which, I assured you at the time and hereby reaffirm, did not fail to interest and entertain everyone who is me.
This year I did the same.
To my surprise, I saw more movies this year than last year, 28 more. But it turns out this was almost entirely due to the opening of an Alamo Drafthouse theater in town, where, thank the gods of cinema, they show all kinds of weird old movies on 35mm. Last year I saw 63 movies on 35mm, this year I saw 83. Thanks, Alamo! Keep up the good work.
Film really is lovely. It continues to drive me up the wall when people gush about a new 4K restoration coming to theaters. Sure, that's nice, we get to see it big again. But 4K, restored or not, ain't 35mm. And anyhow, what do you think they restored to make their 4K scan? The film negative. You'd think they could maybe strike a few prints and send them around to rep houses. Harrumph, I say!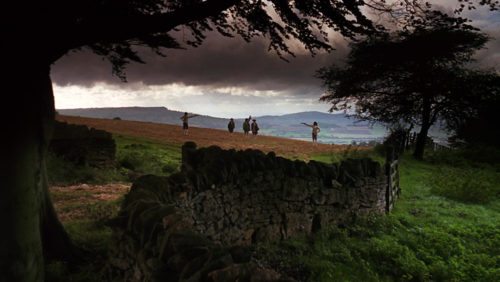 Thankfully, prints continue to float around out there. I saw some great ones. Barry Lyndon was amazing. It's only real fault is being not quite as amazing as Kubrick's best movies. I see it rarely (the last time must have been about 20 years ago at the New Beverly), but I always end up raving about it when I do.
McCabe & Mrs. Miller was beautiful beyond belief. The Life of Brian I'd avoided for at least 25 years after having memorized it as a child. Very fun to see projected in a theater full of Python fanatics. Some other favorites it was a pleasure to see projected: Blue Velvet, Dead Man, The Hidden, Breathless, From Russia With Love, Princess Mononoke, The Woman Chaser, Two-Lane Blacktop, The Evil Dead, 2001, and Lawrence of Arabia (in 70mm).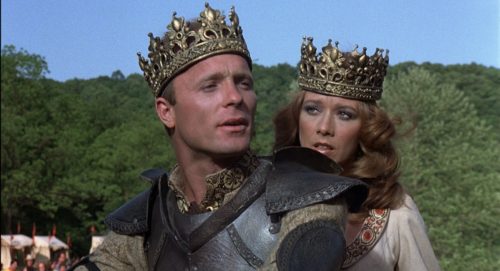 New ones, too. I love seeing old movies for the first time on film. Like Dr. Jekyll and Mr. Hyde. And George Romero's Knightriders. And Sergei Eisenstein's Strike, with the Alloy Orchestra playing their soundtrack live. Then there's the movies no sane person would ever seek out on film, like Skatetown U.S.A., Troll 2, Surf II, Stunt Rock, Silent Night, Deadly Night, and Messiah of Evil. I don't regret a single one.
The Noir City festival provided many of the '40s and '50s flicks listed you may never have heard of. No better way to see them than with a noir-crazed packed house.
The award for worst print goes to Deliverance, which was absolutely trashed. In some peculiar way, a faded, scratchy print is kinda nice now and again. If nothing else, it's memorable.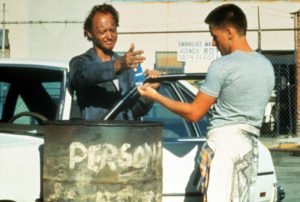 Best goof goes to Repo Man. Twenty years I've been in San Francisco, and I don't think I've ever seen the Castro Theater projectionist put on the wrong reel. They did for Repo Man, about halfway through the movie. I know the movie by heart, but the weed treat I'd eaten was working wonders, and I kept thinking, is this right? Didn't that character die already? What's he doing here? My god, have I never noticed the continuity error in one of my favorite movies?! After two and a half scenes the movie stopped as though the film broke, then started up again with a scene different than what had been cut off. That's when I caught on. Wrong reel, noticed by the projectionist three scenes in, movie stopped, right reel put on. I wonder how confused people were when, later on, that wrong reel was played in the right place and those two and a half scenes repeated? Maybe they didn't notice. Maybe they'd eaten a weed treat too.
I'd muse on the hundreds of flicks I saw on video, and the rest digitally projected, but who's got that kind of time? There are too many movies to watch.
The stats:
Total number of movies seen, including repeat viewings: 406
Unique movies: 402
Total theatrical: 142
Theatrical on glorious film: 83
Video: 264
First time seen: 276
And now the breakdown by decade. Number of movies seen, and in parentheses, number that were first time seen.
1900s – 1
1920s – 7  (6)
1930s – 14  (12)
1940s – 21  (19)
1950s – 30  (26)
1960s – 43  (31)
1970s – 62  (42)
1980s – 56  (22)
1990s – 33  (8)
2000s – 35  (18)
2010s – 104  (92), of which 57 were released in 2016.
Just like last year, very few movies in the '90s and not many more in the '00s were new to me. I continue to suspect these were not the best decades for movies. In any case, not much jumps out from that era when I'm looking for something new to watch. Or so it would seem.
But the '50s, well heck, almost everything was new to me. Same with the '30s and '40s. I even found 42 new (to me) movies to watch from the '70s. I thought I'd covered that decade! Oh well. The stats don't lie.
As with last year, a bunch of movies to catch up on from the last few years, and 57 new movies. Last year I saw 69 new movies. Guess I was too busy with all those old 35mm screenings to catch more new crap. I saw only one new movie twice, and that was The Lobster. Which seems to be forgotten by many people on their best of the year lists. I guess they've been too distracted these past weeks by Emma Stone's eyes and Ryan Gosling's charming jazz rants.
It seems I don't repeat viewings often over a two year span. Of the 402 unique movies I watched this year, only 15 I'd also watched in 2015. They are: Blue Velvet, The Car, Dead Man, For A Few Dollars More, Inside Llewyn Davis, Inside Out, Lawrence of Arabia, The Lone Ranger (I'll say it again: best giant summer effects flick in many a year. You'll catch on eventually folks, trust me), Mad Max: Fury Road (if you count the B&W version as the same movie, which it kind of is and kind of isn't), Paths of Glory, Powaqqatsi, Raiders of The Lost Ark, The Thing, Turbo Kid, Upstream Color.
And now, the list.
Movies seen in theaters on 35mm (or, where noted, 70mm). Asterisk for first time seen:
The Bad and The Beautiful (1953)*
Barry Lyndon (1975)
The Big Knife (1955)*
Billy Budd (1962)*
The Bird With The Crystal Plumage (1970)*
The Bitter Stems (Los Tallos Amargos) (1956)*
Black Angel (1946)*
Blood Simple (1984)
Blue Velvet (1986)
Bluebeard (1944)*
Breathless (À Bout de Souffle) (1960)
Cash On Demand (1961)*
Crack-Up (1946)*
Creepshow (1982)
The Dark Corner (1946)*
Dead Man (1996)
Deception (1946)*
Deliverance (1972)
Dillinger Is Dead (Dillinger è morto) (1969)*
Dr. Jekyll and Mr. Hyde (1931)*
The Evil Dead (1981)
Five (1951)*
Freaks (1932)
From Russia With Love (1963)
Ghosts of Mars (2001)*
Girl with Hyacinths (Flick och Hyacinter) (1950)*
The Greatest (1977)*
Halloween (1978)
The Hidden (1987)
I Confess (1952)*
I Wake Up Screaming (1941)*
Jules and Jim (1962)
Knightriders (1981)*
Laura (1944)
Lawrence of Arabia (1962) 70mm
The Lodger (1944)*
Lord Love A Duck (1966)*
Love Me or Leave Me (1955)*
The Love Witch (2016)*
Manhunter (1986)
Marnie (1964)*
McCabe & Mrs. Miller (1971)
Messiah of Evil (1973)*
Mississippi Mermaid (La sirène du Mississipi) (1969)*
Monty Python's The Life of Brian (1979)
Near Dark (1987)*
Nightmare Alley (1947)
99 River Street (1953)
Paprika (2006)*
Performance (1970)*
Princess Mononoke (1997)
Pulp Fiction (1994)
Queen of Earth (2015)*
Re-Animator (1985)
Repo Man (1984)
The Return of The Living Dead (1985)
Return To Oz (1985)
Rome, Open City (Roma città aperta) (1945)*
Rust Never Sleeps (1979)*
Scanners (1980)
Shanghai Express (1932)*
The Silence of The Lambs (1991)
Silent Night, Deadly Night (1984)
Skatetown U.S.A. (1979)*
Strike (1925)*
The Strongest (Den Starkaste) (1929)*
Stunt Rock (1978)*
Surf II (1984)*
That Night's Wife (Sono yo no tsuma) (1930)*
Three On A Match (1932)*
Too Late (2015)*
Torch Singer (1933)*
Troll 2 (1990)*
True Romance (1993)
Two-Lane Blacktop (1971)
2001: A Space Odyssey (1968)
When We Were Kings (1996)
Wicked Woman (1953)*
Wild At Heart (1990)
The Woman Chaser (Sundance cut) (1999)
You Only Live Twice (1967)
Young Man With A Horn (1950)*
Movies seen in theaters, digitally projected:
The American Dreamer (1971)*
Anomalisa (2015)*
Arrival (2016)*
The Astrologer (1975)*
Batman v Superman: Dawn of Justice (2016)*
Belladonna of Sadness (1973)*
Blindman (1971)*
Chimes At Midnight (1966)*
The Demons (Les Démons) (2015)*
Doctor Strange (2016)*
Dolemite (1975)*
Don't Think Twice (2016)*
Downstairs (1932)*
Drowning By Numbers (1988)
Elle (2016)*
Eat That Question: Frank Zappa In His Own Words (2016)*
Everybody Wants Some!! (2016)
Ghostbusters (2016)*
Gimme Danger (2016)*
Hail, Caesar! (2016)*
The Handmaiden (Ah-ga-ssi) (2016)*
Hell or High Water (2016)*
High-Rise (2016)*
Indignation (2016)*
Into The Inferno (2016)*
Invention for Destruction (Vynález Zkázy) (1958)*
Kubo and The Two Strings (2016)*
La La Land (2016)*
The Lobster (2016)*
Love & Friendship (2016)*
Mars Attacks! (1996)
Midnight Special (2016)*
Miles Ahead (2016)*
The Monster and The Girl (1941)*
Moonlight (2016)*
The Neon Demon (2016)*
Nosferatu (1922)
Only Lovers Left Alive (2014)
Our Kind of Traitor (2016)*
The Pit (1981)*
Private Property (1959)*
Purple Rain (1984)
The Revenant (2015)*
Rogue One: A Star Wars Story (2016)*
Room (2015)*
Roxy: The Movie (2015)*
Safe In Hell (1931)*
Sausage Party (2016)*
Shooting Stars (1928)*
Snowden (2016)*
The Star (1952)*
Star Trek Beyond (2016)*
Swiss Army Man (2016)*
The Telephone Book (1971)*
10 Cloverfield Lane (2016)*
The Wanderers (1979)*
The Wave (Bølgen) (2016)*
The Witch (2016)*
X-Men: Apocalypse (2016)*
Movies seen on video:
After Hours (1985)
Airplane! (1980)
Altman (2014)*
An American Tail (1986)*
American Ultra (2015)*
The Angry Red Planet (1958)*
Annie Hall (1977)
Apocalypto (2006)
Archangel (1990)
Bad Company (1972)*
Bad Santa (2003)
Bananas (1971)
Barcelona (1994)
Beerfest (2006)
Being John Malkovich (1999)
Best of Enemies (2015)*
The Big Lebowski (1998)
The Big Red One (1980)*
A Bigger Splash (2016)*
Blast of Silence (1961)*
Blind Chance (Przypadek) (1981/1987)*
Boy & The World (2015)*
The Brain That Wouldn't Die (1962)*
Bram Stoker's Dracula (1992)
The Brand New Testament (2015)*
Bridge of Spies (2015)*
Bringing Up Baby (1938)
Brooklyn (2015)*
Café Society (2016)*
The Car (1977)
The Car (1977)
Chan Is Missing (1982)*
Char-ac-ter (2009)*
Chi-Raq (2015)*
China 9, Liberty 37 (1978)*
Chinatown (1974)
Christmas Evil (1980)*
Close My Eyes (1991)*
Clue (1985)
Code Unknown (Code inconnu) (2000)*
Command and Control (2016)*
The Constant Gardener (2005)*
Convoy (1978)*
The Cook, The Thief, His Wife & Her Lover (1989)
Count Yorga, Vampire (1970)*
Crank (2006)*
Creative Control (2016)*
Creature From The Haunted Sea (1961)*
Creature With The Atom Brain (1955)*
The Dance of Reality (La danza de la realidad) (2013)*
Danger: Diabolik (1968)*
Dark City (1950)*
Das Boot (1981)
David and Lisa (1962)*
The Day of The Locust (1975)*
De Palma (2016)*
Deadpool (2016)*
Death Race 2000 (1975)*
Death Rides A Horse (1967)*
Deathdream (1974)*
The Deer Hunter (1978)
Destry Rides Again (1939)*
Detour (1945)*
Diary of A Lost Girl (Tagebuch einer Verlorenen) (1929)*
Dope (2015)*
Dr. No (1962)
Dr. Strangelove (1964)
Embrace of The Serpent (El abrazo de la serpiente) (2015)*
The Enemy Below (1957)*
Escape From L.A. (1996)
Eye In The Sky (2016)*
The Face of Another (Tanin no kao) (1966)*
The Falcon and The Snowman (1985)
Fantastic Planet (La Planète Sauvage) (1973)
Fear and Loathing in Las Vegas (1998)
Fearless (1993)
Fiend Without A Face (1958)*
Finding Dory (2016)*
Following (1998)*
For A Few Dollars More (1966)
For The Love of Spock (2016)*
The Frisco Kid (1979)*
From Beyond (1986)
The Fury (1978)*
Futureworld (1976)*
Gambit (1966)*
Gate of Hell (Jigokumon) (1953)*
Gator (1976)*
Ghost Dog: The Way of The Samurai (1999)
Ghost World (2001)
Ghostbusters II (1989)
The Giant Claw (1957)*
A Girl Walks Home Alone At Night (2015)*
The Godfather (1972)
Gosford Park (2002)
The Graduate (1967)
Green Room (2016)*
Grizzly (1976)*
Gunga Din (1939)*
Halloween III: Season of The Witch (1982)
The Happening (2008)*
Hard To Be A God (Trudno byt bogom) (2015)*
Häxan: Witchcraft Through The Ages (1922)*
Hearts and Minds (1974)*
The Hellbenders (1967)*
Hell's Angels (1930)*
Hickey & Boggs (1972)*
The Hill (1965)*
Horrors of Malformed Men (1969)*
Hot Fuzz (2007)
The Hot Rock (1971)*
House of The Devil (2009)*
The Hunger Games: Mockingjay Part 2 (2015)*
Hunt for The Wilderpeople (2016)*
I'll Sleep When I'm Dead (2003)*
Inception (2010)
The Informant! (2009)
Inside Llewyn Davis (2013)
Inside Out (2015)
Intolerable Cruelty (2003)
The Ipcress File (1965)*
Joe Versus The Volcano (1990)
John Dies At The End (2013)
Keanu (2016)*
Kansas City Confidential (1952)*
Kes (1969)*
Kid Blue (1973)*
Knight of Cups (2016)*
Kung Fu Panda (2008)*
The Ladykillers (2004)*
The Last House on The Left (1972)*
Less Than Zero (1987)
Lessons of Darkness (1995)
The Limey (1999)
The Little Girl Who Lives Down The Lane (1976)*
The Little Prince (1974)*
Lo and Behold: Reveries of The Connected World (2016)*
The Lobster (2016)
Lockout (2012)*
The Lone Ranger (2013)
The Lone Ranger (2013)
The Long, Hot Summer (1958)*
Lookin' To Get Out (1982)*
The Lord of The Rings: The Fellowship of The Ring (2001)
The Lord of The Rings: The Return of The King (2003)
The Lord of The Rings: The Two Towers (2002)
The Loveless (1981)*
Macbeth (2015)*
Mad Max: Fury Road – Black & Chrome Edition (2016)*
The Man With The Golden Gun (1974)
Maniac Cop (1988)*
Maniac Cop 2 (1990)*
Marathon Man (1976)
The Mark of Zorro (1920)*
The Mark of Zorro (1940)*
The Measure of A Man (La Loi du marché) (2016)*
Medium Cool (1969)*
Midnight Run (1988)
Miller's Crossing (1990)
Mistress America (2015)*
Morphine (2016)*
The Mosquito Coast (1986)
Motel Hell (1980)*
Mud (2012)*
Mulholland Drive (2001)
The Naked Gun 2 ½ : The Smell of Fear (1991)
Nausicaä of The Valley of The Wind (1984)*
Navajo Joe (1966)*
The Neverending Story (1984)*
The Nice Guys (2016)*
Night Editor (1946)*
O.C. and Stiggs (1985)*
Ocean's Twelve (2004)
Old Joy (2006)*
Olympus Has Fallen (2013)*
One Girl's Confession (1953)*
The One I Love (2014)*
Orphan (2009)*
The Palm Beach Story (1942)*
Paperhouse (1988)*
The Parallax View (1974)
Paths of Glory (1955)
Payback (1999)*
Persona (1966)
The Picture of Dorian Gray (1945)*
The Plague Dogs (1982)*
Planes, Trains and Automobiles (1987)
Planet Terror (2007)
Powaqqatsi (1988)
Pretty Poison (1968)*
Purple Noon (1960)*
¡Que viva Mexico! (1932)*
Quintet (1979)*
Race With The Devil (1975)*
Raiders of The Lost Ark (1981)
Rams (Hrútar) (2016)*
Ravenous (1999)*
Raw Deal (1948)*
Real Life (1979)
Red Beard (Akahige) (1965)*
Results (2015)*
Ringu (1998)*
River's Edge (1986)
Ryan's Daughter (1970)*
Saboteur (1942)*
Safety Not Guaranteed (2012)*
The Sand Pebbles (1966)*
Saw (2004)*
Scandal Sheet (1952)*
Secretary (2002)
The Sentinel (1977)*
The Serpent and The Rainbow (1988)
Seven Psychopaths (2012)*
'71 (2014)*
Shadow of The Thin Man (1941)*
Songs From The Second Floor (Sånger från andra våningen) (2000)
Speed Racer (2008)*
Splinter (2008)*
Spotlight (2015)*
Spy (2015)*
Star Trek VI: The Undiscovered Country (1991)
The Station Agent (2003)
The Sting (1973)
Sudden Fear (1952)*
Sun Ra: A Joyful Noise (2015)*
Superman: The Movie (1978)
The Swimmer (1968)*
The Swimmer (1968)
T-Men (1947)*
Tangerine (2015)*
Telefon (1977)*
Theatre of Blood (1973)*
Theremin: An Electronic Odyssey (1994)
Thieves Like Us (1974)*
The Thing (1982)
Think Fast, Mr. Moto (1937)*
The Three Muskateers (1974)*
Tim and Eric's Billion Dollar Movie (2012)*
The Time Travelers (1964)*
Time of The Wolf (Le temps du loup) (2003)*
Touch of Evil (1958)
A Trip To The Moon (Voyage dans la Luna) (1902)
Tron (1982)
True Grit (1969)*
True Grit (2010)
Turbo Kid (2015)
Upstream Color (2013)
Vampire's Kiss (1988)
The Vanishing (Spoorloos) (1988)*
Vincent: The Life and Death of Vincent van Gogh (1987)*
Vincent & Theo (1990)
The Virgin Spring (Jungfrukällan) (1960)*
Weiner (2016)*
When Worlds Collide (1951)*
While The City Sleeps (1956)
Whiplash (2014)
White Heat (1949)*
White Lightning (1973)*
The Wicker Man (2006)*
Wiener-Dog (2016)*
Will Penny (1968)*
The Wraith (1986)*
The Wrong Man (1956)*
Zootopia (2016)*