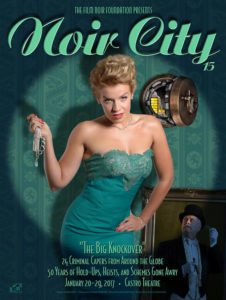 Later this month, the devious Noir City festival once again storms the glorious Castro Theatre for nine days of dark and desperate films. In this, its 15th iteration, Noir City shifts from showing obscure and long-lost noirs in order to focus on all sorts of heist films — many of them more modern but no less obscure.
There are some great films on the schedule, a bunch of which I've seen: 14 of 24 to be exact. And some of the ones I haven't yet caught sound eminently catchable, just like most of the characters in a heist film.
What? You thought people should escape the noose in a noir? Pshaw, I say. Pshaw.
But no spoiler alert necessary. Some of these selections don't cleanly fall into the noir genre, and so, just maybe, if everything goes according to plan and no one loses their cool, a scant one or two might get away clean.
Of the Noir City 15 scheduled films that are new to me, I'm most looking forward to Cruel Gun Story, which I hadn't even heard of before I opened this year's guide. But if they're all new to you, perhaps some capsule reviews of those heist films I've seen will help you plan your cinema-going capers accordingly?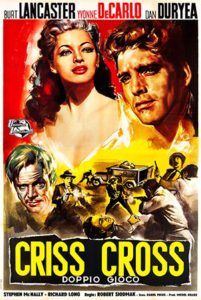 If you haven't seen Criss Cross, here's your chance to catch one of the all-time great noirs in 35mm. In this lacerating dive into duplicity, Burt Lancaster plays his losing hand hard. His wary character pulls out all the stops in order to boost an armored car and win back his love. What a sap. Doesn't he see that his ex's gangster husband is played by the brilliant Dan Duryea? Hasn't he read the film's title? Oh well. Still. It's quite a ride and the film's slippery manipulations have found their way to the screen time and time again, notably in Steven Soderbergh's near-indigestible remake, The Underneath.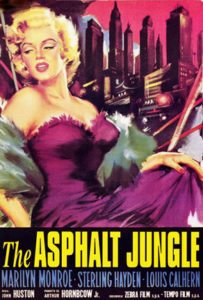 Sterling Hayden, Marilyn Monroe, and many more lay out the heist film map in this one from John Huston, projected in glorious 35mm. If you think you know how a heist film goes, well, thank The Asphalt Jungle for that. It's been ages since I've screened it, but it's the kind of film that sticks with you. It's like crashing into the side of a mountain in a plane filled with thousand-dollar bills. You're rich! Enjoy it while you… oh. Too late. You're dead. Even though Marilyn looms large on the poster, don't be fooled: this was one of her first parts and hers isn't a big one, just one that leaves an impression.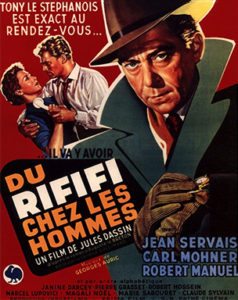 Many call Jules Dassin's early heist masterpiece Rififi the best ever made. I wouldn't go that far, but failing to see Rififi is like failing to see Singing in the Rain or The Producers. You can't really understand those genres without them under your belt. It's the venerated Bible of heist films and its tension-ratcheting break-in scene is Shakespeare.
Speaking of Dassin, he was a blacklisted American director who had better luck overseas. He also made a less Shakespearean heist film that pops up now and again called Topkapi. It's no Rififi, but it's kind of cute.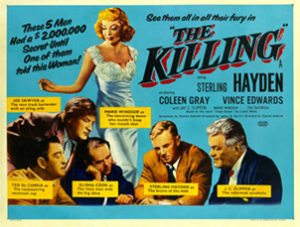 The Killing. The Killing. Yeah. Wow. Do I have a favorite heist film? Is it this one, Stanley Kubrick's contribution to the genre? What if I said this picture was co-written with noir god Jim Thompson and stars Sterling Hayden and Elisha Cook, Jr.? What could possibly be better? Nothing, that's what. But still, not my favorite heist film because I'm weird and ornery. It's just one of my favorite heist films, and yours, too. This is the kind of picture that carves the runes of bitter loss into your soul. When you see it — if you haven't yet — you'll immediately know you're watching undiluted, unadulterated noir. That Kubrick guy was pretty good, I guess. It's not screening in 35mm, but it is showing with Cruel Gun Story so unless I get hijacked by bitter ex-partners who want my share of the loot, I'll see you there.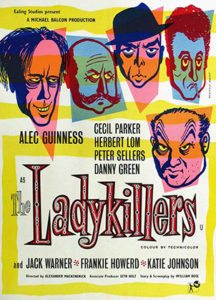 Many people adore the Ealing Studio comedies. I am not one of those people. In this (the original, not the Coen Brother's disastrous remake), Alec Guinness leads a gang of unlucky criminals (including Peter Sellers) who pose as meek musicians to pull off a daring crime. Alas, all doesn't go to plan in ways many insist are hilarious. Decide for yourself, I guess. Director Alexander Mackendrick did much better with Sweet Smell of Success if you ask me. I haven't seen this one in ages and it's probably much better than I recall, so don't let me dissuade you.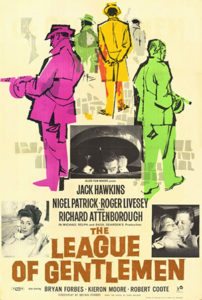 I watched this one just last year and it's fine. Another British film by Ealing Studios, The League of Gentlemen feels a bit too chummy and what-what to sizzle. The characters drape themselves about like characters based on other earlier heist films and less like believable men (yes, all men). The film does, however, have a premise that's ripe for a remake — disaffected ex-soldiers use their government-gifted, dangerous skills to make a different kind of killing. The League of Gentlemen is perfectly enjoyable, but not much more than that. If no one's miserable at the end, even after they get caught, is it a noir? I'm saying no.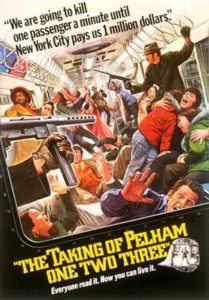 Fine. This is my favorite heist film, if it even is a heist film? But it's not, really. It's an anti-heist film, told from the point of view of the poor schmo who's set against the arch-criminals (the delightfully vicious Robert Shaw and his crew of subway commandeers). The fact that the poor schmo is Walter Matthau playing an irascible and justifiably skeptical transit cop (backed by Jerry Stiller), does not hurt one teensy weensy bit. The Taking of Pelham 123 is a perfect piece of intelligent, entertaining, well-made cinema. It's Die Hard before Die Hard. It's the sort of film you can watch on an endless loop and not get bored. And here it is, in 35mm with…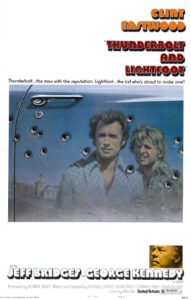 Oh, you nutty Lightfoot (Jeff Bridges). Oh, you cranky Thunderbolt (Clint Eastwood). Potato, potahto, let's call the whole thing a heist using a piece of military-grade artillery. Directed by Michael "Heaven's Gate & The Deer Hunter" Cimino, this film is, well, something to see. It may not be perfect, but it is strange and occasionally endearing, and then that ending. I wrote more about this one long ago, and while it didn't make my 10 Best Clint Eastwood Movies list, it was an honorable mention. So come for Pelham and stay for Thunderbolt and as much of Lightfoot as you can stand. Sorry, Jeff. I kid because man is that character irritating.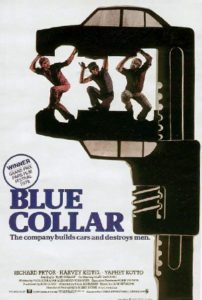 I would like to tell you that Paul Schrader's directorial debut — starring Richard Pryor, Yaphet Kotto, and Harvey Keitel — is a smoldering piece of shrapnel shoved into the eye of industry but that wouldn't be honest. It's not a great film even if it has great intentions and a great cast. In a word, I found Blue Collar lumpen. Not quite funny or tragic or eye-opening, just morose and gritty and ragged. There are a million worse films you could see, but that's about the best I can say about Blue Collar. Oh, and that this one is a noir. You can tell because despite being in color and taking place in the Detroit auto factories, the ending is as bitter as union hall waiting room coffee.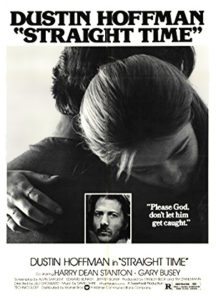 Straight Time is the sort of film you come across in a festival listing, or on some streaming media service and you say: what? How can I not have seen a Dustin Hoffman film in which the Dust plays an ex-con in a story by Reservoir Dogs writer Eddie Bunker and in which his co-stars are M. Emmet Walsh, Theresa Russell, Gary Busey, Harry Dean Stanton, and Kathy Bates? How?!?!? Well, calm down, and I'll tell you. It's because it's not very good. I can imagine it landing with more impact upon its release, but today, it's an oft-told story presented in a fashion that feels too movie-of-the-week. Dustin's character gets out of stir and tries to go straight but the man just won't let him stand up proud.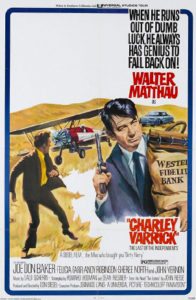 Charley Varrick is directed by Don Siegel and stars Walter Matthau. Joe Don Baker plays a hit man named Molly. Airplane stunts are involved. I've seen it multiple times and I'm eager to watch it again because: see above. Charley Varrick is the sort of lost gem you stumble across randomly one night and then wonder why the hell people don't have Walter Matthau tattoos. Or do they? They should. In 35mm so BOOM. Don't miss it. In my memory, it's like Point Blank crossed with Harper but is my memory any good? Depends on who's asking. No really. Who's asking? I don't recognize you. Leave me alone. I'm watching Charley Varrick.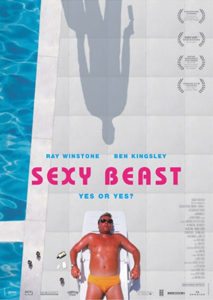 Sexy Beast is two movies, really. In the first, Sir Ben Kingsley shows up at Ray Winstone's Spanish getaway to demand his old mate sign up for one last score. In this first half, Kingsley is like a waking nightmare of snapped nerves and unhealed scars. It is, as far as I recall, tense and excellent. Then there's the second half which seems obligatory and not nearly as interesting and which centers around a creative but less engaging heist. It's a stylish film, and certainly of interest, but not one I'd put on any greatest hits list.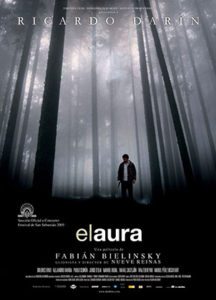 I'll be honest: I've seen The Aura but can't recall it too clearly. It's an Argentinian film about an ordinary guy who dreams of pulling off a heist — and then he stumbles into one. I recall it being a tad leaden but if you started with Criss Cross, I'd bet The Aura would be a poetic way to finish. It is a genuine noir, and a genuine heist film, and — as far as I can recall — made for and by people who like things twisted.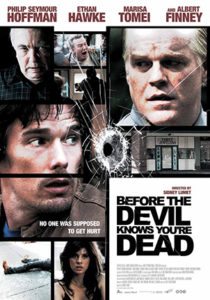 Sidney Lumet's final picture is one I was supposed to love but didn't. The cast is great but the film's bleakness bored me. It was too much an actor's showcase and not enough of anything new. Knowing how a film will wrap up isn't even most often a bad thing, but in order to have crushed hopes, you have to first have hope. Before the Devil Knows You're Dead was lacking hope.
There you have it. Hope to see some of you at Noir City — a festival we're lucky to have and one we should all support.