It's amazing you have any time at all to go out to the movies, what with that whole "life" of yours getting in the way. Plus look at all of these amazing Mind Control Double Features you've got to get through! Still and all, going out to the movies is good for your soul. And if you never did it, theaters would vanish and we'd all be watching movies by ourselves on our phones in the bathroom. So. The only question is, what's worth one's limited time and funds? Once a month, we come to you with answers.
Is The Man Who Is Tall Happy
THE ROXIE, SAN FRANCISCO: MON., DEC 2 – THURS., DEC. 5, 7:15 & 9:15 PM
You love director Michel Gondry for making Eternal Sunshine of The Spotless Mind. You love him somewhat less for all of his other movies. His newest is simply a conversation between himself and Noam Chomsky, in which they discuss all things philosophical, with the bonus that the movie is animated by Gondry, so it's bound to look uniquely odd.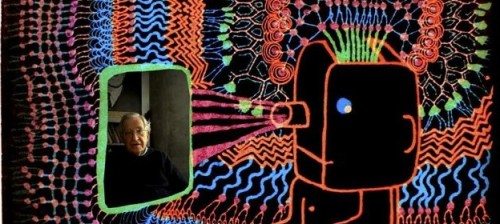 Despair ('78)
German director Rainer Werner Fassbinder's adaptation of Nabokov's novel, scripted by playwright Tom Stoppard. About a chocolate factory owner (not, alas, named Willy Wonka) who begins to step outside of himself, to the point where he meets a man who looks identical, and hatches a devious scheme. Better still, it's set in '30s Germany against the backdrop of the rise of Nazism! So you're in for a good time at the movies.
Killer of Sheep ('77) / Eraserhead ('76)
CASTRO THEATRE, SAN FRANCISCO: FRIDAY, DEC. 13, 7:15 / 9:00 PM
Maybe you've never heard of Killer of Sheep, the first feature by director Charles Burnett, about a man in Watts who works at a slaughterhouse and struggles to get by. It's sort of a black American version of '50s era Italian neo-realism. It's good.  Eraserhead you know about. David Lynch's first movie, one he spent years filming. If you've never seen it, YOU MUST GO. It is incredibly, uniquely weird. It will massage your brain in many wonderful ways. And there's a dancing chicken.

Johnny Guitar ('54)
Nicholas Ray's unusual western starring Joan Crawford, Mercedes McCambridge, Sterling Hayden, John Carradine, and Ernest Borgnine. It's unusual in that both the hero and the lead evil-doer are women. Not too many westerns about women out there. Johnny Guitar helps out, but he ain't the star. Ray made some notable film noirs before this, and Rebel Without A Cause after.

Noir City Xmas: Blast of Silence ('61) / Christmas Eve ('47)
CASTRO THEATRE, SAN FRANCISCO: WEDS., DEC. 18, 7:00 PM
Come the end of January the week-long Noir City 12 festival will return to the Castro. As a warm-up, we get a double bill of holiday themed noir. Blast of Silence looks like the winner here, about a hitman coming home for xmas only to find he can't escape his past. Christmas Eve is a sort of noir-comedy. Or so I have read. You never know what you're getting with noirish humor, but one thing's for sure: it's going to be different, and you'll never get another chance to see it. As a bonus for noir-lovers, the schedule for Noir City 12 will be announced here.

A Night At The Opera ('35) / Duck Soup ('33)
CASTRO THEATRE, SAN FRANCISCO: MON., DEC. 30, All DAY
It's the Marx Brothers, people. They're funny. They're even funnier when projected from real, live 35mm prints. Crazy but true! And they're yet even funnier still when you watch them in the most beautiful movie theater in the world with an audience of laughing fools. This double bill features the funniest opera this side of the The Rabbit of Seville, plus the greatest country in the world, Freedonia, going to war with more or less everyone.

Inside Llewyn Davis
OPENS DECEMBER
The latest from Joel and Ethan Coen, already hailed by every important critic on Earth, Mars, and Venus (it hasn't screened on Mercury or the outer planets yet) as being the Best Thing Of All Time Ever, so who knows, maybe it'll be good. At this point in their career, the Coens are considered the Grand Wizardly Poo-bahs Supreme of all things artistic and beautiful in cinema, so it's hard to know in advance which of their movies are going to be great and which will merely be nice to look at. But no matter. Their movies are always worth seeing. This one is about a folk singer going to New York in the '60s with a cat. I'm excited.

The Unknown Known
OPENS DECEMBER
The latest documentary from Errol Morris, a companion piece, it would seem, to his brilliant The Fog of War, in which he interviewed Robert S. McNamara, the former Secretary of Defense for Kennedy and Johnson. In his new movie, the Secretary of Defense being interviewed is our not so old friend, Donald Rumsfeld. Early word suggests that we don't get quite as deep or satisfying a look at Rummy as we did with McNamara, but surely it's going to be at least somewhat revealing. After all, few humans seem to be as genuinely loathsome and nefarious as is Rumsfeld. I'll be curious to see what kind of politically devious circumlocutions he employs to explain his little reign of terror.

The Wolf of Wall Street
OPENS XMAS DAY
Martin Scorsese's take-down of the lying, cheating, money-making scum who ruined and continue to ruin the world for the rest of us. Based on a true story, it stars Leonardo DiCaprio as Jordan Belfort, and follows his rise to riches, his innumerable crimes, and eventual fall. From the trailers, it looks like Goodfellas Go To Wall Street in terms of syle and execution and voice-over and Scorsese and so on. Which if it's as good as Goodfellas, hooray! That would be swell. I also read that it's Scorsese's longest movie ever, at almost three hours, just 60 seconds longer than Casino. So prepare for the long haul.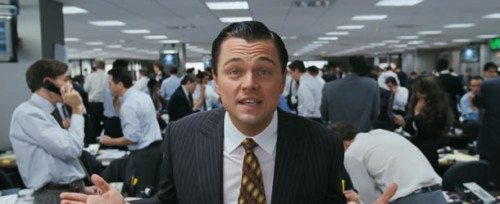 Ya gots tips on upcoming interesting screenings? Send 'em our way.