What ten cine-gems passed through my Blu-ray player since our last Queue & A? What's coming down the mail tubes next from Netflix?
There is only one diabolical way to find out and you're reading it now.

Recap & Reviews
Oh, movies. Why must you play with my heart so? Last month's screenings were a real roller coaster ride.
The Slugger's Wife was even more dreadful than expected. Read all about it if you want your heart broken and your spleen to explode. Three Kings remained great on second viewing. Hopefully American Hustle—David O. Russell's next, which I've already got tickets to—will be like this bleak Gulf War comedy and less like his Silver Linings Playbook and The Fighter, which people love for reasons that perplex me.
24 Hour Party People and Cemetery Man have received some ink already here, as has Gunga Din. (Fair, ghastly, and great, in that order, if you must know without the pain of clicking your mouse.) Chameleon Street was way too amateur for my tastes, and plenty incoherent as well. Its slick con-man premise is no longer novel and this 'true tale' far from fascinated me.
Ikiru made an appearance in a recent double feature post. It was fantastic. You should watch it (with Herzog's Into the Abyss). Christmas in July, the last of the Preston Sturges greats I'd neglected to see, is up there with my favorites of his. It's full of vintage Sturges satire and practically whips past at barely more than an hour long.
That leaves Mumsy, Nanny, Sonny & Girly and White Heat. The latter is classic gangster awesomeness. I love Cagney's tough guy act, even if I can't watch him bark on the prison phone without thinking of Dead Men Don't Wear Plaid. Girly, on the other hand… Sorry. I kept waiting for something to interest me, but besides Vanessa Howard's shapely legs, I was left unfulfilled. I didn't even appreciate the hurried cinematography by otherwise appreciated Freddie Francis (of The Elephant Man and others).
Looming on the Queue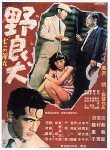 Stray Dog: Akira Kurasawa catch-up continues, feeding me all the fine Japanese films I have neglected to see thus far. Stray Dog sounds akin to High and Low, a film it's hard not to dig. This one's about a cop that loses his gun. That's 1949 noir, Nipponese-style, and said to be the first glimmer of the police procedural and the buddy cop film.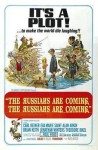 The Russians Are Coming, the Russians Are Coming: After reading Being Hal Ashby, I figured I better dig into the back catalogue of Norman Jewison—Ashby's mentor and the fellow he really got started under as an editor. This one is a cold war comedy with an all-star cast about a Soviet sub that runs aground off New England. Ashby was nominated for Best Editor for his work on the film and it's based on a Nathaniel Benchley novel—his son Peter later wrote Jaws.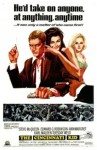 The Cincinnati Kid: Another Jewison film, this one starring Steve McQueen, in a poker-focused revamp of The Hustler—or so it seems; I haven't seen it yet. It was supposed to be directed by Sam Peckinpah, but he was fired for "vulgarizing the picture" shortly after shooting started. His black & white vision was scrapped by Jewison who got mixed reviews from the results. Ashby edited this one too.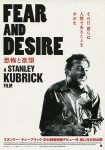 Fear and Desire: In slightly better news than Baz Luhrmann reviving Stanley Kubrick's unrealized script for a film about Napoleon, boffins recently released this heretofore rarely seen early work by the master. It's Kubrick's first feature and reportedly feels like it. As rough as his second film was—The Killer's Kiss—that had moments that captivated and I expect this will as well. It's a war picture he made for about $10,000.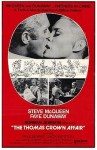 The Thomas Crown Affair: The last of my Jewison run, Thomas Crown is another McQueen vehicle, this one a heist picture. I've seen bits of it, but want to see it through again to pay more attention to Ashby's editing and the film's innovative use of split screen. That was a new trick for a feature film. This one's been remade with Pierce Brosnan so it must have been top notch. Just kidding.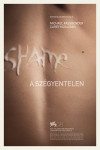 Shame: This is the second of not-that-Steve McQueen-the-other-Steve McQueen's three features and the one I haven't seen. (The other two being Hunger and 12 Years a Slave.) It's Michael Fassbinder as a sex addict and Carey Mulligan as his surprise-visiting sister. I'm pretty sure it's not a raunchy sex-comedy, but I'm sure we'll get an updated remake soon.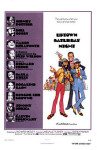 Uptown Saturday Night: Sir Sidney Poitier, Bill Cosby, Harry Belafonte, Flip Wilson, Richard Pryor… it's no wonder Will Smith is remaking this one and it's two sorta-sequels. Uptown helped launch Poitier's career; he starred and directed. I'm expecting something a bit goofy, but good for a night out. If it's compelling, I guess I'll watch the next two: Let's Do It Again and A Piece of the Action.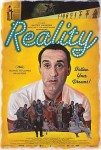 Reality: I remember this recent Italian film hitting theaters and feeling moved to check it out; then not doing so. Now I make amends. This one follows a working-class guy who gets obsessed with getting on the Italian version of Big Brother. It's a dark comedy with political undertones from the man who made Gomorrah, Matteo Garrone. I'm fascinated by the appeal of reality television, as I feel none of it personally. What makes people want that sort of fame? It's a strange and beautiful world.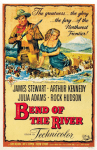 Bend of the River: I've got a soft spot for Westerns, but somehow I've never seen this Jimmy Stewart / Anthony Mann collaboration. The pair made five oaters together and this one's considered one of the best. It tells the time-worn tale of an honorable man who tries to get the supplies through after them durn-tootin' snakes try to starve the homesteaders out. I'm pretty sure there will be a gunfight in it.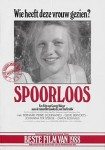 The Vanishing: This one is a Dutch film from 1988 (not the American remake, by the same director), about a woman who disappears from a rest stop and her boyfriend's obsessive search for her. I don't know too much about it, except it's supposed to be cleverly structured and avoids clichés. Sounds good to me!
Will this month's Netflix queue treat me better than last month? Will I get the lucky golden ticket in one of my DVD shipments? Who can tell?
Who can tell, indeed.