Now that Captain America: The Winter Soldier has hit theaters, the ever-burgeoning fanboy hordes have unleashed themselves upon the internets to rave about and rank it. This — not the movie, but its inclusion in an illusory larger system — is the most impressive thing about the film.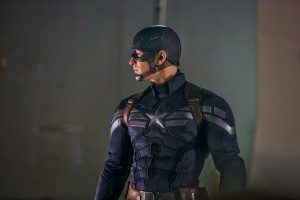 Taken on its own, Captain America is the latest installment in the Marvel Studios megafranchise and little more. It is only part of something larger — the 'Marvel Cinematic Universe' — because of details that have little to do with Captain America: The Winter Solider. You could strip those bits from the film without changing it substantively.
In the film, our spangled hero Captain America (Chris Evans) stumbles into a well-advanced plot to corrupt the national security agency S.H.I.E.L.D. and thereby enslave the world. Cap enlists the aid of Black Widow (Scarlett Johannson) because she happens to hang around the vending machines. He fights an organization that manages something that none other has accomplished in the history of mankind: to keep a far-reaching, audacious, complex organizational conspiracy secret for more than 12 minutes. Even though the organization's director is actively trying to uncover it.
Most reviewers have treated Captain America: The Winter Soldier quite kindly, calling it the best Marvel film yet, comparing it to gritty '70s political thrillers, and generally just wetting their pants with plaudits. I can't clearly understand why. I see nothing exceptional or unexceptional about it.
There is only one solid reason to feel excitement about this particular Marvel film. That is because it is the newest one, you are addicted, and it has fed your jones. You have accepted into your heart the notion that these movies are all part of something larger — but that conceit is a thinly veiled illusion.
The emperor wears no clothes.
Sure, one or more characters may cross-over from film to film, but the plots of the films remain segregated. Captain America does not, for example, call up Thor to help save the world, even though that's what he clearly would have done if he was part of a greater story that included both heroes — as in The Avengers. Cap hides out at the house of some guy he met jogging (who just happens to be a soldier of astounding ability) instead of hightailing it to Iron Man's skyscraper. Whassamatter Black Widow, your cell phone that can trace heat signatures doesn't have a texting plan? Don't feel like pinging your boy Hawkeye so he can help stop Hydra?
And Hydra? What's your plan for conquering the world without attracting the notice of Loki, who will be pissed if the Earth gets overcome by someone else? He's put in so many hours on the task already.
We ignore inconsistencies like this because: comic books. But inconsistencies like this force the Marvel Cinematic Universe — such that it exists and is deserving of proper noun status — far from the real world, or even a believable fake one. The degree of threat, the exaggerated abilities, the steroids pumped into every scene — these, too, keep modern superhero films from being anything worth intelligent consideration. Without either foot in reality, comparing Captain America: The Winter Soldier to a '70s political thriller is like comparing a game of Hungry Hungry Hippos to a raft trip down the Congo.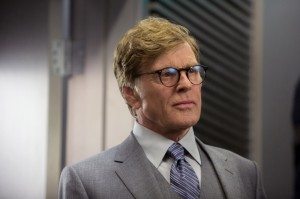 It's preposterous. What made '70s political thrillers like Three Days of the Condor and All the President's Men intense wasn't the presence of Robert Redford; it was our ability to believe that the things they depicted could (and did) happen. In contrast, anyone who believes that Captain America: The Winter Soldier even comments on current political events intelligently lacks cognitive ability. The film includes some buzz words — surveillance, conspiracy, algorithm — and fires them like an intense fusillade aimed squarely at the star on Cap's shield.
Our ankles are vulnerable, buddy. You need to aim lower if you want to assail your target. If you actually want to cause some concern, which you don't. Because if there's a grand plan to take over the world by disguising control as freedom, it's a plan that's more likely to come from Disney than Hydra.
Captain America: The Winter Soldier isn't a bad Marvel movie. It's a typical Marvel movie. It's a film in which some preposterous threat to the world is uncovered, reacted to, and almost-but-not-quite eradicated in an overblown final battle. Of course. Captain America behaves as Captain America. The villains behave dastardly to a degree that even Hitler would call ostentatious. 
And we go to see every Marvel film because what if we missed one?
We read articles about whether someone thinks this film is better than Thor 2 or The Avengers. That's like squabbling over which Dorito is more pleasingly shaped and more thoroughly coated with orange dust.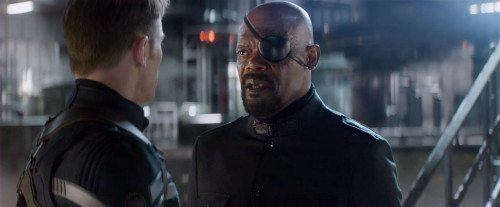 I didn't hate Captain America: The Winter Soldier. It followed its formula in precisely the way anyone would have expected. If you liked the other Marvel films, you'll like this one, too. I just wonder how many of these films people will have the stomach for? Even James Bond is clever enough to only come around every few years.
When I was a kid, I collected Marvel comics. Then I grew tired of needing to read so many titles every month just to keep track of what was going on. Who, at the end of the day, really cared? I realized I had started collecting them obsessively without noticing.
Well, I noticed.
I've still got those comic books. Most of them aren't worth the paper they're printed on. It's the same with these films. In ten years no one will care about any of these movies any more than we care about the second Matrix film.
Marvel is trying to connect these films so audiences feel compelled to see them all — some nonsense about infinity gems — without connecting them in a way that keeps occasional viewers from being confused when they see their first one. They want them to be tied together but can't do so substantively for innumerable practical reasons.
Every time we talk about these movies as part of a greater whole we're drinking the Kool-Aid. Our jones could lead to a Jonestown massacre — hopefully just for studios who invest everything in megafranchises — but maybe for cinema at large.
In order for me to want to keep watching Marvel movies — outside of my duties as a film blogger — these pictures are going to need to start offering something I haven't seen already four times this year. Guardians of the Galaxy looks like it might push the envelope a little, but there's little hope it won't cover the exact same path as all of the others. Will Edgar Wright manage something interesting with Ant Man?
Maybe I'll find out. Or maybe I'm ready to start missing some of these Marvel movies.