(In which series I intend to watch every Planet of The Apes movie ever made, beginning with the original classic, Planet of The Apes, and continuing through summer 2014′s newest entry in ape-lore, Dawn of The Planet of The Apes. Join me, and we will lose our pitiful human minds together.)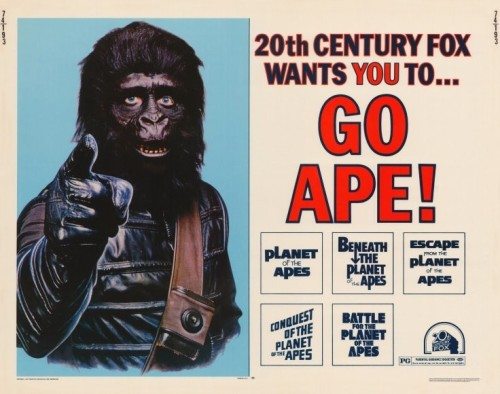 We last left the apes wondering if Zira and Cornelius's baby would grow up and spawn a race of super-intelligent apes that would one day take over the world. As Conquest of The Planet of The Apes begins, we assume this is just what's happened. It's 1991. Chimps and gorillas, walking upright and wearing colored jumpsuits, are being herded over a futuristic concrete landscape by mean humans with cattle prods. What mad world is this?! we may find ourselves screaming, terrified.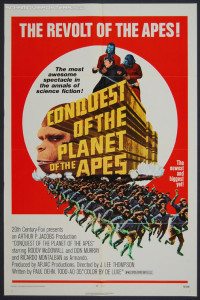 Turns out it's not so much mad as absurd. But absurd has been the watchword of the Apes movies since Beneath, so we would expect nothing less.
We meet Caeser, Zira and Cornelius's grown up child (played by Roddy McDowell), being led around the city on a chain by Armando, the circus owner we met in Escape, played by Ricardo Montalban. By "city" I of course mean the office park the entire movie is filmed in and around. There is not a single scene anywhere else. Now that's how you make a movie on a budget.
Armando tells Caeser to keep his mouth shut, or there'll be trouble. Seems all those apes we saw in the opening are pets or, more exactly, slaves, wandering about, doing their masters' bidding. Caeser wonders how the world came to be this way, with smart—but not too smart—apes turned into slaves. It's a question we in the audience might likewise be asking. How'd the apes get this way if they're not Caesar's offspring?
Get this (explains Armando in front of a statue of a cat and a dog): eight years ago, in 1983, a space virus returned to Earth with an astronaut (not this guy, I hope) that killed all dogs and cats. Mighty specific virus, that. Forlorn and petless, humans turned to apes to fill their pet needs, discovered them to be easily trained, and voila! Eight years later, apes walk upright, wear jumpsuits, and have turned from pets into slave labor. It's evolution at work, people. Take a science class, why don't you? You might learn something.
This evil world, i.e. the world that consists of this one office park and its environs, is run with an iron fist by Governor Breck (Don Murray). His minions beat on apes without mercy. Caeser witnesses one of this beatings and cries out, "Lousy human bastards!" Armando tries to cover, says he yelled it. Caesar gets away in the confusion, but Armando is arrested and questioned by Breck.
Breck has his number instantly. Theorizes that Caesar is the spawn of Zira and Cornelius and must be captured and killed lest he lead the apes in an uprising and end humanity forever. Armando admits nothing.
Caesar sneaks into a cage of newly imported orangutans from Borneo and finds himself entered into the ape-conditioning factory, where apes learn to make beds, pour glasses of water, dance around to horrific future disco music, and not shy away from flamethrowers. This sequence is, as I hope you are imagining, completely bonkers. Caesar, secret smarty-pants that he is, doesn't need a bit of conditioning. He can pour a glass of water just like a human. He's that good.
He's bought at auction by Governor Breck, who thinks he might be the talking ape he's looking for. Speaking of the auction, Conquest isn't subtle about slavery. The one black character, MacDonald (Hari Rhodes), chief aide to the governor, is sympathetic to the apes for this very reason, that his people were once enslaved too. When he frees an ape from a beating, the baton-weilding cops snark that it's no surprise he likes the apes.
Caeser feigns dopiness—he can't even mix a whiskey soda correctly—fooling Breck, who assigns Caesar to a menial filing job in the command center.
Under further brutal questioning, Armando just about cracks. He fights off his guards in a desperate attempt to escape, then falls out a window to his death.
Caesar is hearbroken. Tears in his eyes, he sees his future. He's going to teach those lousy bastard humans a lesson they won't ever forget. He secretly organizes the other apes. They collect knives and guns and kerosene. They act up in minor ways against their owners. Revolution is coming.
Breck suspects Caesar anew and hauls him in for questioning. Given electric shocks, Caesar finally breaks down and talks. "Have pity," he says. Breck has found his ape. He orders Caesar killed. But MacDonald has snuck away and turned off the power to the machine, Caesar feigns death, and nobody notices anything's wrong.
Well. If the humans are going to be that stupid, I guess they deserve what's coming. What's coming is the ape revolution. The apes rise up and attack. Many are shot down, but they overwhelm the armed forces and take their guns. It's a massacre. It's not an especially bloody one. Mostly the apes are seen beating on the humans. Still, it's pretty bleak stuff.
Breck is captured last and dragged outside. Caesar gives a speech, as follows:
Where there is fire, there is smoke. And in that smoke, from this day forward, my people will crouch, and conspire, and plot, and plan for the inevitable day of man's downfall. The day when he finally and self-destructively turns his weapons against his own kind. The day of the writing in the sky, when your cities lie buried under radioactive rubble! When the sea is a dead sea, and the land is a wasteland out of which I will lead my people from their captivity! And we shall build our own cities, in which there will be no place for humans except to serve our ends! And we shall found our own armies, our own religion, our own dynasty! And that day is upon you NOW!
Best part of the movie, right there. The tension is high. What will the apes do? Turns out in the original version of the movie played for preview audiences (and now available on blu-ray), the apes beat Breck to death while the city burns behind them, Caesar watching over the destruction he has wrought.
In the ending actually released, MacDonald pleads for leniency, and one of the female apes utters a word, "No." Caesar speechifies to the effect that man will be dominated no matter what, so the apes should now be humane. Which is pretty lame. If you watch Conquest, you should seek out the blu-ray and the real ending.
In any case, it's a dark movie, a relief after the bizarro-world sit-com antics of Escape. It's directed with at least a little style by J. Lee Thompson, a director with a ton of credits, best known for the original Cape Fear. It's again written by Paul Dehn, who assumed this was the last movie in the series. He thought he'd tied it all up. He wasn't brought back to write the last movie in the series.
But make no mistake: Conquest of The Planet of The Apes is as cheap and ridiculous a cash-grab as the other sequels, coming out a year after Escape. Did audiences in the '70s suffer from Apes overkill? One would think so, with a new Apes movie every year, and one more to come. Still, Conquest is silly and dark enough to be amusing. It's also the chapter this summer's Dawn of The Planet of The Apes is more or less remaking. I'm guessing the new one will look a touch flashier, and make a bit more sense. But lacking Ricardo Montalban, can it hope to be better? We shall wait and see.
The Going Ape series: