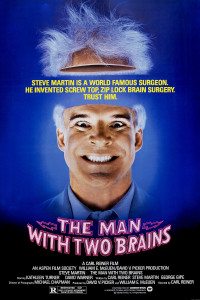 I'm of two minds about this week's Mind Control Double Feature.
Part of me thinks that I'm the one who watched it, but the other part of me doesn't recognize the part of me that thinks it watched it as me.
Confused? That's just like you!
No, not you, the other you. The you that's surreptitiously usurping control over your life while the other you wallows deeper into your mental mire. The you that's giving the other you a little helpful push on the back. A push in deeper.
Soon you'll be so submerged in you that you won't even know who you are any more. Assuming you had some idea of who you were to begin with?
Go ahead and struggle if it makes you feel better. You're bound to win. And to lose. And to watch two movies as part of this week's Mind Control Double Feature, in which two heads are — debatably, marginally — better than none.
A Scanner Darkly (2006)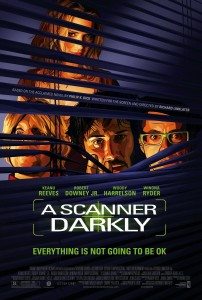 Bob Arctor has a problem. That problem is Substance D, the highly addictive narcotic that disconnects the hemispheres of one's brain. Exacerbating this trifling issue is the fact that Bob is also an undercover narc. As such, he — disguised — reports on everyone in his crew of pathetic drug fiends, including himself.
If he could just keep straight which one of these losers was him.
Richard Linklater's A Scanner Darkly faithfully adapts the identically named novel by science-fiction master Philip K. Dick. It was shot digitally and then rotoscoped — that being the odd style of animation drawn over photography to produce an effect not unlike rolling wild down the abrasive slopes of the uncanny valley.
The film, underneath its various layers of identity, tracks Bob's descent into addiction. It is this character's accompanying loss of self — something that Dick understood — which motivates and deteriorates him. As his brain battles itself for self-recognition, Bob Arctor manages to both win and lose, but mostly lose.
As the poster suggests: Everything is not going to be okay.
Bob (Keanu Reeves) starts skipping like an old sun-scarred LP. He has become addicted to Substance D, the drug that he set out to combat, and it's his own fault. He bought as much of it as possible from Donna (Winona Ryder) attempting to uncover the narcotic's high-level source, which — he isn't sure — may be himself.
As 'Fred' — his police informer codename — Bob always reports wearing a 'scramble suit' — an outfit that constantly warps his appearance so that he resembles a constantly changing mixed puzzle of other people. He rats to his superior, 'Hank,' who also wears a scramble suit. Bob/Fred watches surveillance footage of his ramshackle home, which is shared with Barris (Robert Downey Jr.) and Luckman (Woody Harrelson), and frequented by Freck (Rory Cochrane). He observes the guys, including himself, taking drugs and talking an endless parade of insanity.
And Bob tries to remember who he is as he buys drugs and reports on himself and makes progress on the inevitable bust. Maybe soon he'll catch himself red-handed!
If all that sounds perverse and dark and difficult; yes. A Scanner Darkly is not the happiest film you will watch, although it is quite funny in a miserable, dystopic way. Maybe don't watch it with your grandma?
It is also seriously loony-making, but it's probably too late for you anyway.
The disorienting story darts about with minimal signposting. This is one of its challenging charms. Linklater assumes that you possess the intelligence and cognitive ability to keep up. I hope you prove him correct.
In terms of its appearance, A Scanner Darkly looks as wild as it feels. The interpolated rotoscoping (which Linklater first applied in his odd philosophical feature Waking Life) finds its ideal subject matter in this mad tale. As the film's characters descend deeper down the bifurcated rabbit hole of Substance D, their hallucinations overtake the animation. No one looks like who they are for long, even when they're not high or wearing a scramble suit. It's like when you look at your face in the mirror too long and it ceases to be your face.
The soundtrack full of Radiohead songs doesn't hurt, either.
Underneath all of these identity issues, Arctor — if that's who he is — has something to accomplish. Something important. If only he knew what it was and which him was him, he might have a chance.
Maybe knowing would make the task harder, though? It's easier to sell poison to a total sucker, even if that sucker is you.
How to Get Ahead in Advertising (1989)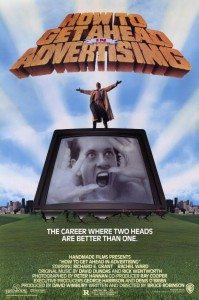 Sometimes, it doesn't matter if who you're selling to is a total sucker or not. Sometimes, you can sell anything to anybody. That's how it is for David Dimbleby Bagley — except when he's trying to sell boil cream.
Which is what's going on in Bruce Robinson's How to Get Ahead in Advertising. All told, this is what is generally referred to as an unhinged film. Unhinged in an insane, bizarre, giant boil filled way.
It is almost entirely — from start to finish — an opportunity for underrated actor Richard E. Grant to go completely mental. He starts the film on a tear and ends it, after a lot of ranting and screaming and face-pulling, on a much larger tear, screaming unholy madness into the great wide sucker-filled void. Or at least one of him does. One of him do?
I am not prepared for complicated grammar of this sort.
For in How to Get Ahead in Advertising, Grant plays a high-strung advertising executive who is losing his mind, has lost his mind, and is gaining an extra mind all at once.
With his advertising deadline looming hard, Bagley cannot come up with any good ideas or any bad ideas. He has no ideas vis-a-vis boil cream. None. The pressure gets to him. He screams at his colleagues, burdens his wife (Rachel Ward), insults his guests, and harangues random people on the train (including Python Terry Jones).
Still: no idea on how to sell boil cream. What comes instead is the grand-pappy of all boils, sprouting on his neck like, well, a carbuncle with a mustache. Which is what it is.
As Bagley's stress balloons, so does his boil until, quite remarkably and literally, it takes over his life.
Now, I could go on and tell you all about the evil boil and its plans to sell us all toothpaste, but I think it would be better if you just watched How to Get Ahead in Advertising for yourself. Some things words cannot truly capture and Richard E. Grant going batshit crazy is one of them.
This may not be a particularly cinematic film, but its charms are plentiful. Beyond Grant's manic acting, the script offers up a generous share of delicious monologues, if talking to your own blemish is a monologue? Director Bruce Robinson — who previously worked with Grant on Withnail & I, one of those cult films that does wonders for the sinuses — provides the voice for the boil, at least sometimes. The rest of the time it's just Grant and there is no length to which Grant(s) will not go.
It is not overacting, it is true abandon. As in abandon all hope ye who enter here.
You will buy our boil cream and if you don't, it's because we don't want you to. And yes, that's the Royal We, as I'm talking about me and the other me and the me with dastardly intent and the me who has taken rather a lot of Substance D this morning.
At least I think that's me. I may be a bit confused. Let me just check with the guy who's typing this up; he looks the sort of fellow who might be able to work it all out.