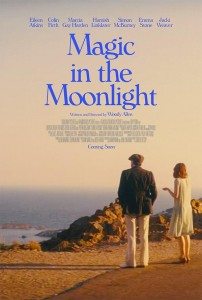 Woody Allen returns to his familiar obsession with death and meaning in a godless universe in Magic In The Moonlight, and comes up with my least favorite kind of movie to write about, the "Well, sure, that was mostly pretty good I guess" movie. This is of course a vast improvement over last year's Blue Jasmine, a "Well, gosh, that was just awful" movie, at least in the experiential realm. Which is the most important one, yes. I'd rather Allen crank out amusing confections like Magic In The Moonlight than some blundering, clichéd mess. But what to say?
I will say this. Allen knows how to create compelling characters when he puts his mind to it. Bad as Blue Jasmine is, at least Cate Blanchett's character is fascinating. In Allen's new movie, Colin Firth plays Stanley Crawford, a magician in 1928 who performs disguised as the Chinese Wei Ling Soo. He's a man devoted to science and logic and the notion that the world is a harsh, unforgiving hellscape devoid of mystery, of magic, and most certainly of god. Best of all, he's a smug, sarcastic bastard about it. Best because he's the kind of character who's fun to be with. He is, above all, not going to bore you.
In contrast to, for example, Caesar the genius chimp in Dawn of The Planet of The Apes, who's not allowed to be anything but a pawn in other characters' schemes, the filmmakers being too scared of making him anything but sympathetic and likeable, forgetting the obvious: likeable in movies is boring.
Maybe Allen should be allowed the final polish on the next Planet of The Apes script? You read it here first.
An old friend and fellow magician, Howard (Simon McBurney), arrives to tell Stanley that yet another "spiritualist" has turned up, this one at the ritzy Côte d'Azur estate of the Catledge family, there to speak with the spirits, predict the future, and otherwise bilk the family of everything they own. Thing is, Howard can't find the gimmick. He'd like Stanley, famed for debunking frauds, to debunk this one.
The spiritualist in question turns out to be the young and beautiful Sophie (Emma Stone), and if you're thinking she and Stanley are going to fall madly in love despite their obvious antagonism, then perhaps you've seen a Woody Allen movie before.
It's all rather delightful for at least the first two thirds. Firth and Stone are both excellent, with Firth getting all the best lines. Allen is at his best writing overly erudite quips about the absurdity of talking to the dead or believing in a divine purpose for humanity.
And Stone's Sophie is nice mix of innocent and knowing. She seems fraudulent by the way she behaves, yet not even Stanley can find out how she's pulling this trick. Is it a trick? She knows things about him she couldn't know. If it's a ruse, it's impossibly perfect.
Well. Things go on from there. Again, if you're at all familiar with Woody Allen's worldview, you're going to see right through this movie. But that's not the worst thing in the world, that the movie is absent any surprises. For me, the end dragged on far too long, but I suppose these scenes are played in a kind of classic romantic comedy style.
Starting with Annie Hall, Woody Allen reinvented the classic romantic comedy, and filmmakers have been borrowing his style ever since. Allen, staying ahead of the game, seems in recent years to have reverted to the romantic comedy stylings of old, harking back to the movies he loves from the '30s and '40s. Every movie he makes now feels like it could have served equally well as the joke "rich people comedy" in The Purple Rose of Cairo, with wealthy socialites mixing it up with charming achaeologists at daffy parties in Manhattan penthouses.
I suppose some viewers will not see what's coming and be more pleasantly surprised at where the movie goes. I'd say I was pleasantly reassured that it went where I knew it had to go, given the filmmaker. I will say that the scene in which Stanley prays for the recovery of another character who's sustained a life-threatening injury is handled perfectly.
In the end, Magic In The Moonlight is about as weighty as the title suggests. It's an airy romance whose message is "love is magical." The movie itself is not quite magical, but, well, sure, it's mostly pretty good I guess.