The last shot of Short Cuts, before panning to a wide view of a smogchoked L.A. sunrise, is of four people in clown makeup, smeared from a night of drinking and hot-tubbing, sucking on lemon slices and laughing. It's the whole movie summed up in a single image.
The people in Robert Altman's Short Cuts ('93), various denizens of L.A. whose lives intersect, some profoundly, some glancingly, are neither miserable nor happy. They're a mixture of both. Over the three days of the movie, the characters swing back and forth between extremes. Some make it to the end on a high note, others on a low one. Likewise, the movie as a whole is neither gloomy nor cheerful, but both and neither, depending on which scene you're watching. Some scenes are all lemons. Others are pure clown.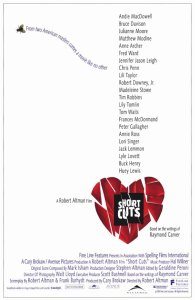 Major events bookend the film, linking its many characters. Neon-lit helicopters fly in combat formation over the night-time city spraying malathion in the movie's lengthy opening sequence, in which the main players are introduced, and an earthquake shakes the city at the end. Both sequences create the feeling that the people of the city have been gathered together as if in a giant palm, to be studied from an impersonal distance. In the opening, we're introduced at this distance, the helicopters leading us from one character to the next, bringing us into their lives. In the closing sequence, the earthquake pulls us out, reminding us that however disparate the lives below seem up close, from a distance they're as one.
The characters in Short Cuts are also linked thematically. Sex and death permeate every scene. Some of the stories only deal with sex, some only with death, and the rest with both. And although in many cases the characters' lives intersect only glancingly, their concerns are essentially identical, a point made vividly through editing.
Working with editors Geraldine Peroni and Suzy Elmiger, Altman finds ways to tie each scene into that which follows, though dialogue, action, or theme, usually all three at once. It's the kind of editing that's invisible until you notice it, at which point you can only gape for its elegance and power. I haven't seen the original screenplay by Altman and Frank Barhydt, but I'd be curious to know how closely the edited interweaving matches what they wrote.
The screenplay, a reworking of short stories by Raymond Carver, was written some years before Altman made the movie. There was trouble getting it financed until The Player came out, Altman's first hit in years. Suddenly everyone wanted to work with him. Watching the names of the cast scroll by at the beginning is kind of breathtaking. Altman used his newfound cache wisely. Short Cuts is better than The Player. It's one of his very best movies. He would never top it.
At the time it came out, comparisons to his biggest movies of old, namely Nashville and MASH, were rife, the line being that he'd returned to his ensemble pieces of old, with characters wandering in and out, talking on top of one another, no one the star, every moment of interest, a study in human behavior rather than a neatly arranged narrative. But Short Cuts is a very different animal than MASH or Nashville, the apotheosis of the classic Altman style. In those films, there are no neatly formed stories, there is but one story with many moving parts. Taken individually, those parts may seem to have little direction, no arcs, no payoffs, but when taken with every other part, the whole becomes apparent. That's the genius.
In Short Cuts, the stories each have specific arcs. They cross over continuously, yet in the end, as much as you feel their connections, you remember them for their individuality. They're separate stories tied together through theme, not surprising for having their basis in Carver's short stories. Altman no doubt allowed his actors the room he always allows for improvisation, but necessarily kept them within the context of the carefully crafted storylines.
It's a violent world depicted in Short Cuts, one where sex and anger are twisted in knots and difficult to untangle. I hadn't seen Short Cuts for many years prior to watching it recently, and found myself especially impressed with a story I hadn't focused on in the past. In it, a couple's child, Casey, is hit by a car, and sinks into a kind of coma at the hospital. Finding out about the accident, the child's grandfather, Paul (Jack Lemmon) shows up. He's so estranged from his son, Howard (Bruce Davison), that he's never even met Howard's wife, Ann (Andie McDowell).
During a long, very uncomfortable speech in the hospital cafeteria, Paul recounts the events that led to his divorce from Howard's mother, and caused their (Paul and Howard's) estrangement. Paul had an affair with Howard's aunt, and his mom caught them in the act. Why was she looking for Paul that day, when he was supposedly at work? Because little Howard had been hit by a car. Howard listens to this story with great discomfort. Presumably his mother had a very different take on the infidelity.
So it's clear why Paul has chosen this otherwise totally inappropriate time to show up and make amends. He sees a path to a rapprochement through Casey's accident, so similar to Howard's, long ago. But Casey doesn't make it. With doctors struggling to revive him, Paul sees where things are headed. He puts on his hat, and leaves. His way into Howard's life is gone, and so is he. It's a story with so much percolating below the surface, most of which isn't dealt with at all.
The drama in each of Short Cuts' stories is presented similarly. It's all subtext, it's what's simmering underneath. The characters here aren't verbally articulate. They speak with their actions. They lie to each other and they lie to themselves. Little is stated directly by anyone, unless forced to, as in one of the movie's most memorable scenes, in which wronged husband Ralph (Matthew Modine), who insists his wife, Marian (Julianne Moore), had an affair she's long denied, harangues her until she relates the whole sordid tale, all the while wearing nothing but a top, her skirt in her hand, wet from a spilled drink, her guilt as fiery red as her muff.
Hard to forget that scene. But really the whole movie is a string of memorable moments, what with this insane cast. Robert Downey Jr., Jennifer Jason Leigh, Tom Waits, Lily Tomlin, Madeleine Stowe, Tim Robbins, Frances McDormand, Lyle Lovett, Fred Ward, Buck Henry, Ann Archer, Huey Lewis, Lili Taylor, all do stellar work. To name many, but still not all, of Altman's players.
Short Cuts was not a hit. Not surprising, given its lack of a simplistic, uplifting ending, an obvious message, or some other saccharine bullshit found in its subsequent imitators (Magnolia ('99) and Crash ('05) come to mind, both of which made far more money than Short Cuts despite being, in the case of Crash, one of the most wretched movies ever foisted on humankind, and in the case of Magnolia, pretentious in the worst way).
Which is a shame. Short Cuts is a funny, sad, scary, sexy, at times absurd look at life, told by a master filmmaker at his peak. The trouble is that it reveals we humans as we so often are: confused, contradictory, obsessed with sex, afraid of death, willfully blind. In short, we're a bunch of clowns sucking on lemons. If we can't laugh at the truth of that, we're lost.