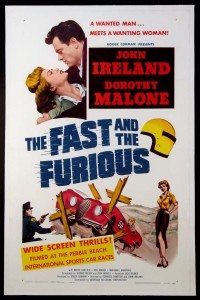 A title like The Fast And The Furious doesn't turn up in the aughts. Heck no! That's an old-timey title if ever there was one. The more recent franchise bought the rights to the title, but that's it, they tossed the plot and made up their own flick.
The original movie stars John Ireland as Frank Webster, a man on the run after busting out of prison (for a murder, he later claims, he didn't commit). At a diner he grabs a pretty blonde, Connie (Dorothy Malone) who pulled up in a hot little Jaguar, sticks a gun in her face, and drives off with her. At first she loathes him. But eventually, wouldn't you know it, they fall madly in love.
Hold on, I hear you saying, this plot sounds suspiciously familiar. And well it should. It was remade as one of the finest films of the past 9,000 years, the Charlie Sheen classic, The Chase, which you can read all about here, in what has become known as the definitive Charlie Sheen exegesis by people as diverse as me.
The Fast And The Furious was written by a young Roger Corman and became the first film produced by American International Pictures, a company soon to be known and beloved for their endless parade of cheap sci-fi, teen exploitation, motorcycle gangfights, and horror, the likes of which had never been known nor will be again. One of the men who founded the company has the best name in motion picture production history: Samuel Z. Arkoff.
Some of AIP's finest titles (I can't speak for many of the actual films): High School Hellcats, Reform School Girl, Beach Party, The Wild Angels, Dr. Goldfoot And The Bikini Machine, The Astounding She-Monster, Teenage Cave Man, It Conquered The World, Frogs, The Trip, Invasion of The Saucer Men, A Bucket of Blood, The Amazing Transparent Man, The Brain That Wouldn't Die, X: The Man With The X-Ray Eyes, The Last Man On Earth, The Masque of The Red Death, Beach Blanket Bingo, The Honeymoon Killers, Dementia 13 (Coppola's first feature as writer/director), and a million more.
Including, for example, Journey To The Seventh Planet ('62), another fine film I watched recently, where by "fine" I mean "so cheap and terrible I doff my hat to those men and women brave enough to have made and released it on an eager if not unwitting public."
Journey tells the tale of a ship bound for Uranus, staffed by a group of men whose conversation consists entirely of winking innuendo about their love of the ladies. Upon arrival, they find Uranus to be—exactly like Earth! It's almost as though their minds were being read, and their memories used to recreate a familiar landscape, one that in short order includes the women they've been fantasizing about (and, if I'm recalling correctly, a giant rat-monster). So, yes, exactly like Solaris. Or Ghostbusters.
Like Solaris, there is but one lifeform on the planet. No, not a sentient ocean, but a giant underground slime-mold brain-beast. I think. I might have been drunk at the time. I recall one very large eyeball and an ominous voice communicating with the astronauts telepathically. The monster plots to take over their bodies and return to Earth, where it will rule supreme. I'm pretty sure the astronauts kill it.
The best part of the movie is the end credits theme song, which song, now that I've listened to it a good fifty times, I can truthfully say is the single greatest song of all time. I have no idea how something so wonderful turned up in this movie. Enjoy:
But I have digressed, haven't I? We were discussing The Fast And The Furious, which isn't half-bad. More like seven sixteenths bad. For one thing, it's only 75 minutes long, so the "fast" part of the title is no lie. Dorothy Malone is dynamite as the abductee, especially in the early going when she's rather sensibly pissed off about being kidnapped. And I think maybe there's some fun racing around of cool old-timey automobiles? Maybe? I might have been dozing off by then. But I think it's incumbent upon you all to watch it and find out for yourselves.
After that, maybe we need an AIP weekly movie-viewing. So many amazing titles, so many I've never seen. Thank you, Samuel Z. Arkoff, for so greatly enriching our lives.