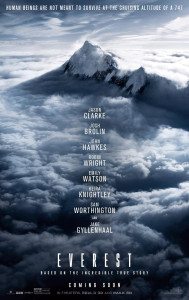 They say the reason to climb Everest is because it's there. This strikes me as somewhat flimsy logic. Nevertheless, people keep going up, more every year, and every year more dead bodies are left frozen on the mountainside. In 1996 twelve people died on the mountain, eight in a single day. Writer Jon Krakauer was one of the climbers who survived. His book about the disaster, Into Thin Air, is one hell of a read, both a gripping account of the events and an engaging look into the psychology of the professional—and amateur—climbers involved.
Baltasar Kormákur's Everest doesn't offer much in the way of psychology, but as far as disaster porn goes, it's a winner. It's full of sweeping, epic shots of Everest and the various mountains around the world standing in for it when needed. The cast and crew of the movie didn't actually ascend the mountain, but they shot scenes at heights of 10,000 feet here and there, along with a few key sequences on soundstages. The first half of the movie feels as much like an Imax nature film as it does a disaster movie.
Then disaster strikes, and it's all blizzards and bodies dropping off mountains and hands freezing solid and so on and so forth. Which for the most part is pretty exciting stuff.
As with any disaster movie, though we're introduced to a large cast of characters, only a few get enough screen-time to warrant horrible or heroic fates. These are team leader Rob Hall (Jason Clarke), wealthy Texan Beck Weathers (Josh Brolin), and mild-mannered Seattle mailman Doug Hansen (John Hawkes). Earning fewer minutes (and lines) are writer Jon Krakauer (Michael Kelly), Japanese climber Yasuko Namba (Naoko Mori), and Scott Fischer (Jake Gyllenhaal), the leader of a less ill-fated team of climbers. Rob Hall is the central figure. In part because it's his company leading climbers to the peak, but, more importantly, because he happens to have a pregnant wife awaiting his return at home. Good luck, Rob!
Well. It'd be easier to make fun of this movie and its doomed characters if it weren't a true story. A true story of human bravado and foolishness. Crazy enough to climb Everest in the first place, but to do it with crowds of other people going at the same time? The choices made by the team leaders are uniformly terrible. Warning signs are ignored. Confused and exhausted by lack of oxygen, once the shit hits the fan, no one is able to make intelligent decisions or to do much aside from saving their own lives, if that. Hours behind schedule, why does Rob Hall agree to take Doug the final few hundred yards to the peak? So Doug can say he finally made it to the top? Is that what being "nice" is, as the leader and supposed man in charge? See what "nice" gets you 29,000 feet up a mountain.
Given that much of the pleasure of the movie lies in the sweeping vistas, you'll want to see it on the biggest screen you can find. As for the 3-D, it does what it's supposed to do. I find it distracting and distancing, like it's keeping me from just sinking into the story, but maybe I'm old and curmedgeonly about such things. As striking as many of the shots are, the 3-D and crystalline digital quality of the images doesn't do much for me, beauty-wise. It's a very different aesthetic than film.
The performances are solid, the dialogue doesn't cause any cringing, and it's well directed. So there's that. But beyond the basics, there's nothing deep going on here. It's all about putting you on top of the mountain and then trying to fling you off of it. Unlike most disaster movies, there's little in the way of standard action or heroics. This is a disaster mostly centered on suffering. And walking, very slowly, down a mountain in a blizzard. For that, it's a tense ride.
Which brings us, finally, to the big question: in the realm of 3-D disaster movies, does Everest top everyone's favorite, Jaws 3-D? Alas, a question as soul-searching as this must be answered by each of us, alone, in our most private heart of hearts.