They say you get the filmmakers you deserve, and it must be true for the internet trolls, as we have received — and deified — Quentin Tarantino. This loudmouth, self-absorbed naked emperor of the digital age has released his latest, "The Eighth Film by Quentin Tarantino," as The Hateful Eight.
Despite what Supreme Being says, the most notable thing about this film is a) the method of its release and b) its grandiose lack of substance.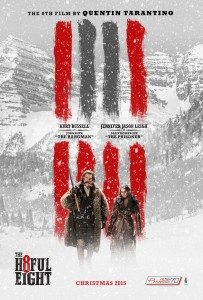 It is, nominally, a Western in which a group of colorful individuals hole up in a blizzard-wracked establishment in order to shoot the shit and each other in that order. As you would expect with a Tarantino film, the conversation is engaging and the characters are multi-layered cyphers of deceit. Equally as expected, nothing quite comes together in any satisfying way.
Which is to say: yes. It was the best film he's made in quite some time until he ruined it with his big goddamned mouth.
It's like this:
Imagine you came home late from a night of drinking, flopped onto the tattered sofa, and fumbled the television on. In the widescreen of your mind appears Kurt Russell in a ridiculous moustache, Sam L. Jackson reaching fever pitch with an extended anecdote about cocksuckers, Jennifer Jason Leigh spitting venom from her rotten-toothed mouth, and a whole slew of others — notably Tim Roth doing a lovely Christoph Waltz, Michael Madsen wearing a dead ferret on his head, and Walton Goggins finally making you realize why you should remember the name Walton Goggins.
Three hours later, you might think, as did Supreme Being, that you'd watched
…a chamber piece western, a straight-up movie about ugly people in a bad situation, a story of the endless cycle of horror wrought by revenge.
You might describe the film as "aggressive nihilism" and not be incorrect. Since, as we're imagining, you'd stumbled across it on cable instead of fighting your way into the first 70mm screening presented in 'roadshow' format since Khartoum in the 60s.
If you did make it to the roadshow presentation — which added 6 minutes of screen time to the already long feature, plus an orchestral overture and intermission with special program booklet and free popcorn — you might be forgiven for expecting something slightly more than aggressive nihilism.
Certainly that's how the audience I saw it with felt, at a sold out show at Oakland's Grand Lake Theater, for which I had to stand out front with my finger in the air, asking everyone who passed if they had an extra ticket to sell, since it was sold out and the line was wrapped around the block with Tarantino fans and fanatics.
These same people, when the curtain finally closed, turned to each other and shrugged. 'What was that,' they quietly asked each other. Or, in response to raised eyebrows, they offered 'I thought that was okay.'
Because context is content. And what might be an excellent find late one soused Saturday on the teevee plays less robustly when you've waited in line and witnessed the most lavishly presented production since Khartoum and Lawrence of Arabia.
Now, I hear you. I am, you say firmly, reviewing the situation and not the film. To which I respond with a withering stare. For in this case the presentation is not only the best part of this picture — 70mm! Actual film! Roadshow loveliness! — but the director set his creation — 'The Eighth Film by Quentin Tarantino' — forward as a bold stroke, once again setting right the Western film's vile failure to address the abomination of slavery.
He did this because — and this is a proven fact — Quentin Tarantino can't shut up to save his fucking life, unless he's in an interview where his holy self-conception is in any way challenged. In which case he runs away.
The Hateful Eight is a perfectly fine, generally rambunctious and bloody wallow in mire. While there are black characters and some discussion of the Union vis-a-vis the Confederates and slavery, it is not in any substantive fashion about the evils of slavery or even, as Supreme Being suggests, the endless cycle of horror wrought by revenge. In order for that to be the case — and it would be a good case — Daisy Domergue would have to emerge as a character imbued with irony, or agency, or even just a little meaning.
But she doesn't, because it's not about the evils of slavery or cycles of evil.
The Hateful Eight might be about justice, much in the same way Jaws might be about sustainable seafood. Or it might be about watching people blast away skulls, and vomit gore, and tighten the screws of tension — all things I enjoy and appreciate. But slavery, or the wrongness of racism, or the justice due racists? Nope.
And why would you think it would be about those things, except that's what QT claims.
As opposed to just saying, "Hey. I made a cool Western. You tell me what you think it's about." Like he did with Reservoir Dogs, a film so aggressively nihilistic that its own title makes zero sense (and which is far and away his best work).
The Hateful Eight is many things, but one thing it is not is important — unless you count the method of its release or its contribution to the survival of 70mm film. It is a movie that doesn't deserve its pedestal and which isn't served well by it. It may look good in 70mm, but it's not the right film to restore that medium's place in our hearts. It would lose very little, and may even gain some by being seen in less ostentatious format and with a significant chunk of its length trimmed away.
It isn't a three-hour epic, grand in scale and majestic of thought. It's a shoot-'em-up in a one-room set. Only Quentin Tarantino would think this was his moment to go big. Literally any of his previous films would have been better served by this presentation.
While I'm on a tear, I'd also like to mention the following (SPOILERS):
There are clearly more than eight characters, no matter how you slice the film. Only a few seem to be actually hateful.
For a film in which one key antagonist is a blizzard, and one which is shot in 70mm, there is a lamentable surfeit of scenes in which the blizzard plays any part at all. No lost in the snow. No snow piling up against the windows. No reason to know or believe that the storm outside would be severe or would last for days. Except dramatic convenience. It is a trap set and never actually sprung.
Oswaldo tells us — in a key scene — that justice must be served without emotion in order to be justice. I ask you, is justice what Daisy Domergue receives in the film's finale? I also ask you, what is Daisy Domergue but a McGuffin — a meaningless device that serves to drive the plot? Who is she that we should care at all if she lives or dies? If she receives or escapes justice? She's nobody at all.
The crucifix, upon which the film starts, feels like one of the most forced lunges for greater meaning since Avatar.

I am troubled by the long, likely untrue, tale Warren tells to end the first half, in which he in great detail describes how he murdered General Smithers' son with the freezing cold and with his cock. On the one hand, this execution-in-story and the execution-in-present which follows are both examples of injustice, as they are clearly administered with emotion. As such, they serve as strong counter-examples to what might be the film's theme if the film weren't so vapid. On the other hand, we have to listen to a graphic story of rape, and one in which the race of the rapist is used as a weapon. If this were a film about racial injustice, it might play, but it isn't. It's a film about nothing, in which racial injustice is one of the misapplied seasonings. That being the case, Warren's story feels like Quentin Tarantino using racial injustice for his own misguided ends. It felt like him saying #BlackLivesMatter and I should know, because I wrote this enfant terrible speech about sucking Sam L. Jackson's cock.
The conceit of the Lincoln letter is one of The Hateful Eight's best. It is a complex symbol that transitions through multiple meanings throughout the course of the story. At the end, however, when Mannix asks to see it, only to crumple it in his blood-soaked hand, Tarantino is either attempting to say something or completely unaware of how cinema works. It started as a testament to Marquis Warren's reputability. It became an expose of both Warren's deceit and of the necessity of such deceit. It, at no point, meaningfully interrelated with the main plot of who Daisy Domergue is or why she needed hanging or saving. But here, at the film's end, when Domergue swings with Ruth's arm still chained to hers, Quentin Tarantino suggests associatively that justice has been served and that the words of Lincoln — real or fabricated — have no meaning or worth.
I'll admit, I don't know what to make of that. I was so flummoxed, I turned to the couple beside me, with whom I'd been a bit chatty during intermission, and asked them what they thought.
"Is he saying" I hazarded, "that the idea of Lincoln, or that the myths of Lincoln's achievements are garbage?"
They didn't know either. And so I walked out, listening to the fans and the fanatics around me as they verbally shrugged their shoulders and cleared their throats and tried to think of something enthusiastic to say. I heard none of them find it.
One might suggest that in The Hateful Eight's final scene, Tarantino suggests that Mannix and Warren have overcome their racial differences in the face of a common enemy. If so, strange that that enemy is Daisy Domergue. Strange that that enemy is so devoid of meaning.
I think you should watch it on TV, late one drunken Saturday, and tell me what you think.