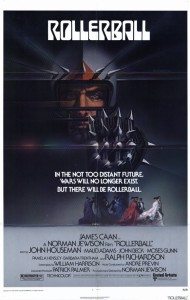 While you may glance at the poster or hear the premise and think of schlock like The Running Man, the truth is far more frightening. Rollerball is deliberately disorienting, meaningfully opaque, and many kinds of awesome.
Picture a cross between The Hunger Games and Cool Hand Luke and you'll be on the right track. Or, at least, on the same track as a dozen spike-fisted men who aren't overly concerned about your physical well-being.
Luckily, they'll all soon be dead, just like you.
In the 'not too distant future' — in this case, 2018, so get ready — the world is done with nations and wars. Instead, we've got mega corporations that hold monopolies on fat slices of existence: energy, food, transportation, luxury, etc. Each of these corporations fields a sports team from its international headquarters and these teams, well, to appease the masses they play rollerball.
Until they die. For their own good, see?
The film's protagonist is Jonathan E., played by James Caan, a naturally talented good ol' boy who really prefers it when people don't tell him what to do. He is the all-time rollerball champion, winning so many matches and accolades that his company — Houston Energy — has to create new ways of celebrating him.
Their latest gift is a television special about him, during which he will be so good as to retire. The fact that Jonathan does not wish to retire, or that he desires to know why he's being pushed out — this is the subject of Rollerball.
Yep. Rollerball is not about violent sport or an underdog's achievement or even the thrill of victory. It addresses instead the thinly disguised nihilism that soaks society unto ruin. It is a slow, melancholy, descent into madness. And that madness is truth.
While the film does feature a number of rollerball matches — increasingly kinetic, violent affairs — far more of the film drifts in and out of unexplained conversations, wistful reunions, fruitless searches, meaningless destruction, and numbing despair.
It is not a rollicking good time, Rollerball. It is not Arnold Schwarzenegger lobbing pithy rejoinders at bespangled warriors in theme attire. It is not Adonis Creed battling his way through adversity to a bout with the world champion. It is as contemplative and stubborn as Jonathan E., who still doesn't understand why the execs stole his wife (Maud Adams) away.
He just wants to know, even if it kills him, and that's what they'd prefer anyway. As directed by Norman Jewison, Rollerball feels of a kind with his earlier films In the Heat of the Night, The Thomas Crown Affair, and even The Cincinnati Kid, all of which deal with confident men who will not be swayed, whether or not that's in their best interest.
There is a scene in Rollerball in which guests at a party go outside and shoot mortar shells at a stand of trees. They laugh and celebrate each incineration as Jonathan, inside, tries to battle his way to understanding. He has power, he just can't figure out why or how to use it. It doesn't matter to the trees, though.
They just burn for your amusement.
And men get dragged off the track, unconscious or worse.
How, I wonder, will Rollerball end? Will Moonpie (John Beck) ride Jonathan's slipstream to success or will he find some other, more complacent fate? Will Houston win the championships? Do you care? Is there, somewhere hidden, still a part of you that feels?
If so: perhaps you should watch Rollerball.