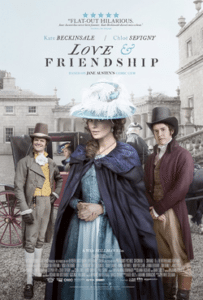 I am not, by any stretch, a tried and true Jane Austen fan. Nor have I been one to naturally gravitate towards the films of Whit Stillman. Frankly, it is only due to poor queue management that Stillman's latest, Love & Friendship — an adaptation of the Austen novella 'Lady Susan' — ended up afore my eyes.
But Love & Friendship was most deliciously sour. It is a film archer than Bette Davis' eyebrows. It contains what is likely the most convincing portrayal of genuine, unfettered muddleheadedness since Bill Pullman didn't get shot in Ruthless People.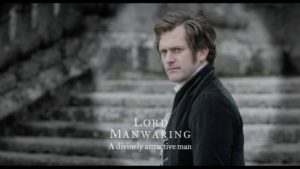 As the film begins, you might be wary. Coaches, grand estates, and the other trappings of the costume drama fill the screen, suggesting an evening full of dull pining and wistful regret. Your anxiety might build as Stillman introduces his expansive cast of characters as if he were presenting the script of a play — each actor stilled in a spot of light and subtitled with their name and relation to the plot.
This is Lord Manwaring, a divinely attractive man.
And, truly, for its first few steps, the film conforms to the genre norm. Dialogue is challenging to parse, attire is excessively befrilled, and characters — despite the introductions — remain difficult to organize and accept. Until it all clicks into place like the most finely designed cuckoo clock.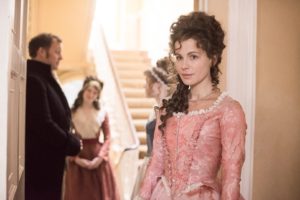 Kate Beckinsdale, of whom I have heretofore had little opinion, plays the lead, Lady Susan Vernon, a recent widow and flirt of wide renown. While that description is accurate, it does not begin to encompass the character's sublimely delightful wretchedness. Lady Susan is horrible in the way a chocolate covered earwig would be horrible — without apology and without warning. Lady Susan firmly believes that she deserves what she wants and that those who dare impede her plans are clearly at fault for their rudeness.
What she wants is Lord Manwaring, her erstwhile host, despite his status in matrimony. The film begins with Lady Susan leaving the shelter of Manwaring's estate under duress. Under her beautiful, vulturous wing comes her eligible, unwilling daughter, Frederica (Morfydd Clark). Frederica has recently rejected the proposal of the wealthy but bone stupid Sir James Martin (Tom Bennett), much to Lady Susan's displeasure.
After Susan abandons Frederica at school in London she appears, uninvited, at the estate of her deceased husband's brother and his family. There, and in meetings with her friend Alicia (Chloë Sevigny), she attempts to use her daughter to secure her financial wellbeing, to attend to her own romantic manipulations, and to ignore the comfort or humanity of everyone else without exception.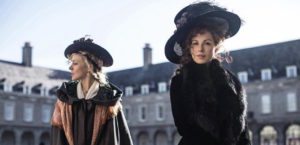 In letting Austen's tale play, Whit Stillman steps without fault. His film creeps up on you with the deviousness of one of Lady Susan's gambits. Each progressive shock at his protagonist's actions leaves you increasingly titillated and disbelieving. Beckinsdale owns the role, her uncanny beauty most aptly — and apparently guilelessly — containing the fetid earwig within.
But Beckinsdale is nothing compared to Tom Bennett. In his first scene, when his Sir Martin ("a bit of a rattle") attempts to simply say hello, you will see something of great and powerful loveliness. He is, in all senses, a perfect idiot. Stillman gives the actor exactly enough rope, letting him all but hang himself, accidentally, with his own floppy tongue.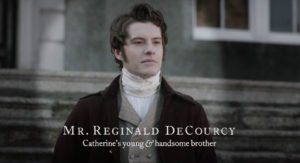 There is a crispness not only to Austen's dialogue but also to its delivery. Xavier Samuel as the younger Reginald DeCourcey manages to stop the show a number of times with single word utterances of near atomic power. While it would be easy to attribute this and much of the credit for Love & Friendship's success to the source material, doing so would not be fair.
Whit Stillman has run this circus as well as any master could. Do you not care for costume dramas? For Jane Austen? For Whit Stillman?
Perhaps you might want to try again. Love & Friendship is a delight.