Another year, another Star Wars movie. Like Mind Control contributor MC Frontalot wrote the other day, it still feels a little exciting. How long before the feeling turns to dread? If they keep churning out lousy movies, all too soon.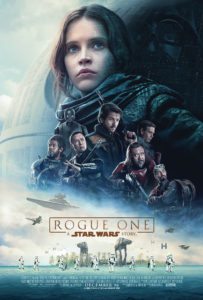 Rogue One, directed by Gareth Edwards before Tony Gilroy took over and directed the re-shoots (70 percent, give or take, of the movie, or so it's been said), feels like a very carefully and cautiously designed product. It's jam-packed with Star Wars nostalgia, it's heavy on the action, it has a multi-national cast, and its premise—a perfectly solid one—stems from the opening crawl of the original Star Wars: who stole the Death Star plans and how did they do it?
Problem is, I've seen the movie and I can't answer either question. If I tried, it'd go something like this: "A bunch of people I can't tell you a thing about, and I guess by going places and shooting a lot of storm troopers?"
I'll give Rogue One this: It has more of a coherent story than The Force Awakens. But that's an awfully low bar to leap, and they barely manage it. In fact "story" may be too strong a word. I know they want to get the Death Star plans. And they do. So there's that. How they go about it is about as vague and uninvolving as possible.
They must have cut at least fifteen minutes from the the front of the movie. The introduction of lead character Jyn (Felicity Jones) could not be more of a muddle. She starts as a little girl in a dull prologue who hides from the Empire in a cave while her mother is killed and her father, Galen (Mads Mikkelsen), is taken away to build the Death Star. Saw Gerrera (Forest Whitaker) rescues her. Cut to some time later, presumably aboard a spacecraft of some kind, and Jyn is now an adult. Cut to some other scene, and all of a sudden we're back to Jyn, only she's been captured, I think? By bad people? And then other bad people bust her out? Sort of?
Only no, it's the rebels who grab her. And suddenly she's being told she's a crucial part of the rebellion because she knows Gerrera. Also, her dad built the Death Star. Without any other scenes showing who this woman is, we're left with a blank slate. She's surly, is the main thing.
Jyn and Cassian (Diego Luna) head off to find Gerrara and the Imperial pilot who defected, only Gerrera dies before he can do anything except reunite with Jyn. Whitaker really plays the hell out of his role (though I'm not sure why they have him channeling Frank Booth from Blue Velvet with his oxygen tank; has he been cutting off ears on the sly?) It's too bad his character serves no purpose. Everyone wants to see him—Galen sends the pilot, Bodhi (Riz Ahmed), to find him, and he's the man the rebels need to reunite with to stop the Empire—but once everyone arrives, he's dead. So why is he in the movie? Nothing is learned from him. Our heroes gain nothing by finding him.
Actually they gain one thing. They collect Bodhi. Now just prior to their arrival, Gerrara sics a horrifying, goopy, tentacled brain-beast on Bodhi to find out if he's lying about having defected, and tells him the side effect is that he'll lose his mind. Does he lose his mind? He's a bit out of it next we see him, but merely by Cassian telling him he's "the pilot," he snaps back to himself. So the brain beast has zero effect on Bodhi and the story. In fact we never even see Gerrara react to his test. Is Bodhi lying? We in the audience know he's a good guy, so I guess why should anyone in the movie care?
Every character is given short shrift in Rogue One. No one is fleshed out or real. There's no way to feel emotionally connected to any of them. They go through their dramatic motions and then—
You have seen the movie, right? SPOILERS to follow.
–And then they all die. Which is great. They should all die. What would be better is if we felt their deaths instead of only observing them. We never get to spend any time with these people or come to understand them. Jyn plays the standard reluctant hero role. She doesn't care about the rebellion. That is until, suddenly, she does. Her change of heart isn't felt. It happens, is all. And the reason it happens when it happens is because it's at this moment the rest of the rebels, led by prequel lady Mon Mothma, decide they don't care about the rebellion any more. Why have they abruptly given up hope, just when they've learned a secret kill-switch has been built into the Death Star? I don't know, but I hope someone makes a prequel explaining it to me.
After Gerrara dies in a massive, Death Star related explosion, our heroes are off to find Jyn's dad, Galen. This sequence plays out identically to the one with Gerrara. They arrive, Galen briefly reunites with Jyn, then he dies. Nothing is learned, and nothing changes. Our heroes are literally in the exact same place as they were an hour ago.
Rogue One is supposedly a heist film, but in a heist film there has to be a plan to follow. That's what creates drama, that's how we know what to care about. If we know the plan, we can be thrilled when things don't go right. We can be scared. We can be involved. If there's no plan, if it's just characters running around making it up as they go, who cares?
It all comes down to a switch that has to be thrown. A really big switch. We're told about it mid-battle. What does it do? I don't remember. There's a shield that has to be busted, only no, they send a well-aimed star destroyer into that. Well anyway, it doesn't matter. The main thing is that our heroes show up on the right planet, start shooting, walk into a giant secret-plans-containing-silo-thing, and grab the Death Star file. I mean obviously there are a lot of storm troopers they have to blow up on the way, but that's not really a plan, is it?
There's an awfully long battle sequence surrounding the acquisition of the plans, which is what everyone seems to like about the movie, and while it's not bad, it's kind of boring, too. They cut in some repurposed outtakes from the original Star Wars of rebel pilots zipping around, which I'm sure is thrilling for some, but I'm not a big enough Star Wars nerd to care. A rebel fleet shows up to ensure there's lots of stuff flying around, but the characters are all anonymous.
Speaking of Star Wars nerdiness, while it's a fine idea to make a movie about stealing the Death Star plans, it's a terrible idea to ret-con the Death Star's fabled exhaust port Achilles' heel. Maybe everyone's forgotten, but Star Wars is one of the goofiest movies ever made. It's downright dopey—in the best way possible! It's hilarious. And one of the wonderfully goofy things about it is how this moon-sized planet-killer has an exhaust port some dopey kid with an imaginary friend can drop a bomb into and destroy.
Now they've ruined that, too. They want us to believe that Galen agreed to build the Death Star only so he could booby-trap it and thus ensure its destruction. The exhaust port was all his idea, we learn.
You can almost hear the Star Wars faithful proudly crying, "Aha! You see? The exhaust port's not so goofy now, is it?"
No. It's not. Now it's boring. Just like Rogue One.
Rogue One is chock full of Star Wars stuff. Great care went into the production design. All well and good. It looks cool. But what's missing is any kind of Star Wars vibe. It doesn't feel anything like a Star Wars movie. It's plodding and grim. There's nothing fun about it. The only real attempt at humor is in a robot character who isn't funny.
I like the idea of a serious war flick in the Star Wars universe, but what makes war flicks compelling is their characters. I don't need Hitler to show up. I need people I can care about, so when they die, it matters.
Darth Vader is all over Rogue One. He even gets to whup ass on a hallway's worth of rebels. And yet…something's wrong. It's like his aura of evil is missing. He comes off as a guy wearing a funny mask who makes subtle puns. And speaking of his hallway ass-whupping, the asses he whups are more anonymous rebels. If you're going to have Vader in your movie, shouldn't he be facing off against the lead characters? Just having him randomly kill some dudes after our heroes have all died is pretty lame.
Worse still—much, much worse—is the CGI Tarkin. I can't believe anyone signed off on this. It couldn't look less human or be more distracting.
Oh, wait. Yes it could. You could do the same thing to Leia—and end your movie on her creepy, freakish, rubber face grinning at you.
What's wrong with only showing the back of her head with her telltale hair? Why in the world would you want to show her face?
In the end, I find myself wondering, why tell this story? The answer the movie gives is: "To fill in the pieces!" (Yes, it shouts the answer.) The answer should be: "Because the people who stole the plans are just as fascinating as Luke and Han and Leia and Yoda and Chewie and etc. Here, let me show you."
What they show instead are poorly drawn people with unclear goals and no emotional drives beyond sticking it to the bad guys. Oh well. Maybe next year.