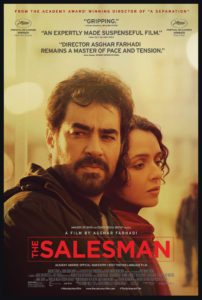 Asghar Farhadi is among my favorite writer/directors. He has an uncanny aptitude for putting his finger precisely on society's pressure points and — having drawn our attention to the knotty issue — standing back to let his impressively imperfect and ultimately relatable characters try, and fail, to work out the immobilized muscle.
His latest is The Salesman (Forushande). Although it won both Best Screenplay and Best Actor (for Shahab Hosseini) at Cannes, it is among my least favorite of his films. That doesn't mean it's not good; it means that I did not find it transcendent and shattering, as I did A Separation, About Elly, and The Past. The Salesman is more like Fireworks Wednesday — a story that builds to a dramatic, unforeseen, but unavoidable conclusion, as opposed to one that concludes with you realizing the story was yours all along.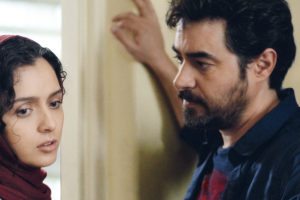 This is Farhadi's special genius. He invites you into lives unfamiliar only to spin around the mirror in the last moments so you can see your own surprised face.
In The Salesman, a married couple, both actors currently staging Arthur Miller's The Death of a Salesman, find themselves in need of lodging. Here we have the film's most perfect moments, at its very beginning. We are shown around the titular play's stage, so we might recognize drama for drama, and then the world begins to crumble. Emad (Hosseini) and Rana (Taraneh Alidoosti) awake to find their apartment trembling beneath their feet. Their neighbors evacuate as cracks appear in the walls — get out; everything is falling down around us!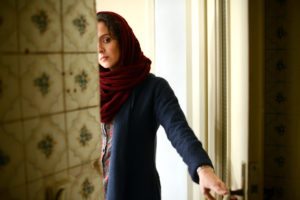 Feel the knot beneath your fingers. Recognize the familiar soreness. Then look out the window to discover there is no earthquake or natural disaster. Your life is disintegrating because someone is digging against your foundations with a backhoe. As you scramble to find your credit card and your toothbrush, an unnamed somebody continues to casually scoop away the support upon which your world relies.
Emad and Rana end up renting a recently vacated flat a member of their troupe owns. Through a series of serious complications, a tragedy befalls the couple — one with no simple cause or solution. As in all of Farhadi's films, the cast of characters respond to stimuli as people must and less so as drama demands. But, unlike the best of Farhadi's films, this one's trajectory feels haphazard. When the film concludes, having in unexpected ways reflected the work of Arthur Miller, all I felt was, "what a mess." I did not lament the way the world is and understand my culpability for exactly that, as I do following Farhadi's best work.
Perhaps this is because I have spent the past few weeks lamenting the way the world is and struggling with my culpability for exactly that. Both Asghar Farhadi and Taraneh Alidoosti were planning on attending the Academy Awards — for one of which The Salesman is nominated — but now, with Rupert Trumpkin's cruel, deliberately infuriating, and destructive executive order, they can and will not. They are Irani, which means they — like a great many laudable people and things — come from Iran.
Someone — a deluded, vile puppet of man — is digging against our foundations for the true purposes of which he is likely unaware. If we do not act now, our world will crumble down around our ears. As with The Salesman, who will suffer and who will not remains to be seen. All that is clear is that suffering is coming, and if you only care whether or not the suffering will happen to you, I think you should fuck off.