The fact of the matter is 1988 presented American audiences with some of the best mainstream major studio comedies of all time. One would be hard pressed to name a single year in any era that saw a collection of comedies as successful, as influential, or of as astonishing a variety as 1988.
Neither the Golden Age of movies in the 1930's and 1940s, nor the Easy Rider and Raging Bull years of the 1970's and early 1980s, nor the Miramax dominated 1990's could produce a year as funny as 1988.
Don't believe me? Let's look at 15 of 1988's comedies in chronological order:
Hairspray – March 11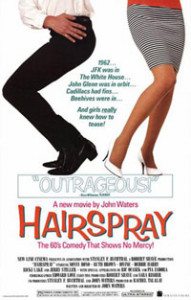 Undoubtedly John Waters' most commercial and mainstream movie, Hairspray became THE comedy for outsiders and people who wanted to celebrate being different. Any movie that presented Divine to non-arthouse movie crowds and unleashed Ricki Lake upon the world demands recognition.
A cult hit upon release, Waters' first PG rated movie became a sensation on home video, spawning a musical theater adaptation and a movie adaptation of the musical adaptation of the original movie. It also allows people to utter the sentence "Divine was better than John Travolta" with no reasonable chance of disagreement.
Beetlejuice – March 30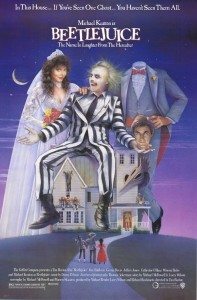 As wacko a movie ever released by a major studio, Tim Burton's follow up to Pee Wee's Big Adventure defies explanation and description.
The cast is top notice, with Alec Baldwin, Geena Davis, Jeffrey Jones, and Catherine O'Hara all shining. It introduced Winona Ryder to the world and no film since has felt better suited for her. Plus lots of great Tim Burton moments littered the movie, including the Day-O dance and the burnt-to-a-crisp man still smoking.
But it was Michael Keaton's tour de force performance that put Beetlejuice over the top. He has relatively little screen time in the film, but his introduction remains one of the funniest scenes of the decade. His energy throughout the ending make the incomprehensible story seem to work.
Plus Keaton knew when to play up the energy and also when to take it down. His reciting of his qualifications and finishing with his face opening up with his back to camera never gets old.
How lucky are we as film goers that all the attempts to make a sequel to this movie fell short?
 Big – June 3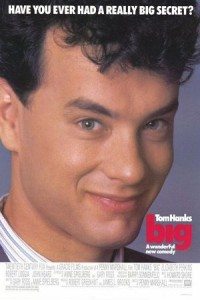 There were a slew of adults and kids switching bodies in films in the mid to late 1980's. Nobody remembers any of the others because of this masterpiece — which remains one of the great comedies in the history of movies.
Gary Ross and Anne Spielberg's script (yes, his sister) and Penny Marshall's direction both treated the premise with dignity. It asked a simple question over and over again: how would a kid REALLY react if he suddenly became a grown up?
Most of the other age switching movies focused on the kid letting loose, skateboarding, and loving his new freedom. And Tom Hanks had his moments to be a goof and abuse his new adult status in Big too.
But he also showed fear, confusion, the desire to fit in and, most daringly, sexual curiosity.
The film was in some ways a touching look at what being a child means to an adult and what being an adult means to a child. After all, Hanks found himself working for a company of cold 1980's business types who reduced fun to a spreadsheet. In another way, Big was a Capra-esque response to Being There, with Josh's simplicity being mistaken for corporate ruthlessness.
The film also contained possibly the most iconic film image of the decade: Hanks and Robert Loggia dancing Heart and Soul and Chopsticks on a giant keyboard. That scene is played between two characters: one a child who wishes he was an adult and the other an adult who tries to remain a child.
But most of all Big was funny with great one-liners and visual gags (few funnier than Hanks eating a mini corn at the company party.)
 Bull Durham – June 15
I first saw Bull Durham in a theater in Westport, Connecticut. The audience was already enjoying the film and taken with the three incredible leads, Kevin Costner, Tim Robbins, and the incomparable Susan Sarandon.
Then one moment specifically stood out. Distracted by his frustration with Robbins and his attraction to Sarandon, Costner steps out of the batter's box during a game and calls the batboy over for the pinetar rag.
The batboy looks to Costner's Crash Davis and encourages him with an earnest "Get a hit, Crash."
Costner looks back at him and says, "Shut up."
The audience gasped and erupted with laughter. That moment announced to the audience that this was going to be the anti-The Natural.
This movie avoids virtually every single sports movie cliché. The final game in the movie is a rainout. There is no championship. By the end of the movie both Nuke LaLoosh and Crash Davis are playing for other teams.
Regardless — or because of this — what the audience gets treated to is some of the greatest sports comedy moments of all time (the mound conference turning into a wedding gift discussion is a classic scene). The supporting cast is perfect, led by the coaching staff of Trey Wilson and Robert Wuhl.
Most importantly, the greatest love triangle of the decade was played out to perfection in Bull Durham. Costner, Sarandon, and Robbins play off each other magically, even to the point where the pitcher/catcher dynamic between the two men is played like tense lovers. And for whatever reason Costner and Sarandon saying the name "William Blake" at each other remains hilarious.
All three of the leads eventually won Oscars. It is a shame writer and director Ron Shelton never did.
Who Framed Roger Rabbit? – June 22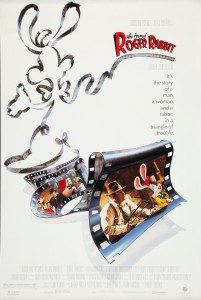 Robert Zemeckis' runaway blockbuster might not have held up as well as his Back to the Future, but at the time of its release, the special effects extravaganza Who Framed Roger Rabbit? was a high energy, hilarious smash.
Sure, there had been movies where live action and animation had been combined. Mary Poppins comes to mind. But those films always featured humans being added to a cartoon world. In this movie, the cartoons were inserted into the real world and photographed and blocked as if they were simply interacting as other actors.
Seeing Warner Brothers and Disney characters share a screen was a highlight (especially with Donald and Daffy Duck doing a memorable piano duet and Bugs Bunny and Mickey Mouse doing parachute gags). The real thrills, however, came from two performances by Oscar-nominated actors at their peak. The late Bob Hoskins was brilliant as the grizzled private eye who hates "toons," essentially playing the world-weary bigot. Kathleen Turner killed as the voice of the outrageous Jessica Rabbit, who made many viewers squirm uncomfortably when they remembered they were watching a cartoon.
Oddly, Roger himself was the least interesting character, but that's nitpicking. The Roger cartoon at the beginning of the movie was worth the price of admission alone.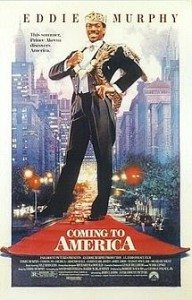 Coming To America – June 29
Eddie Murphy was the biggest movie star in the world in 1988. It is hard for people who came of age as movie watchers in the 1990's and later to realize how huge and cool Eddie Murphy was then. While his films immediately following Beverly Hills Cop were a step back in quality (I am looking at you, The Golden Child and Beverly Hills Cop 2), when reunited with Trading Places director John Landis, Eddie reminded everyone why he was the box office king. He did so with the most heartfelt, complex, and versatile performance of his career.
As Prince Akeem, Murphy was able to play against his abrasive type to show a softer but no less hilarious side. A play on the Prince and the Pauper, Eddie took on a romantic lead role for the first time and managed it with charm, wit, and a surprising amount of vulnerability.
Landis was smart enough to not only allow Murphy to stretch as an actor but also to let him loose in a series of additional characters, most notably as the barber and the old Jewish man at the barber shop. Also, don't forget how amazing Arsenio Hall is in his multiple roles as well. Plus John Amos, James Earl Jones, and the rest of the supporting cast is spot on.
This may have been Eddie's last great movie and certainly was Landis'.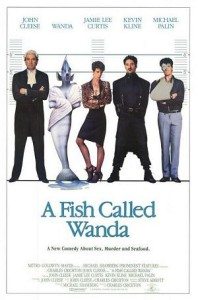 A Fish Called Wanda – July 15
When Monty Python unofficially dissolved with 1983's The Meaning of Life, John Cleese wrote and starred in the group's most successful post-Python film. A Fish Called Wanda, directed by and written with veteran director Charles Chrichton, provided a marvelous showcase for Cleese to spread his wings in a manner that he hadn't in any role before, including in Fawlty Towers.
The film races between several styles but does so effortlessly. Sometimes it is a caper, other times a broad comedy, then a bedroom farce, and then a romantic comedy. Cleese and Jamie Lee Curtis had startlingly funny and charming chemistry. Fellow Python Michael Palin may have offended stutterers and animal right's activists, but his scenes were undeniably hilarious and showed teeth.
It was Kevin Kline, however, who stole the show with his Oscar-winning performance as the stupidest criminal mastermind ever — one whose downfall was not recognizing his own idiocy. Has the Academy ever before or since honored such an over the top yet oddly believable character? Nope, and certainly never one who did a scene with a live fish in his mouth and who declared the Vietnam War a draw.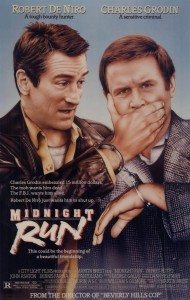 Midnight Run – July 20
Director Martin Brest followed up Beverly Hills Cop with Midnight Run, a comedy that was actually funnier, more tightly paced, and which remains immeasurably more watchable and entertaining.
Casting Robert DeNiro in a comedy now seems par for the course, but this was DeNiro in the middle of his most serious period. This film came out in between GoodFellas and The Untouchables. Putting THAT DeNiro in a comedy seemed revolutionary.*
And wow did it work. DeNiro brought perfect timing and believability to his take on weary bounty hunter Jack Walsh. Pairing him with deadpan Charles Grodin as "The Duke," a mob accountant gone rogue, made Midnight Run one of the best comedy two-handers in history. There were funny sequences, like Grodin and DeNiro doing a phony counterfeit sting. And then there were scenes that worked because of their mismatched energy, like an exchange on a train where Grodin inexplicably asks DeNiro if he would have sex with a chicken.
Beyond the two leads, the film is perfectly cast and each character gets laughs — not through one liners but via character driven comedy. Such a novel concept! John Ashton's Marvin almost steals the movie. Yaphet Kotto blurting "I'm Moseley!" is one of the funniest moments in the film. Dennis Farina was both hilarious but also terrifying when the film called for it.
Plus Joey Pantoliano, Phillip Baker Hall, and Jack Kehoe all get to shine. So does the little kid sitting next to DeNiro who quietly approves of his fake ID by saying "It looks good… to me."
The film works as a terrific comedy with moments of legitimate suspense all the way until DeNiro starts screaming "Serrano's got the disks! Serrano's got the disks!"
Quote Midnight Run scenes to someone who hasn't seen the movie and chances are they won't understand what is funny. Say them to someone who has seen it and they will laugh and probably say "You've got the Duke!"
I know a lot of people who have seen Midnight Run. I have never met anyone who disliked it.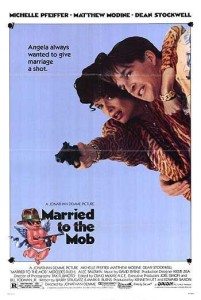 Married to the Mob – August 19
Wonderful things can happen when a talented and wildly stylistic director uses their skills to make a comedy. Martin Scorsese's After Hours and Stephen Soderbergh's The Informant come to mind.
Jonathan Demme made Married to the Mob in between Stop Making Sense and The Silence of the Lambs, displaying some of the wild stylistic anarchy he gave Something Wild. From the characters addressing the camera to offbeat details, like a man playing the spoons while giving directions to Michelle Pfeiffer, the movie is pure Demme from start to finish.
Pfeiffer was at the top of her game (it was the same year as Dangerous Liasons) as Angela De Marco, a mob wife trying to leave the life. Her husband (Alec Baldwin) gets killed and a FBI agent, played by Matthew Modine, falls for her. But what makes the film work are the details and an incredible supporting cast that hits each exaggerated mark to perfection. Mercedes Ruehl chews the scenery and crushes eggs making hers the most intimidating character in the movie.
Most impressive is Dean Stockwell's career-topping performance as Tony "The Tiger" Russo, who guns down Baldwin, lusts for Pfeiffer, is terrified of Ruehl, and figures out who Modine is. The always reliable Stockwell received an Oscar nomination for his performance back when broad comedy was recognized by the Academy.
The Naked Gun: From the Files of Police Squad – December 2
Few movie-going experiences in my life included more sustained and intense laughter than seeing The Naked Gun in the theaters. For fans of Jim Abrahams and the Zucker Brothers, this was the movie, along with Airplane and Top Secret, that cemented them as the 1980's masters of parody and comedic density.
They had created Police Squad for TV and frankly it was ahead of its time. Made with no laugh track, a brilliant deadpan Leslie Nielsen, and shot perfectly to resemble a pre-Hill Street Blues police show, most people didn't get the joke when it first aired. Those of us who did treated it like our own private comedy jewel.
1988 saw the movie version that fans of the show hoped would be as funny. We were not let down. Leslie Nielsen remained brilliant, remaining more deadpan than he did in later, hammier performances in knockoff films. The rest of the cast including Priscilla Presley, George Kennedy, and Ricardo Montalban all do fine. It is surreal to see O. J. Simpson back when we all liked him.
But it was a non stop barrage of jokes, sight gags, non sequiturs and mash-ups of styles that kept the film moving and well-fueled. From the Herman's Hermits music video midway through, to the greatest baseball parody ever, to a plot involving Reggie Jackson trying to kill Queen Elizabeth, the movie never lets up.
And the moment when Leslie Nielsen says "Nice Beaver" to Priscilla Presley only to have her pass him a stuffed beaver resulted in one of the longest sustained laughs I have ever heard in a movie theater in my life.
I just laughed again thinking of it.
The Zucker-Abrahams-Zucker team never made a movie this good again. We should all be thankful for their output in the 1980s.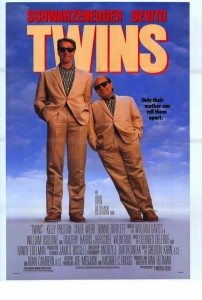 Twins – December 9
One of the biggest box office hits of 1988, Twins might not have been the best comedy of the year, but it was significant culturally and ultimately politically.
Up until 1988, Arnold Schwarzenegger was a box office star limited in appeal. He was a big, muscle-bound tough guy, essentially an exaggerated and heavily accent Sylvester Stallone. If you wanted to see him in a loincloth, he could be a fine Conan The Barbarian. He could be scary as The Terminator and he could pull off fighting an alien in Predator, but his range seemed non-existent.
Credit Ivan Reitman for seeing a softer, funnier, and more accessible Arnold. After a chance meeting where Arnold declared himself a fan of Ghostbusters, Reitman wanted to portray him as a lovable teddy bear of a guy that non-action fans could embrace. Reitman also had wanted to work with Danny DeVito for some time and felt the pair would be comedy gold as brothers.
That premise sold itself. The poster of the two standing side by side with the title Twins made people laugh before even seeing a trailer. And Arnold did indeed play his role with a sweetness, innocence, and enthusiasm that captivated audiences.
All of these decades later, we know Arnold is a funny and self-effacing guy. In 1988 it was a revelation. And while the film is, to be kind, flawed, there are some undeniable highlights. The introduction of Arnold to Danny holds up as a very funny scene.
If not for Twins, Arnold may have been a forgotten action star who had a five or six-year run. After Twins, he was able to jump back and forth between action films and comedies to the delight of movie fans.
If not for Twins, Arnold would never have been governor of California. You can take that any way you wish.
Dirty Rotten Scoundrels – December 14
Steve Martin paired with Michael Caine seemed promising from the poster. Then came the teaser trailer, which in its simplicity was one of the funniest trailers I had ever seen up to that point.
The title for the Frank Oz directed comedy said it all. This was not going to be a feel good movie. And like so many films from the 1980's, this was a film where the heroes were trying to get rich.
The story itself was not as important as watching Caine and Martin trying to one up each other as con men in the French Riviera. Along the way the film had some of the most memorable comedic scenes of the year. There was Caine whipping Martin's leg while pretending he can't feel a thing in order to maintain the con. Steve Martin pretending to walk from the wheelchair to Glenne Headley was some of his best physical comedy since All of Me. And of course there was the carefully constructed sight gag of Martin with an eye patch and a cork on his fork for his safety.
Side note, the film was directed by Frank Oz, who was of course Yoda, and it featured Ian McDiarmid who played the Emperor in the Star Wars movies. I wonder if Dirty Rotten Scoundrels ever came up on the set of The Phantom Menace?
I'm Gonna Git You Sucka – December 14
Coming off acting in The Hollywood Shuffle and collaborating with Eddie Murphy on Raw, comedian Keenan Ivory Wayans wrote, directed, and starred in this spot-on parody of Blaxploitation films.
Wayans cast genre stars like Bernie Casey, Issac Hayes, and Jim Brown to send up their old screen images. Along the way he added some terrific comic sequences. Steve James as Kung Fu Joe takes on the cops with martial arts before they open fire. Bernie Casey walks with his own band playing his theme music. Wayans shuts up Jim Brown by telling him being a football player was his lone hero credential.
The "Pimp of the Year" sequence was pretty daring in 1988 and Chris Rock negotiating for a single rib is still the funniest scene in the film.
Sucka was a sleeper hit on its release. Its success led directly to In Living Color, which launched the careers of Damon Wayans, Jamie Foxx, Jim Carrey, and eventually launched the whole Scary Movie franchise. Parodying one genre opened the door for a whole new generation of African-American performers who might not have otherwise found a platform.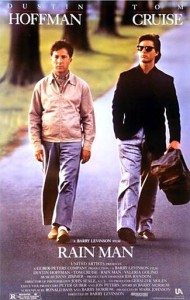 Rain Man – December 16
Is Rain Man a comedy? Chances are it exists in the drama section of any remaining video stores. No doubt any on-line streaming site deems it a drama.
But of all the movies that came out in 1988, few had more memorable laugh lines. From "Time for Wapner" to "I'm an excellent driver" to "K Mart Sucks," any screening of Rain Man had crowds laughing harder than many so-called comedies.
Even some of the situations — like Dustin Hoffman memorizing the phone book and Tom Cruise explaining why flying Qantas would not be an efficient way to get to Los Angeles — are still memorably funny.
In fact, Cruise never gets credit for the solid performance and the dark and selfish humor he injects into this story. A few of his lines including "He's answering a question from a half hour ago" and "the famous dancing hooker of Las Vegas" and "They are making legal history in there" all have pitch-perfect timing.
And remember, there is a scene where Raymond farts in a phone booth. That is not a serious scene.
Any film that that features so many funny lines that became part of pop culture has to be at least considered comedic. By you. So deal with it.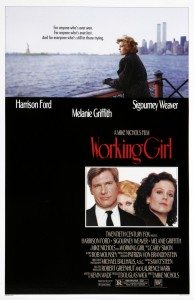 Working Girl – December 21
As good a time capsule comedy as you can find, Mike Nichols' Working Girl is the work place comedy of the 1980s.
Beyond the hair, the shoulder pads, and the make up, what other story so perfectly illustrates the '80's mentality of getting rich and climbing up the ladder? Melanie Griffith's Tess McGill was not trying to save a rain forest nor raise money for sick kids. She wanted to get out of her working class neighborhood in Staten Island and get rich in Manhattan.
Yet it works because of Melanie Griffith, easily giving the performance of her career. She plays the underdog whose ambitions are not taken seriously, who gets harassed by Kevin Spacey. Step by step, she lies, cheats, steals, and seduces Harrison Ford away from Sigourney Weaver to get what she wants. And it is all OK because Sigourney is mean and this is Harrison Ford in his prime. Post Witness and pre Last Crusade Harrison shows he could be funny, especially during a shirtless scene in a conference room.
Joan Cusack steals every scene she is in and Carly Simon's theme song is spot on. (Both Cusack and Alec Baldwin had supporting roles here and in Married to the Mob … they had good agents.) The happy ending (SPOILER) is Griffith gets the office and a big raise and will treat her assistant with respect.
How long that actually lasted is anyone's guess. But if anyone wants to see what the '80's looked and felt like, this is where they should turn.
1988 featured some colossal let downs as well.
The Adventures of Baron Munchausen, Memories of Me, Switching Channels, License to Drive, Moon Over Parador, A New Life, Punchline, The Great Outdoors, Funny Farm, and Hot to Trot may have defenders but most agree they fell well short of expectations.
Also Caddyshack 2 came out in 1988. No, we did not ALL just imagine that movie. It was real.
Crocodile Dundee 2 also was a 1988 film and one of the 10 highest grossing movies of the year. The next person I meet who liked that movie will be the first.
But considering the great output of comedies in this one year, and that the previous year featured films like Raising Arizona and Broadcast News, the mid-80's were the Golden Age of movie comedies and we didn't even realize it.
*Editor's Note: Except for, of course, The King of Comedy in 1982 and Brazil in 1985, which both had comedic roles for DeNiro.