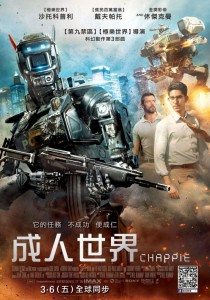 Neill Blomkamp's third movie, Chappie, is more enjoyable than his second, Elysium ('13), but so is being poked in the eye with a sharp stick. Does Chappie beat out the stick? I think so. Too bad it's still a far, far cry from Blomkamp's debut, District 9 ('09).
I almost kind of liked Chappie for the first half or so, despite it not making a lick of sense, and despite not liking any of the characters or believing they even vaguely approximate human beings. It sort of rolls along in a way where because it's so baffling, logic-wise, and is yet delivered with such commitment and purpose, one forgets to care. This effect, alas, does not last.
Blomkamp regular Sharlto Copley plays the titular police robot scrapped for parts and saved by a programmer, Deon (Dev Patel), who sticks in its robot brain the newly perfected A.I. program his robot company boss (Sigourney Weaver) won't let him test for real.
Only first Deon and his yet to be assembled heap of robot parts are abducted by murderous couple Ninja and Yolandi, who comprise the real-life band, Die Antwood, and were cast by Blomkamp because mumble mumble hrmf. They're not exactly actors, but, well, yeah; they're not exactly actors. Yet Yolandi's not bad as the killer with the heart of a new mommy. And Ninja does angry believably enough. I mean you are a bit drunk watching this, right? I should hope so.
Anyhow, acting's not really what Chappie's all about. It's about this newborn A.I. robot who at first has no language and acts like a scared rabbit. One would wonder why Deon wouldn't have thrown a little bit of language into the world's first true A.I. program, but only if one were a wonderer. Yolandi dubs the adorable robot Chappie, and Ninja yells at it a bunch.
Aw, dad. Always such a grump. Why can't the robot kid shoot a gun yet and do some crimes? These early scenes of little-kid-brain Chappie hopping around being goofy and cute are kind of fun, or in any case weird, as in the part where angry dad drives Chappie to a bad part of town and leaves him to be beaten up and set on fire by some mean kids not enamored of scaredy-cat police robots.
Copley gives an impressive physical performance, and the CGI mapping the robot over him is flawless. In fact it's so flawless I found it kind of distracting. Chappie moves exactly as a human being moves. He might as well have been rotoscoped. Being a robot, it might have been wise to have added a wee bit of herky-jerkiness to him.
Back at robot-headquarters, Deon's nemesis in robot design, Vincent (Hugh Jackman), has built essentially the ED-209 from RoboCop, and named it MOOSE, but can't get Sigourney to sign off on it, what with the success of Deon's police robots. What's an ex-army robot-builder supposed to do? Clearly only one thing: sabotage the OS of the police robots, thus shutting them all down and sending the city into a swirl of lawless, violent mayhem. Thousands will die, sure, but MOOSE will save the day.
And how, you ask, does one man sabotage the entire robot police force? Well, see, there's this special computer chip that's kept safe on a shelf behind an unlocked glass door, and Deon already stole it to power up Chappie, but he put it back in time for Vincent to grab it and mumble mumble hrmf—BAM! All the robots are down! Send in MOOSE!
MOOSE, unlike the robots, is powered by a human operator. Vincent puts on his special helmet, and sends MOOSE into the fray. But not really. He sends MOOSE to find and kill Chappie and Deon.
Now the stupidest part of the entire movie takes place here, and whatever kindness I felt toward it up until this point evaporated in a second. MOOSE, being a giant killing machine, is kicking everyone's ass. They're all going to die. But Chappie, clever robot that he is, tapes a bomb onto a knife, takes a running leap, and jabs it into MOOSE's head. So now there's a bomb all set to blow MOOSE's face off. Chappie holds the detonator—he's about to press it—when he's shot by MOOSE! The detonator goes flying!
And then in a mad scramble, Chappie dives for it and blows up MOOSE and saves the day.
Or so any sane story-teller would have it. In this movie, no such luck. Instead, Chappie and his human pals continue their hopeless firefight. It goes on and on. And nobody goes for the detonator. Eventually Deon is shot, but he's still alive. Ninja makes a suicidal attempt at shooting MOOSE, when Yolandi rushes to his aid. MOOSE fills her full of lead. More running and being shot at, and then, Chappie's mom dead, his creator barely breathing, Chappie has this amazing idea: he picks up the detonator and blows up MOOSE. Wow! Quick thinking, genius A.I. robotman!
It's an unforgiveable sequence. Dumb is one thing, and Chappie is plenty dumb, but this goes beyond dumb. The whole movie hangs on this one sequence. I won't go and spoil if for you, but thanks to the power of the MOOSE helmet, Chappie finds a way to map the consciousness of a human brain, store it in computer memory, and dump it into the software of other Chappie-like police robots. So as for dead Yolandi and soon-to-be-dead Deon…
Oh. Did I spoil it after all? Sorry. Guess you'll have to watch another movie. I recommend The Terminator ('84), which I just watched for the first time in ages. Not that I needed to. I had it on a continuous loop through most of my teenage years. And you know what? It's still fucking great. Blomkamp has visual style to spare, and he can shoot an action sequence, but his storytelling is a mess. Next up he's set to make an Alien sequel. Maybe studying up on The Terminator and Aliens would be a good idea.