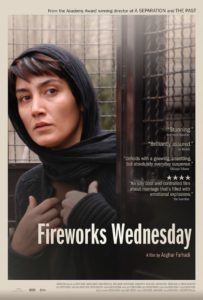 Iranian director Asghar Farhadi's films rank among my favorites. In films such as A Separation, The Past, and About Elly, he submerges us in delicate mysteries of seismic emotion and empathy. Disguised amid the flotsam of everyday life, the natural elements of Farhadi's films surface, connect, and then ebb away, leaving us with ripples of meaning. A suggestive glimpse of the leviathans that could, at any time, swallow us whole.
Fireworks Wednesday is no different.
The film — his fourth, released in Iran in 2006 — predates About Elly and the others mentioned above by years. It is only now being released in the United States, hopefully as part of a greater trend to make his earlier work more available to English-speaking audiences. While Fireworks Wednesday is not as polished visually as his more recent work such as The Past, his instinct for naturalistic dialogue and honest encounters appears to have deep roots.

In Fireworks Wednesday, a young woman soon to be married, Roohi (Taraneh Alidoosti) goes to the apartment of an older couple — Mozhde (Hedye Tehrani) and Morteza (Hamid Farokhnezhad) — to clean. Over the course of this day, leading up to the fireworks-heavy Persian New Year celebrations, Roohi finds herself — and causes herself to become — intertwined in Mozhde and Morteza's marital discontent.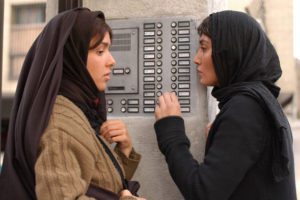 This much is clear. Almost nothing else is, until BOOM, it is, as is the way with Farhadi's films. Who the main characters will be, what drives them, and how the truth will choose to end its day — these questions are as easily answered for the characters in Fireworks Wednesday as they are for you, living your life, right now. Just as you do not walk into a room and announce your intentions and your history, neither do Roohi or Mozhde or Simin (Pantea Bahram) or anyone else in the film. 
They answer the questions they are asked, truthfully or not, depending on their mood, etiquette, and timing.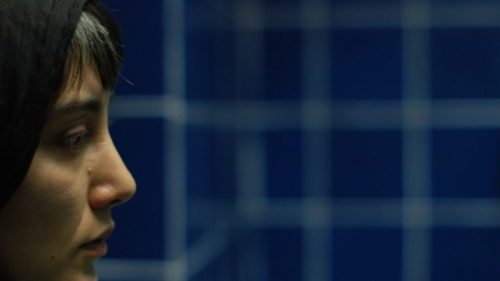 Like with Farhadi's other films, unpacking the plot of Fireworks Wednesday is a detrimental endeavor. Knowing what happens is in no way the same as experiencing it happening. Plot-wise, what happens is nothing too much. The experience, on the other hand, of seeing this nothing occur gets quite a bit more illuminating; it takes you from new love to old, from trust to deception.
If you can find your way back afterwards, that says as much about you as it does about Farhadi or Fireworks Wednesday.