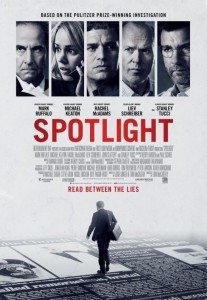 It might be possible to talk about Spotlight — the new film about Boston Globe reporters breaking the story on systemic child abuse within the Catholic church — without mentioning All the President's Men, but only in the same way that it's also technically possible to watch the entire Star Wars Christmas Special without going insane.
I will try to achieve neither feat of bravado.
But speaking of near impossible feats, All the President's Men takes what is essentially two men doing research and typing on wood-pulp paper and makes those ingredients into an action thriller. It does not hurt that the men are Robert Redford and Dustin Hoffman playing Woodward and Bernstein and that they're uncovering the Watergate conspiracy, but these realities do not take away from the astounding magic of the movie. I just watched it again last night and it is, in innumerable ways, brilliant.
This brilliance gets accentuated quite neatly by Spotlight, which is not nearly as thrilling as watching four people doing research and scribbling on wood-pulp paper can be.
Spotlight's news story is another that torpedoed one of the world's great institutions: the scandal of the Catholic Church turning a blind eye to an epidemic of child molestation. You either read about this ghastliness in one of the gazillion newspaper and magazine and online articles that covered it or — horribly — experienced it first hand, as the abuse victim of one of thousands of protected pedophiliac priests around the world.
Despite plenty of opportunity, the story the Globe's Spotlight team broke didn't come to public consciousness until 2002. Then — particularly in a Catholic town like Boston — the news, and the scope of the news, went beyond shocking into the earth shattering. But in Spotlight, this resonance doesn't play. This is because Spotlight, written and directed by actor/writer/director Thomas McCarthy, gives away too much too soon.
We all know what will happen in Spotlight, just as we all — going into it — knew what would happen in All the President's Men. In the latter, however, Woodward and Bernstein were far from clear on where they were going. They were just reporters, hungry for a good story and willing to dig deep.
Towards the beginning of Spotlight, an attorney (Stanley Tucci) claims he has papers proving Cardinal Law has long known about child abuse by priests. Through his actions and inaction, Law has tacitly condoned it. Proving this fact is the stated intention of the Globe's Spotlight team (Michael Keaton, Mark Ruffalo, Rachel McAdams, and Brian James) and their editors (Liev Schreiber and John Slatterly as Ben Bradlee Jr — the son of Ben Bradlee [Jason Robards] who edited the Washington Post during Watergate). The characters have a clear goal and it will surprise no one when they get there.
But we are as surprised as Woodward and Bernstein when they discover the true depths of corruption they investigate, precisely because Deep Throat gave them no answers they did not earn.
In Spotlight, in contrast, the reporters express disbelief at the scope of the abuse they eventually uncover, but never at the size of their target. Its based on actual events, this film, but here actual events counteract impactful drama. If Woodward and Bernstein had known they were gunning for Nixon himself from the get-go, All the President's Men would have been a much different story. The hubris involved would have tarnished antagonists and protagonists alike.
While Spotlight manages emotion and catharsis, and is by no means a bad film, watching it is an experience removed. Here are the facts. Here are the steps taken. Let us quickly recognize the face of a few victims and steal a glimpse towards the authorities responsible, before returning to the reporters. Because what is at stake in Spotlight is a story.
What was at stake in All the President's Men was the country. That film ends as it begins, with typed text. Because of the power of words, Nixon resigned and an entire nation reeled. That was the import of Woodward and Bernstein's work, as captured in William Goldman's script and through Alan J. Pakula's direction.
When Spotlight ends, we are shown a list of places where major sex abuse scandals rocked the Church. It is a disgustingly long list, but they're just words here. The film hasn't shown me how the reporting of the Spotlight team changed the lives of its characters, or their community, or the world. An uncovered scandal is distinct from a scandal atoned for and a reality realigned. Cardinal Law, a postscript to Spotlight says, got transferred to a cushy Vatican job. Rachel McAdam's devout grandma, she needed a drink of water. And the phones in the newly set-up victim hotline rang off the hook.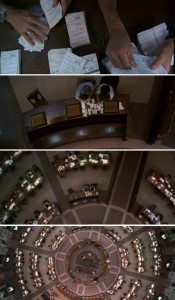 But I don't feel it. It lacks the frisson held by the simple phrase, one we've been waiting the picture's length to read: "Nixon resigns". Not to be too hard on Spotlight, but it's no All the President's Men. It evokes but cannot begin to keep pace with the emotive punch of Pakula's direction, which shrinks its subjects in the endless depths of the Library of Congress and loses them amid columns and shadows. It lacks the breathless pace and the sweat and the justifiable fear that humans feel when they find themselves unwittingly pitted against a beast capable of killing them. Like Woodward and Bernstein upon finding themselves arrayed, with only their notepads, against the FBI, the CIA, the Justice Department, and the White House.
The Spotlight team gets railroaded by the Church. They get shut out. They are told they should feel threatened but — critically —there are no threats. The Church, even in the end, has no comment. Unlike Bob Haldeman, who, when woken in the middle of the night and told he'll be called a criminal in the morning paper, can't help but react with intestinal terror.
You are exposed. Your crimes are now public knowledge. In All the President's Men, this call with Haldeman is the only reaction shot we get of the antagonists at their downfall. It is footage of a man we never see, speaking over a telephone line. It is more than enough.
The reality is that the Catholic Church and its representatives likely declined to comment to reporters during the scope of Spotlight. Too bad for McCarthy and his film, which other critics have praised as understated. Which it clearly is, despite some capital 'A' acting.
I see its understated grace. I even appreciate it.
Spotlight is a good story told well. It moved me and engaged me but considering its subject matter, that's a small feat. It isn't nearly as impressive as other films by McCarthy — particularly the little seen or discussed The Visitor.
It feels exactly like the wide-appeal, issue film that tends to come out at this time of year, pushing its large, distinguished cast and its socially redemptive message under the noses of Oscar voters. These films aren't inherently bad and this one isn't in any way specifically bad. It's just not as moving as your memories, whether those are of actual events or of better films that pushed harder, that were hungrier, and that dared to change the world.