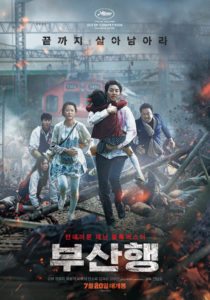 At summer's end, one is lucky to find in theaters a film as good as Train to Busan — a Korean zombie mayhem horror-thriller.
That may be damning with faint praise, but — it being the end of summer — one has to take what one can get, and what one can get is Mechanic: Resurrection, Sausage Party, Suicide Squad, and Sully. So yes: Train to Busan is a pleasant night out featuring the infected trying to eat a) your face, b) your daughter, and c) most of a baseball team.
As far as zombie pictures go, Train to Busan sticks resolutely to the 28 Days Later track. These zombies (of unclear vitality and varying contagiousness) are fast moving disease vectors, more interested in dental exercise than brain consumption. Its first scene, in which roadkill rejects stereotype, is among its best.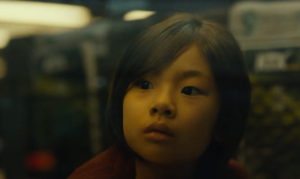 From there, writer Park Joo-suk and director Yeon Sang-ho whisk us to Seoul, so they can set the stage in broad strokes. Gong Yoo plays Seok-woo, a hedge fund manager with little time for his young daughter (Kim Su-an as Su-an) or his estranged wife. Su-an, for her birthday, wants to travel to see her mother, who's living in another city. Seok-woo reluctantly relents and accompanies her on the train to Busan.
Then: zombie outbreak, mass hysteria, bite-bite-bite, oh-no, the (infected) humanity!
Most of the picture stays contained within the multi-car train to Busan, which — much like Bong Joon-ho's Snowpiercer — uses the linear, cramped railroad layout to good effect. Also like that earlier picture, Train to Busan stomps around with issues of classism, applying less subtlety and less nuance but equal devotion. Rich people are uncaring and self-serving. The poor, working joes (or Ji-hos) have pure hearts and stout morals hidden under their coarse exteriors.
Those in between are mostly just zombie bait, much as we are in real life.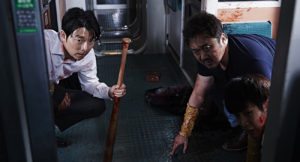 In Train to Busan, Ma Dong-seok and Jung Yu-mi play the representative lower-class couple with much charisma and verve; Dong-seok in particular reminding of a young DeNiro in, say, Midnight Run. Kim Eui-Sung, on the other hand, plays an executive douchebag with none of the subtlety Paul Reiser brought to his Carter Burke in Aliens. It's hardly his fault, though; the script literally has him pushing people into the jaws of danger to save himself, time and again. Too bad so sad.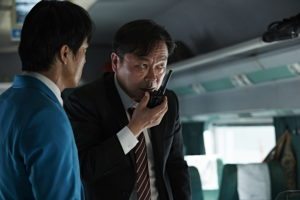 Action is plentiful and well staged. Effects are reasonable and reasonably creepy. Scares may be minimal, but that didn't stop a woman in the screening I attended from shrieking out to everyone's amusement a few times. Kim Su-an brings the heart and pathos to the picture, but not quite enough — or perhaps it's more that her young but potent presence feels unmatched by Gong Yoo's uninspired lead performance.
What does raise the film above the normal schlock is its Korean-ness. Unlike films made in Hollywood, Korean films kill off characters willy-nilly, regardless of which ones are endearing, sympathetic, or played by hot young actors and actresses. In a zombie film, this is liberating.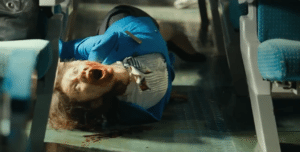 Expecting your favorite characters to not reach the film's conclusion adds delicious, Hitchcockian tension. And then, how does such a film end? Who can say — not even Wikipedia, it seems.
Train to Busan isn't going to make it into the pantheon of zombie pictures — it lacks the originality for that — but it's not bad. It is perfectly suitable for an evening's entertainment, particularly if that evening falls at the end of summer.