Batman wasn't always mean and grumbly and depressed. He wasn't always the poster child for grimdark superheroes at war with their inner demons. He used to be suave. He used to be charming. He used to walk slowly up the sides of buildings and chat with the nice peoples he passed. In short, he used to be Adam West. Alas, those days are long gone. Soon we will have a Batman grimmer and darker than any who've come before, and, I predict, there will be much lamenting.
To make up for what is poised to be the most depressing Batman of them all, I watched the two goofiest Batman movies of Batmans past, and am here to report my findings.
What surprised me most about Joel Schumacher's despised Batman & Robin ('97) is that I'd never seen it before. I was certain I had. Turns out his first entry in the series, Batman Forever, with Val Kilmer as Señor Bat, so appalled me, I must have made the sensible decision to skip the follow-up no one on earth liked.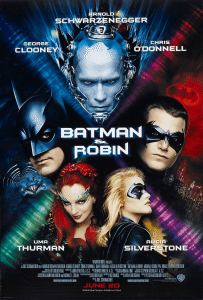 My next surprise was how enjoyable it is. Is it terrible? Certainly it's terrible. It starts out awful and almost instantly plunges into an abyss from which it never emerges. And thus, as is always the case, it's a blast. It's pure Schumacher, more so than anything else he ever made. With Batman Forever he was forced to fake a certain level of seriousness to match Tim Burton's movies, but with Batman & Robin he was set free to follow his own muse, and my god did he go bananas. His vision is insane, but it's unquestionably pure. No one else could have made this movie this way. Nor should they have.
Schumacher wanted a cartoon, and that's what he got. I swear I watched the whole thing with my jaw on the floor. Nothing is sane in Batman & Robin. Not a single character, not a single scene. The production design doesn't merely defy good taste, it rapes it and leaves it for dead. Gotham City is a bizarre conglomeration of impossible buildings and towering human figures with mighty arms holding up observatories over which cars and motorcyles improbably spiral. As for the costumes, hoo boy. The movie opens with a series of slam-cut close-ups of Batman and Robin's asses, rubber nipples, and giant codpieces, then gives the same treatment to Batgirl once she's suited up.
Most of the actors involved have since apologized for having had anything to do with it, always a bad call, I think. Who knows when a movie will be reassessed? They might at least have tried while it was being filmed. In scene after scene, George Clooney looks like a man in search of his next nap. His performance is so lazy he can barely muster the smirk he smirks his way through the movie wearing. Who would have thought to play the scene where he tells Robin that their cherished butler, Alfred, is dying, with a slight grin? Hell of a call, Clooney. Brings clown tears to my eyes.
And the quips. Jesus. Akiva Goldsman—I hate to say "wrote" the movie—let's say he compiled it by stacking a never-ending series of quips on top of one another, none of which exactly fit. There's something fascinating about watching Clooney try to say his lines, he's so embarrassed by it all.
Bringing me for a moment back to Adam West, who is, I hereby contend, the best Batman of them all. He's the best Batman because not for one second was he ever embarrassed to play the part. More than that, he loved the part. His Batman, in the movie, Batman ('66), and in the TV series, may be campy and ridiculous, yet West plays him with total commitment and sincerity. Sincerity. That's what it is. He takes his comic role seriously. He plays it for real. He plays it with love. He's honored to be Batman. And everyone who's followed in his batsteps? They're embarrassed to be there. They feel like jackasses dressing up in a batsuit, and it shows. Every time, it shows.
Michael Keaton does the best job. His Bruce Wayne is perfect. But as the caped crusader? It's obvious he feels like a fool. He gives it all he's got, but he can't move his head, he can barely move his arms and legs, and plot-wise nothing he does really makes any sense, and he knows it, and we know he knows it. He's a pro, it's not blatant, he's not Clooney, for god's sake, but there we are. (Add to that the fact that we spent all of last year being told Birdman worked because of how ridiculous it must have been for Keaton to have been a guy in tights.)
Then came Kilmer. About which the less said, the better. If anyone was born to project an air of "this is completely absurd, so I'm just going to fuck around for awhile in these foam-rubber tights as only the greatest actor of his generation can," it's Kilmer.
Most recently we had the very serious Christian Bale take over, and while he gets points for being a fine actor pretending to care about being a tortured superhero, he's still pretending. The voice gives it away. It's a subtle hamminess as far as hammy performances go, but it's enough to let us know that he knows he feels ridiculous.
And Clooney? The worst of the lot. "What in god's name am I doing here?" isn't the subtext of his performance, it's the text.
Not Adam West. When, in the opening minutes of Batman, he descends a rope ladder from a helicopter hovering over the ocean and a shark leaps out of the water and bites his leg, he fights it with all the seriousness you'd expect of such a situation. He beats it and punches it and blasts it with a can of shark repellent bat spray, and when it flops back into the sea and explodes, does West play it as a joke? Hell no. That exploding shark is serious business.
Batman is not serious business. It's as purposely silly as the TV show, which at the time of the movie's release had aired only its first season. For the most part, it's delightful. At first you think it's going to be some kind of kitschy masterpiece. The damn thing opens with an explosive shark, after all. But soon it settles down into a mostly plot-free series of attempts by a quartet of bad guys—The Penguin (Burgess Meredith), The Joker (Cesar Romero), The Riddler (Frank Gorshin), and Catwoman (Lee Meriwether)—to capture Batman. Each of their little plots fail, until, at last, they're thwarted by our hero and his boy wonder, Robin (Burt Ward).
What plot there is has to do with a scientist and a device he's invented that turns humans into small piles of dehydrated powder, and, if need be, later reconstitutes them (same trick as in a particularly lousy Star Trek episode I just watched ("By Any Other Name"), you might not be curious to know). Hilarity ensues when the entire United World Organization's security council is turned to dust, mixed all together, re-separated by the dynamic duo, and reconstituted, only to find they all speak the wrong language! Doh! Batman and Robin back out of the room slowly and climb up a wall. Your work here is done, fellas.
Naturally the bad guys are all wonderful. The actors playing them delighted in being so over-the-top and goofy. It's a comedy. They're having fun.
The two people having fun in Batman & Robin are Uma Thurman as Poison Ivy and Arnold Schwarzenegger as Mr. Freeze, the focal baddie. Thurman gives the only truly good performance of the movie. She gets it. It's a loony cartoon, and she's a cartoon villain. She plays her part, the poisonous seductress, accordingly. Schwarzenegger, to his credit, gives Mr. Freeze everything he's got, which is of course rather limited, but at least the man has energy. Clooney's like the cool kid in class trying to wink his way off-stage, Chris O'Donnell as Robin is, I don't know, just bad, I guess, and Alicia Silverstone as Batgirl is pouty and pointless. But Schwarzenegger. He keeps one awake.
As for his quipping? In the quip-off with Clooney, it winds up a tie. Clooney mutters them with an implied apology, whereas Schwarzenegger declaims like he's playing Hamlet for the hard of hearing. I can't say which is worse. (Best worst Freeze line: "What killed the dinosaurs? The ice age!" Um, no, but whatever.)
Plotwise, Batman & Robin is barely more complex than Batman. Mr. Freeze is generally pretty angry about stuff, and after a few run-ins with Batman, is ready to freeze the life out of the entire city. He's egged on by Poison Ivy and her monosyllablic henchman, Bane, whose grunting you'll recall from Nolan's The Dark Knight Rises. He's more entertaining in Batman & Robin.
Bane's creation scene is pure madness, in part because it's also Poison Ivy's creation scene, and how do you pack this much what-the-fuck? into five minutes? Mad doctor Jason Woodrue (John Glover) should not be allowed near science kits. He mucks up the works and two supervillains are born. Ivy kisses him to death for his troubles. And this after the opening action sequence in which our heroes fight an ice-hockey rink's worth of nefarious Eskimos as they chase down a giant diamond. So basically it's a remake of the opening of The Temple of Doom.
Bizarre sequences follow one after the other. I vaguely recall Poison Ivy and Bane wiping out a vicious gang of black light lit glow-paint enthusiasts in order to steal their garage. Or something.
The '66 Batman had considerably less in the way of budget, but we still get a scene of Batman running around a dock carrying a giant bomb, in search of a place to blow it up. Why are all of these nuns always in the way?!
In the end, I'm giving the edge in this film battle to Batman, but only because the actors take their comedy seriously. If Adam West had starred in Batman & Robin, it'd be a different story. For that matter, if anyone who knew how to have fun had played Batman and Robin, it'd be a different story. To hear Clooney and O'Donnell complain about the movie, you'd imagine they thought Batman Forever was the fucking Godfather, and expected similar treatment. I mean they signed up to be in a Batman movie directed by Schumacher! And they act confused when told they're in a cartoon? Suck it up, guys. You cashed your checks, didn't you? Get with the program! Watch Uma to see how it's done.
It's easy to understand the hate for Batman & Robin. What Burton had started as an artfully dark comic book take on a character people only knew from the '60s was turned into a hundred and fifty million dollars worth of late '90s camp, which nobody but Schumacher wanted to watch. Nineties big budget action flicks were pretty goddamned silly , but they weren't campy. I'm not sure an era yet exists where something like Batman & Robin fits. It'll turn up eventually. When it does, this movie's going to be huge.
In the meantime, it's exactly the kind of bad movie you should watch the next time you want to watch a bad movie. Not a boring bad movie like, say, Nolan's first and third Batman movies, or like just about anything else Schumacher ever directed and Goldsman ever wrote, but a brilliantly bad movie, the kind where an artist is given free reign to realize his vision, and his vision is bonkers.